Alex Trebek's Wife on the Hardest Part of His Cancer Diagnosis
Alex Trebek is synonymous with Jeopardy!, the game show he's hosted since 1984. Every episode fans welcome the TV personality into their homes to watch him quiz contestants on their knowledge of trivia. The classic program and its 79-year-old host are mainstays, a familiar comfort. Trebek's 2019 pancreatic cancer announcement has served as a reminder to fans he's not actually a permanent fixture on the show. Keep reading to find out what Trebek's wife has to say about the hardest part of his diagnosis. 
Alex Trebek shares pancreatic cancer diagnosis with fans
On March 6, 2019, in a brief video posted on the game show's Twitter, Trebek announced a stage four pancreatic cancer diagnosis. Filmed on the Jeopardy! set, the father of two made it clear his intentions "to fight this." 
"I'm going to keep working and with the love and support of my family and friends — and with the help of your prayers also — I plan to beat the low survival rate statistics for this disease," Trebek said in the clip. 
Showing a sense of humor in the face of a life-changing event, he went on to joke about his Jeopardy! contract. 
"Truth told, I have to [continue hosting] because under the terms of my contract, I have to host Jeopardy! for three more years. So, help me. Keep the faith, and we'll win. We'll get it done."
In the wake of his news, fans continue to rally around Trebek. The outpouring of support is what convinced Trebek to write a memoir, due out in July 2020. 
His wife, Jean, says it hardest not being able to help
As Trebek mentioned in his announcement, he's getting support from those closest to him, namely his wife Jean Currivan Trebek. Sitting down with Good Morning America in January 2020, the couple opened up about their lives since the diagnosis. 
Getting candid about the difficulties they face, Jean shared that the most difficult part is being unable to help. It's hardest to see her husband "in pain and I can't help him," she said. 
Another hard part? Watching Trebek drink "too much diet soda," she added with a laugh. 
On a more serious note, the Jeopardy! host shared it's been a difficult experience for Jean and others who take care of their loved ones. 
"It's always tough for caretakers because she has to deal with her worrying about my well-being and also dealing with … I'm not always the most pleasant person to be around when I'm experiencing severe pain or depression, and she has to tread lightly around me," Trebek said.
A sound healer, religious science practitioner, and Reiki master, Jean does what she can to help Trebek. 
She asked Alex Trebek to take a break from hosting 'Jeopardy!'
Jean shared following the diagnosis, she asked her husband about stepping back from Jeopardy! for a bit. She said that while his schedule hasn't changed, the show offers him support.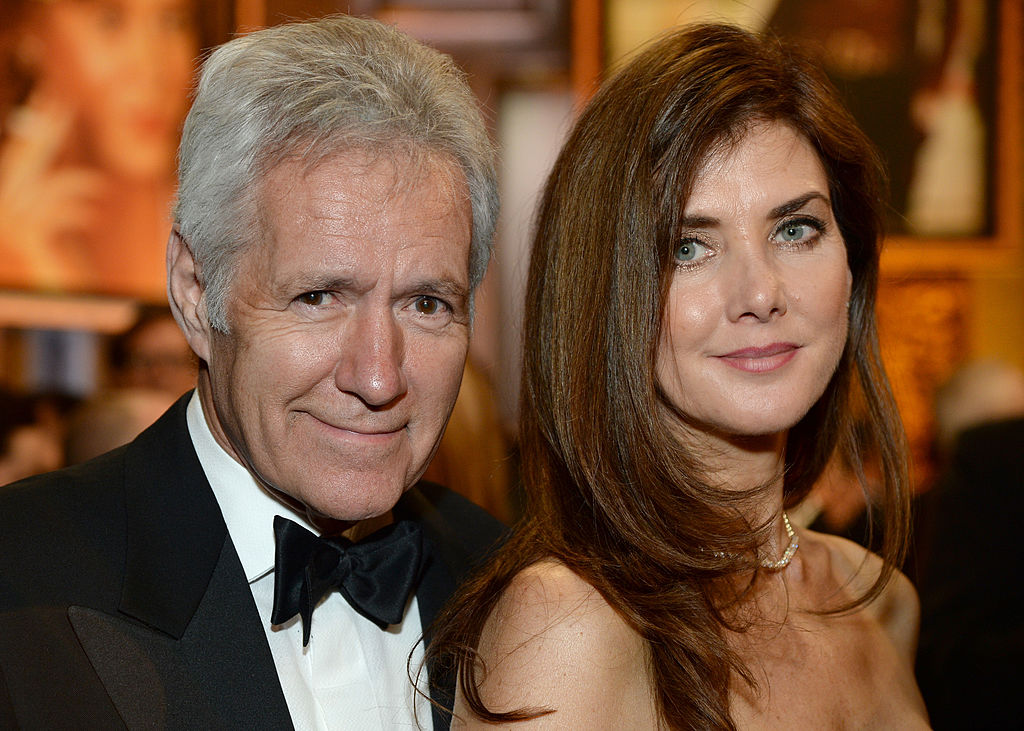 "But I know it's what feeds him. He loves doing Jeopardy! He has his own family over there," she said. "They are such a close-knit, beautiful group of people."
Jean continued, saying, "I think that gives him a lot of support. A sense of purpose and that he's just not in bed and can be productive." 
Alex Trebek gives an update on his health in 2020
A year after his initial announcement, Trebek stood on the Jeopardy! set once again to give fans an update on his health posted to the game show's Instagram.
"The one-year survival rate for stage 4 pancreatic cancer is 18%," Trebek said in the video. "I'm very happy to report I have just reached that marker."
He went on, saying, "There were some good days but a lot of not-so-good days." Today, Trebek continues to host Jeopardy! as he's done for decades. And while he doesn't know who will take over for him on the game show, he knows what he how he wants to say goodbye to fans in his last episode.