'All of Us Are Dead': Director Has One Request From Audiences While Watching the Zombie K-Drama
High school students are in for the fight of their lives as they face a viral zombie outbreak. 'All of Us Are Dead' director promises the K-drama's sound effects will heighten the audience's experience.
Netflix is dominating the world of Korean dramas. Having success with other zombie/apocalyptic K-dramas like Kingdom and Sweet Home, All of Us Are Dead promises a different take on the subject. A local high school becomes ground zero for a zombie plague. The students are forced to try and survive and go against their closest friends. The director of All of Us Are Dead asks audiences to do one key thing to get the most enjoyable experience from the drama.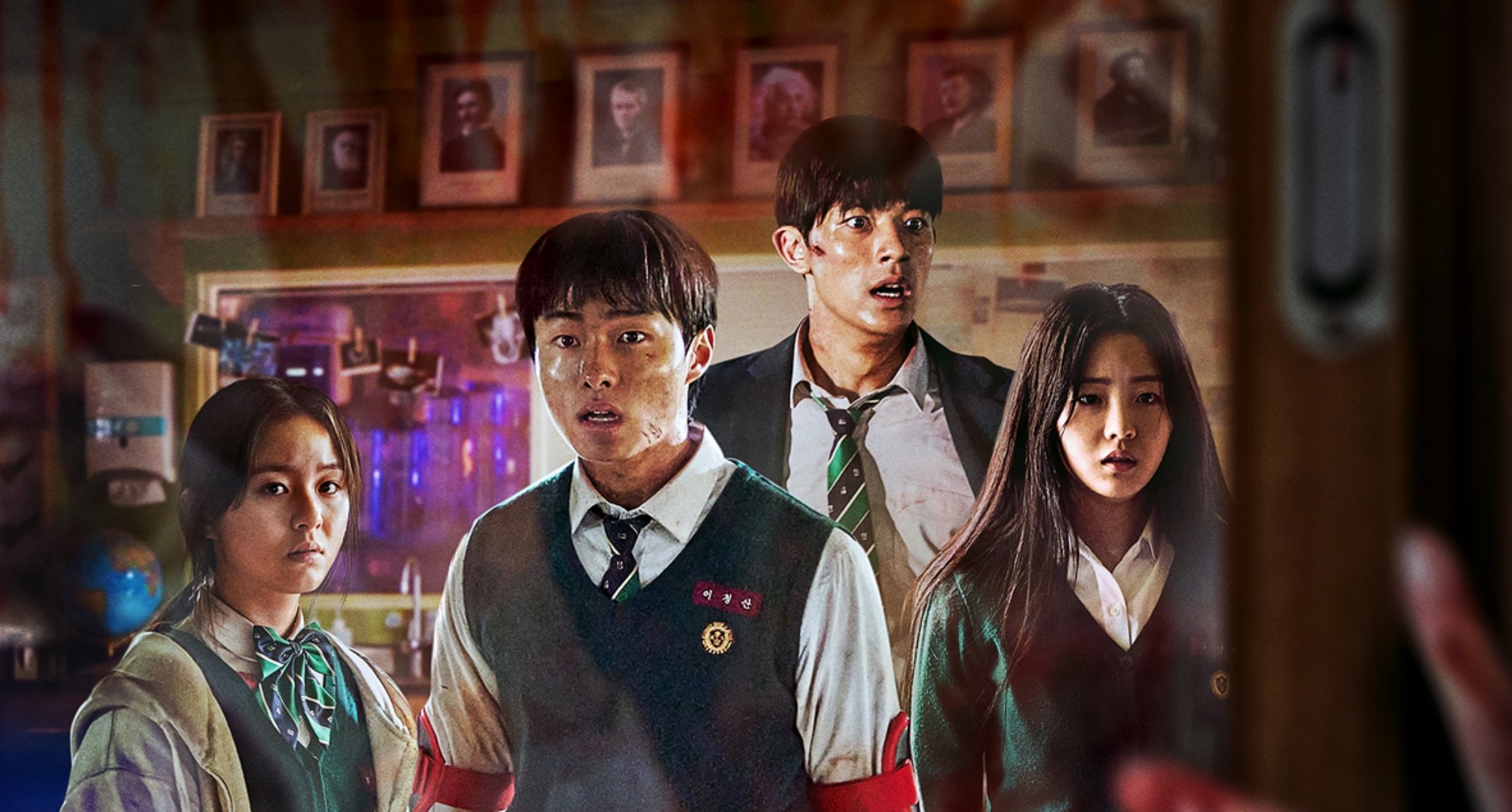 'All of Us Are Dead' stars rising actors as high school students trying to stay alive
Based on a digital comic on WEBTOON, as high school students leave their homes for another day at school, they did not expect it to become chaos. The ordinary town of Hyosan gets a rude awakening when the school becomes the starting point of a viral infection. Hundreds of students clamored in one place, leading to the grizzliest battle to survive against friends turned monsters. The outbreak turns the town into a warzone.
All of Us Are Dead's main cast includes fresh new faces still making a mark in the acting industry. Each actor's K-drama character has their own stories. House of Hummingbird star Park Ji-hoo plays the role of On-jo. She confesses her feelings to her crush Su-hyeok, played by Park Solomon.
Actor Lee Yoo-mi rose to fame as Ji-yeong in Netflix's Squid Game. For All of Us Are Dead, the actor plays a snotty and stuck-up rich girl named Na-yeon. The cast also includes Viki's School 2021 actor Cho Yi-hyun. The director and staff of All of Us Are Dead also hired young actors and dancers to play students turned zombies.
'All of Us Are Dead' director gives a tip on how to correctly watch the K-drama
In a behind-the-scenes video of the making of All of Us Are Dead, director Lee Jae-kyoo explains key aspects of the K-drama that help bring it to life. No zombie drama would be complete without the ravenous monsters looking for a victim. The director explains the young actors learned zombie choreography to get the movements and atmosphere right.
The director has one audience request when watching All of Us Are Dead. He explains that the K-drama focuses on a "variety of detailed sounds" dealing with zombies.
"So turn the volume up and watch it louder than usual. Then you'll enjoy it more. Dim the lights in the room and dim the screen for a fun experience. Watch many times, and you'll see things you've missed at first. So I dare say the more you watch it, the more fun and fresh experiences you'll have," said director Lee.
Just as the cast and crew had a memorable and intense experience filming the K-drama, the director promises fans worldwide will feel the same when watching All of Us Are Dead.
What time will 'All of Us Are Dead' air and how many episodes?
Fans and critics believe All of Us Are Dead could be the next big K-drama for Netflix. The K-drama's cast is popular among die-hard fans and will likely gain global recognition after its premiere. What time can K-drama and new fans watch All of Us Are Dead on Netflix?
The coming-of-age zombie K-drama will air on Netflix on Jan.28. According to Inverse, All of Us Are Dead will be available to global fans at 12 a.m. PT and 3 a.m. EST. On Friday morning, K-drama fans get to binge-watch 12 episodes of students banding together to survive while also dealing with internal dilemmas and betrayals.