'All of Us Are Dead' Episode 4: What Happened to Lee Byeong-chan in the K-Drama?
Lee Byeong-chan is the creator of the virus that infects Hyosan high school. After sacrificing himself in 'All of Us Are Dead' Episode 4, he becomes a mutated version and leaves his storyline open-ended.
The root of the zombie virus in Netflix's All of Us Are Dead ties back to one source. What kickstarted the local high school in Hyosan to become ground zero for the viral epidemic is because of science teacher Lee Byeong-chan (Kim Byung-chul). But audiences may notice Byeong-chan's storyline in All of Us Are Dead comes to an unanswered end in episode 4.
[Spoiler alert: This article contains spoilers for All of Us Are Dead.]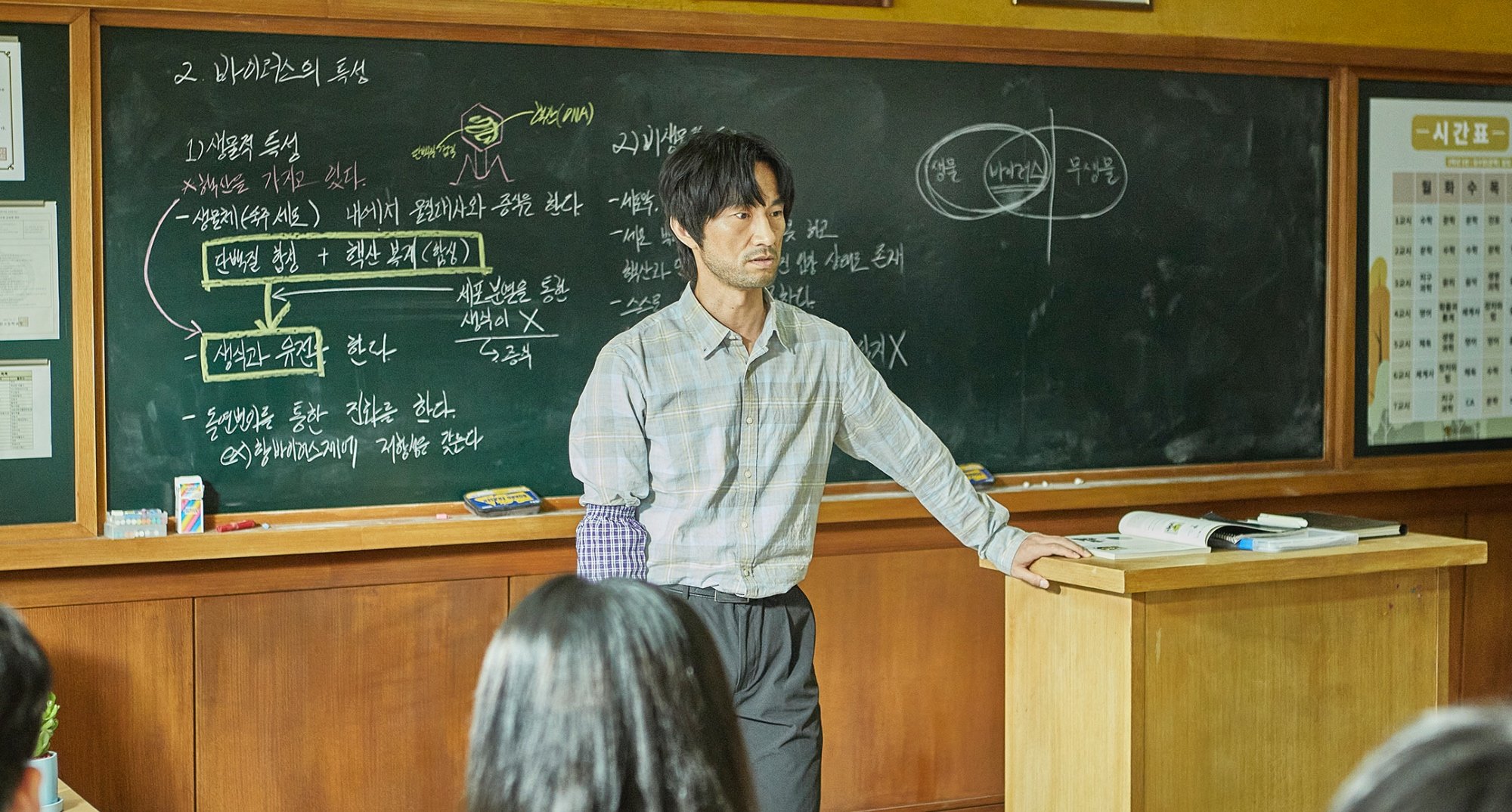 Who is Lee Byeong-chan in 'All of Us Are Dead?'
The Netflix K-drama kicks off its storyline with a grand reveal. Byeong-chan's son falls off a roof after a group of bullies physically harass him. Instead of clamoring to the ER, Byeong-chan sneaks in to see his son. He looks at his son knowingly and promises to make things better, and his son convulses and changes into a zombie.
This is the audience's first clue that Byeong-chan knows something when he kills his son. He then uses a suitcase to sneak him out. Later in All of Us Are Dead, a female student is bitten by a lab mouse in Byeong-chan's science room at Hyosan high school. Realizing what will happen, he kidnaps her.
In the following episodes, she breaks free and reports it to the nurse. She succumbs to the virus and turns into a zombie. Meanwhile, Byeong-chan is arrested. In an interrogation with detective Song Jae-il (Lee Kyu-hyung), Byeong-chan's backstory is revealed.
He has a Ph.D. in cellular biology and worked as a researcher for a pharmaceutical company in Korea. Byeong-chan quiet and became a teacher.
Byeong-chan is bitten by zombies in 'All of Us Are Dead' Episode 4
Detective Jae-il questions Byeong-chan further and learns he created the virus using a mutated hormone from mice. The virus was created for his son to save him from death to become a predator against his bullies. The objective? To turn fear into power. As the school and Hyosan become infected, zombies infiltrate the precinct.
Byeong-chan has conflicting emotions over what he has done. But he chooses to save Jae-il and is bitten in the process. He then sacrifices himself and is attacked by multiple zombies. While audiences think it is the end for Byeong-chan in All of Us Are Dead, it is not.
After Jae-il leaves the precinct and saves another officer, the scene cuts a hallway, and Byeong-chan cracks back to life. Unlike the other zombies who wander, Byeong-chan has full consciousness and walks normally. But he does have bloodshot eyes, veiny features, and out-of-place bones.
As Byeong-chan walks toward the camera, it cuts to a video-diary entry. He asks if people need to abandon their natural instincts to become human. The scene ends, and audiences never see Byeong-chan again for the rest of All of Us Are Dead.
Byeong-chan could be a mutated zombie like Choi Nam-ra
In the chaos of zombie infestation and teenagers trying to stay alive, Byeong-chan's outcome could have gone unnoticed. But fans have no idea where he is after he supposedly leaves the precinct or after the All of Us Are Dead finale. There are speculations and theories.
As the K-drama progressed, audiences learned the Jonas virus was mutating on its own to survive. The bully, Yoon Gwi-nam (Yoo In -Soo), keeps his consciousness and normal human mobility after being bitten in episode 5. Choi Nam-ra (Cho Yi-hyun) was also bitten but kept the virus's effects at bay.
It could be that Byeong-chan is also a mutated version of the virus. Fans are unsure if he experimented on himself. In the interrogation room, he had scratch marks on both wrists. After escaping with his zombie son in episode 1, he experimented with him. Byeong-chan created the virus to turn fears into power. Could it play a role? Were all the mutated infected acting a certain way before being bitten?
In the All of Us Are Dead finale, the main characters learn Nam-ra has been alive for months. She explains there are others like her. It could be that Byeong-chan is among them and looking for a cure.
All of Us Are Dead is available to stream on Netflix.