'All of Us Are Dead': Yoon Chan-young Has No Idea What Happens to His Character After the Finale
Yoon Chan-young's K-drama character was believed to have died. Nam-ra's closing remarks in 'All of Us Are Dead' and the directors' comments about zombies have fans speculating he can return even if the actor has no insight.
The actors of popular Korean dramas can only know so much about what happens to their characters after a finale. Netflix's All of Us Are Dead actor Yoon Chan-young reveals he is unaware of what happens to Cheong-san. In the acclaimed Netflix K-drama, the main characters try to survive a viral outbreak at school. Their journey leads to a few deaths and open-ended questions that lead to a season 2 storyline.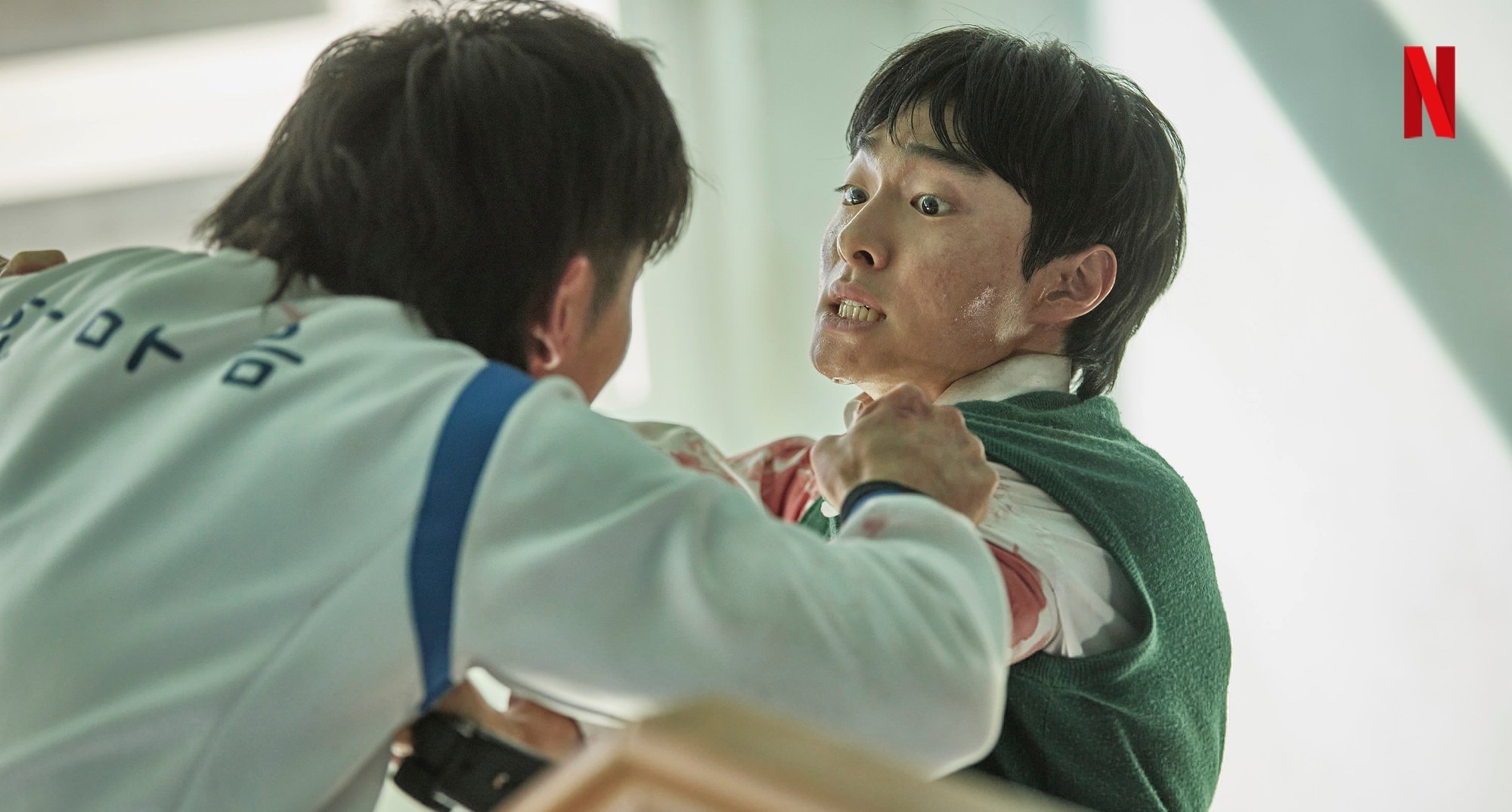 What happens to Cheong-san in 'All of Us Are Dead'?
Yoon's All of Us Are Dead character became a central protagonist for his bravery and overall storyline. In the K-drama, he has been in love with On-jo since they were children but never had the courage to tell her. When the Jonas virus takes over the school, he and the other male students make it their mission to protect each other and the female characters.
Fans came to love Cheong-san for his bravery and sympathize with him as he loses his best friend due to the evil deeds of Na-yeon. In All of Us Are Dead Episode 11, Cheong-san gets a tearful end when Gwi-nam bites him. Realizing he could turn, he gives On-jo his name tag to hold on to. They also have their first kiss.
The government is minutes away from bombing the town, so the remaining characters have to get to safety. To save his friends, Cheong-san lures the zombies through the construction site, creating a clear path for his friends. As Gwi-nam returns to fight Cheong-san, the town is destroyed. Fans see the ruble and ash and On-jo's name tag.
Yoon Chan-young says he hopes his character is alive for a season 2 of the K-drama
According to Soompi, Yoon went into detail about how he was cast in All of Us Are Dead and his character's fate after the finale. After the many tearful and heartbreaking deaths in the K-drama, fans speculated not all deaths were permanent. The theory came after seeing Nam-ra was alive and well and a mutated version of the virus. Fans soon theorized Cheong-san also survived as he never turned before his supposed death.
"I was actually asked about whether Cheong San died or not in another interview recently. To be honest, I don't know. I haven't heard about what happens next, and nothing has been decided yet. Personally, I'd like to live. I'd like to be able to say things that I didn't get to say," explained Yoon.
Fans can agree with Yoon wanting to see more of Cheong-san in an All of Us Are Dead Season 2. When Nam-ra meets the remaining characters, she explains there are more like her. When she leaves, the characters are stunned by what or who they see off-camera.
Yoon Chan-young's 'All of Us Are Dead' character has the possibility of returning
After the success of the Netflix K-drama, Director Lee Jae-gyu revealed what he had in mind for a second season. He also revealed the truth behind some infected characters like Gwi-nam, Nam-ra, and possibly Cheong-san. In an interview with The Korea Herald, Lee plans to explore the "survival of zombies" in season 2.
Fans learned from Director Lee that the possibility of Cheong-san returning is more apparent than not. Lee explained there are different versions of zombies. There are the "immortals" and "halbies." Nam-ra is a halfbie who is not fully infected by the Jonas virus and exhibits certain abilities.
The All of Us Are Dead director also hints that characters are immune to the virus. This has led fans to theorize that major plot holes in On-jo's storyline could mean she is immune. Fans are holding onto the possibility of Cheong-san being alive. During his fight with Gwi-nam, he did not show the typical signs of turning before his death.