All the Disney Movies Based on Theme Park Rides, Including 'Jungle Cruise'
'Jungle Cruise' brings the Disney theme park attraction to the big screen. But, of course, this isn't the first time the studio tried this.
Disney is about to roll the dice on Jungle Cruise.
In 2019, legendary director Martin Scorsese received a ton of criticism for comparing the Marvel Cinematic Universe to "theme parks." We can argue whether the thrills and spectacle of films such as Avengers: Endgame are akin to theme park rides. But why bother when we already have several films out there actually based on theme park attractions.
Perhaps unsurprisingly, Disney itself — which also owns Marvel — has been known to spin a big-budget film out of an attraction from one of its parks. So, as Dwayne Johnson and Emily Blunt get ready to cruise right on into that jungle on July 24, 2020, let's take a journey back through the scattershot history of Disney theme park movies.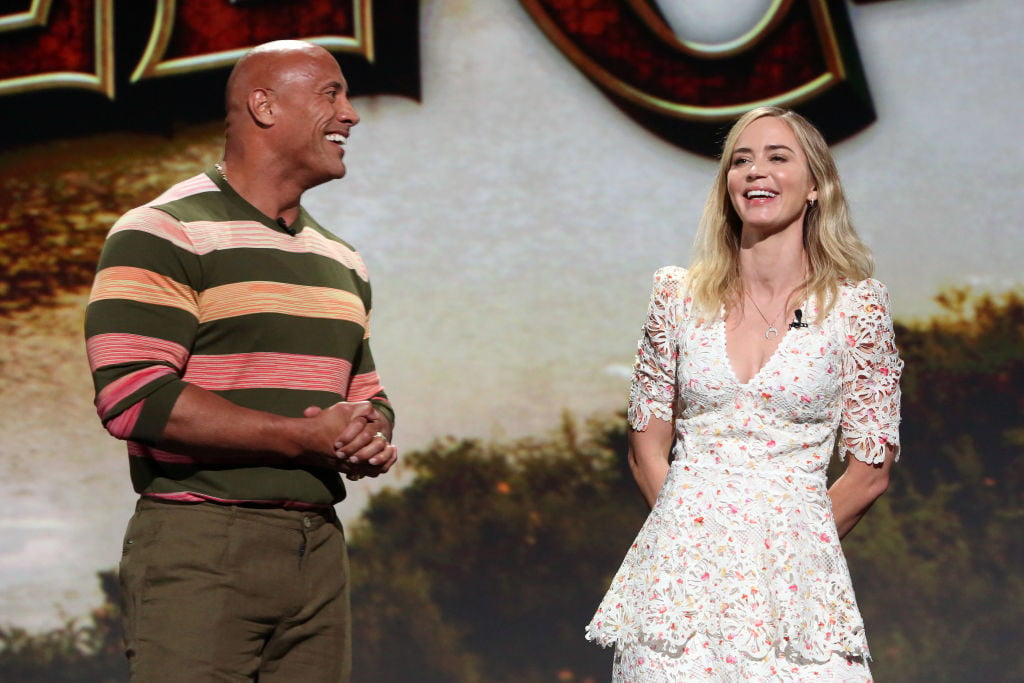 Disney's early theme park movies fell flat
Perhaps because of the novelty of such a project, Disney's first foray into movies inspired by theme park rides was made for television. 1997's Tower of Terror aired as part of ABC's The Wonderful World of Disney block. Starring Steve Gutenberg and Kirsten Dunst, the film has no ties to The Twilight Zone series, despite the ride's conception as part of that franchise.
In 2000, Disney made an even more bizarre move. Mission to Mars was based on a theme park attraction that had actually been closed down years prior to the film's release. A critical and commercial flop, it stars Gary Sinise, Tim Robbins, and others as astronauts heading on, well, a mission to the red planet. No wonder the film didn't even bear the Disney brand.
The Country Bears is the weirdest entry on this list, however. Based on Disney parks' Country Bear Jamboree, the film focuses on a bear cub and his goal of reuniting the titular band. A family musical no one asked for, the film failed to earn back its $35 million budget and seemed like definitive proof that maybe Disney theme park movies just didn't work.
The movie franchise that changed everything
Of course, about a year later, Disney released a little film called Pirates of the Caribbean: The Curse of the Black Pearl. With a swashbucklingly fun story and an infectious Johnny Depp performance, director Gore Verbinski's adventure launched a phenomenon. Building on the classic ride, the movie became a box office smash and an instant classic upon its 2003 release.
Even when Disney pushed the movie into a full-fledged franchise, business was good. The first two sequels — subtitled Dead Man's Chest and At World's End — worked in any remaining references to the ride and completed a solid trilogy arc. In a strange reversal, the movies led to changes in the ride which inspired it. Two more sequels followed, and a reboot is in the works.
But the Pirates of the Caribbean franchise has been an exception rather than the role. Just months after the first film, the Eddie Murphy-led The Haunted Mansion hit theaters and did fine. But it by no means impacted pop culture like Captain Jack Sparrow's exploits. Likewise, 2015's Tomorrowland — which is barely connected to Disney parks — was a major financial loss.
Can 'Jungle Cruise' kick off a whole new adventure series?
So it's with that history in mind that we cautiously anticipate how Jungle Cruise might perform at the box office. The film boasts the star power of Johnson and Blunt. But it's also counting on audiences' familiarity with and love for a decades-old theme park attraction with a flimsy narrative hook.
Pirates of the Caribbean worked wonders for Disney, serving as its signature live-action brand for more than a decade. But we're curious to see if Jungle Cruise can overcome release delays to become Disney's next big series. We'll find out when Jungle Cruise sails into theaters on July 24, 2020.