All the Original 'Jurassic Park' Stars Returning for 'Jurassic World 3' (So Far)
Chris Pratt recently teased an epic reunion is in store in 'Jurassic World 3.' But exactly which original 'Jurassic Park' stars are confirmed to return?
Jurassic World 3 is lining up to be one hell of a finale.
Even for a filmmaker of Steven Spielberg's esteem, Jurassic Park was a next-level hit in 1993. The film taps into the wonder and terror of dinosaurs, buoyed by John Williams' indelible score and ground-breaking visual effects. But it's also remained so beloved because of its characters.
As the Jurassic World trilogy wraps up, it's precisely this element of the original film director Colin Trevorrow is turning to. Star Chris Pratt recently teased Jurassic World 3 aka Jurassic World: Dominion will feature "all the cast from the original Jurassic Park." Here's who is confirmed to appear.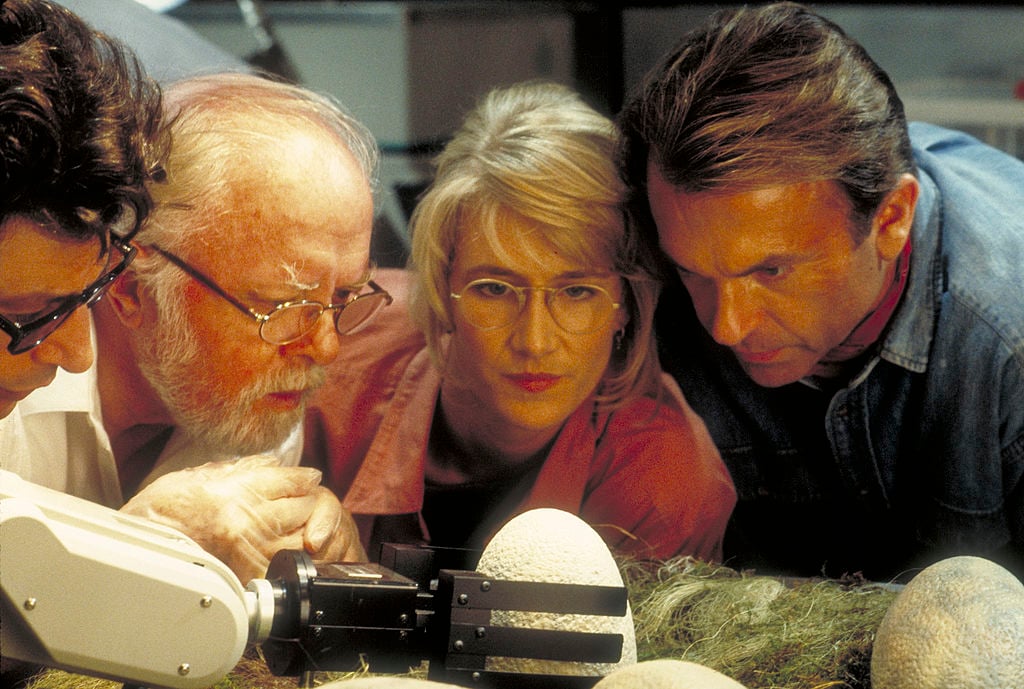 Jeff Goldblum returns after 'Jurassic World: Fallen Kingdom'
Of all the fan-favorite characters introduced in Spielberg's original film, Jeff Goldblum's Ian Malcolm is easily top of the list. The character has been warning of the consequences of creating dinosaurs from the beginning. So it felt appropriate for Goldblum to reprise the role, albeit briefly, for Jurassic World: Fallen Kingdom.
In that movie, the chaos theorist, Malcolm saw his worst fears realized. Dinosaurs are now running free throughout the world, a scenario that changes things forever. Humanity is no longer the dominant species. And Malcolm — who also led The Lost World: Jurassic Park — now must face the very situation he cautioned against in the first film.
Thankfully, Goldblum will return yet again for Jurassic World 3. We're not sure exactly how big a role he or any of the returning cast members will play. However, at least longtime fans won't have to see the presumed final Jurassic Park film without the series' most famous character. You could say life, uh, found a way.
Sam Neill and Laura Dern are both back for 'Jurassic World 3'
Of course, a huge part of why Goldblum makes such an impression in Jurassic Park is that he doesn't have to carry the story. That responsibility falls to Alan Grant (Sam Neill) and Ellie Sattler (Laura Dern). Their arcs — particularly that of Alan — provide the emotional hook for Jurassic Park. Yet, aside from Jurassic Park III, they've never before returned to the series.
That's about to change, as both Neill and brand-new Oscar winner Dern are confirmed for Jurassic World: Dominion. The last time we saw them, Alan had been tricked into joining another expedition to an island full of dinosaurs. And Ellie had settled down and had children with another man. She had also retired from paleobotany to become a children's writer.
However, by the time we see Alan and Ellie again, 20 years will have passed since Jurassic Park III. There's no telling whether Alan and Ellie will still be in touch or, perhaps, have even rekindled their romance. Moreover, Ellie's now-adult children could have a role to play in Jurassic World 3. Here's hoping fans get more than one scene of Alan and Ellie together this time.
Joseph Mazzello teased his role, but what about Ariana Richards?
That takes care of the big three. But other surviving characters from the original Jurassic Park could be due for a comeback. Well, Joseph Mazzello — who played young Tim Murphy — recently teased a mystery project. Many fans are assuming this means he too will make an appearance, though nothing has yet been confirmed for Jurassic World 3.
In the years since Jurassic Park, Mazzello has kept busy, even appearing in hits like The Social Network and Bohemian Rhapsody. His on-screen sister, Ariana Richards, hasn't been quite so focused on her acting career. In fact, since making a cameo in The Lost World alongside Mazzello, she has only earned a handful of TV and film credits. No indication if she'll be back yet.
Barring the surprise of a one-armed Samuel L. Jackson, those are the only members of Jurassic Park's original cast who might show up. However, Trevorrow could always tap into surviving characters from the other two pre-Jurassic World sequels. Could fans really see actors such as Vince Vaughn, Julianne Moore, William H. Macy, and Téa Leoni come back?
Probably not, but as Avengers: Endgame and Star Wars: The Rise of Skywalker proved, you never know what surprises the filmmakers will deliver. We'll find out when Jurassic World: Dominion on June 11, 2021.