Alton Brown Uses a Kitchen Staple to Cut Bitterness in Coffee
Learn how Alton Brown cuts the bitterness in coffee with a surprising kitchen staple.
Are you tired of bitter-tasting coffee? You've probably tried cutting the bitterness by adding sugar or making a flavored coffee. Unfortunately, that just increases the calorie count without really affecting the bitterness. However, there is another way to reduce that unpleasant bitterness and it comes courtesy of a celebrity recipe.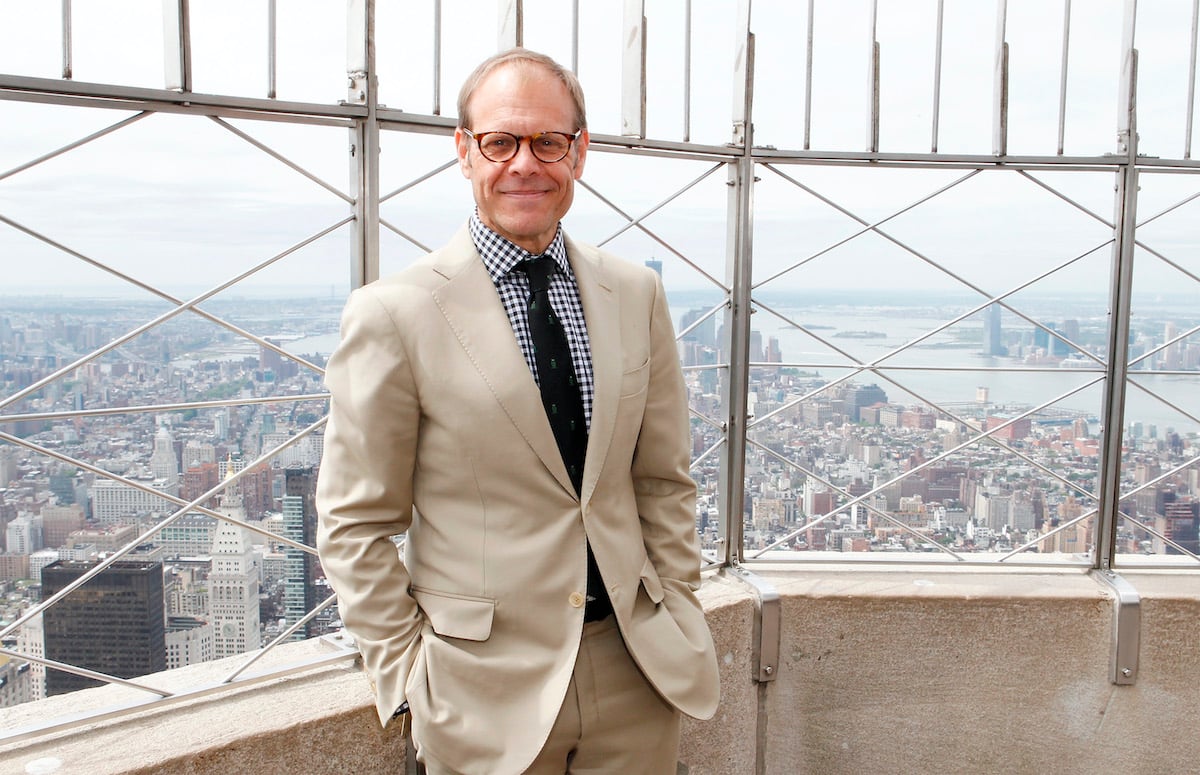 Add a pinch of salt for better coffee
Culinary genius Alton Brown suggests adding a pinch of salt to the grounds before brewing your next pot of coffee. A mere quarter teaspoon of kosher salt is enough to neutralize the bitterness in six tablespoons of ground coffee. Salt is believed to interfere with how taste buds interpret the bitter compounds present in coffee.
Of course, not everyone perceives bitterness in the same way. Some people's genetic makeup makes them far more aware of bitter flavors. According to Food52, several other variables can affect salt's effectiveness at masking the bitterness of coffee. Those factors include the type of coffee, its concentration, the brewing method, the temperature of the water used for brewing, and the proportion of salt to coffee.
You may want to experiment to find a combination of coffee, salt, and brewing method that suits your unique tastebuds. A Southern Living article points out that Brown claims that the salt also removes the stale flavor of water sitting in your coffeemaker's holding tank.
How about a cookie with that coffee?
Brown has another clever trick for achieving the perfect chewy texture in your next batch of chocolate chip cookies. Simply swap out the standard all-purpose flour for higher protein bread flour. The extra gluten in the high-protein flour gives the cookies a chewier texture and more inviting mouthfeel.
For even more delicious chewiness, he also recommends using dark brown sugar instead of the usual light brown. Dark brown sugar contains more molasses, which gives cookies a richer flavor as well as a more delightful chew.
This culinary master also has a clever hack for getting brownies that are perfectly fudgy from one side of the pan to the other. Simply bake a pan of brownies at 300° for 15 minutes. Remove them from the oven and cool on a rack for 15 minutes. Finally, put them back in the oven to bake for another 30 minutes. The result is a pan of brownies that are soft and fudgy — even along the edges.
To top things off, Brown has a recipe for vegan buttercream frosting that uses … wait for it, avocados! This light and lemony frosting is made from ripe avocados, powdered sugar, lemon juice, and lemon extract.
Alton Brown's cooking hacks aren't all sweet
For easy and delicious scrambled eggs, Brown suggests whisking the eggs with a little mayonnaise for a better texture. A splash of ice water will produce an extra fluffy scramble.
His hack for cooking pasta takes less time and uses less water than traditional methods. He suggests adding dry pasta to a saucepan with salt and just enough cold water to cover. Bring the mixture to a boil and cook until the pasta is al dente. No more waiting for a massive pot of cold water to come to a rolling boil before you can even start cooking!
Never buy taco seasoning again when you have Brown's homemade taco seasoning in the pantry. The mixture includes cayenne pepper, chili powder, coriander, cumin, and salt. It also includes a little corn starch to act as a thickener and binder so that the taco meat stays put in the shell. You can adjust the salt and spice levels to taste with this handy pantry staple. Did we mention that the man is a culinary genius?