Alton Brown's Coleslaw Let Some Food Network Reviewers Down: 'Alton Brown Has Never Failed Me Until Now'
Culinary star Alton Brown's recipe for coleslaw has its rabid fans — and equally dissatisfied detractors — and it all comes down to salt.
While culinary personality Alton Brown can overwhelmingly be counted on to provide his fans with stellar recipes that amaze every time, a few of his creations on Food Network's site weren't all homers.
The chef's recipe for coleslaw certainly has a good share of thumbs-ups but it had a healthy amount of home cooks who were less than wowed by his way with cabbage in this dish.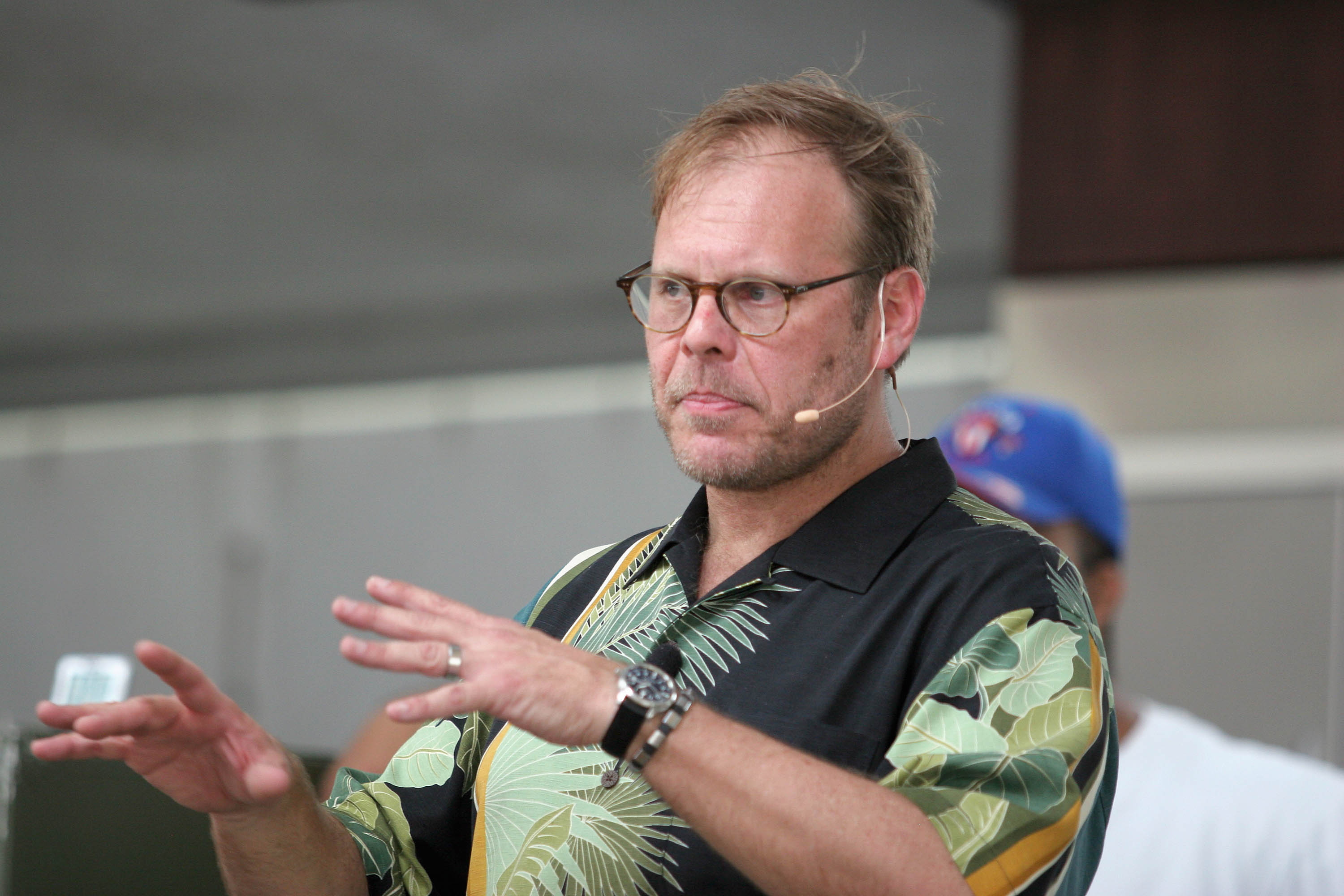 Alton Brown's scientific approach to coleslaw
As many Food Network fans know, when Alton Brown takes on a recipe, even if it's as basic as roast turkey or guacamole, it's going to be done meticulously and scientifically.
His coleslaw recipe is no different, as he illustrates in the Food Network video, link below, for this recipe.
Brown combines shredded half-heads each of green and red cabbages in a very large bowl. They're tossed with "a lot" of kosher salt and left to drain excess water in a colander for a few hours.
His reasoning is exactly why the chef's fans love him so much. He doesn't say, "I'm salting the cabbage so the coleslaw won't be soggy." He instead says that he wants "to pull some of the water out of its cell structure and this is going to do it." That's so Alton.
After the few hours are up, the salted cabbage is then rinsed thoroughly and tossed along with sliced carrots in a mixture of buttermilk, mayonnaise, plain yogurt, dry mustard, chopped chives, and pickle juice ("You can use anything; you can use the juice from gherkins or you could use dill").
The slaw is salted and peppered to taste and it's ready to serve.
Get the complete recipe, video, and reviews on Food Network's site.
His cabbage salad had some unhappy fans
The stumbling block many home cooks encountered in Brown's recipe was his use of salt at the start of the recipe. Although they claimed to have rinsed the cabbage after it was salted and drained, according to their reviews, their work resulted in a salty and unappetizing slaw.
"Alton Brown has never failed me until now. The texture was perfect after salting but no matter how much I rinsed and squeezed, I could not get the toxic salt level reduced. Ended up tossing in trash," one dissatisfied cook wrote.
Another reviewer added, "I generally like my food heavily salted, but the salt brining process in this recipe leaves the cabbage WAY too salty even after thorough rinsing."
Lastly, one home cook wrote, "The salting of the cabbage just messes up this whole recipe. Couldn't rinse the salt out of the cabbage. Ruined the rest of it."
Brown's coleslaw recipe does have its share of fans on Food Network's site
Despite the disappointment noted by these dismayed reviewers, many other home cooks were won over by the Good Eats star's approach to the classic cabbage dish.
"I just made this for a family gathering, and everyone really enjoyed it. Most slaws are so sweet and gooey, that it turns many people [off]. This slaw is nice and crisp, with a real tang to it. . . Very Good Eats!," one reviewer said.
Other fans of the dish wrote, "Made this for the first time last night. I did not make any changes to recipe. It was very good and I will make this again," "Different, but really good. :) thanks for the idea. I love trying new recipes," and "I've made this recipe about 4 times and it turns out great every time."
Try Alton Brown's coleslaw for yourself, maybe as a side to his Pulled Pork recipe. Just don't forget to rinse the cabbage.