Alton Brown's Guacamole Has 1000+ Five-Star Ratings: 'I Finally Like Avocados Thanks to You'
Grab a bag of tortilla chips because Food Network personality Alton Brown's guacamole recipe has over 1000 five-star reviews for good reason.
When you find a guacamole recipe you love, you shout about it from the rooftops, as more than 1000 Food Network reviewers have done (so to speak) for chef Alton Brown's winner of a recipe.
With reviewers' remarks using words such as "the best" and "perfect," it's clear that Brown's spin on the classic Mexican dish is one you don't want to miss.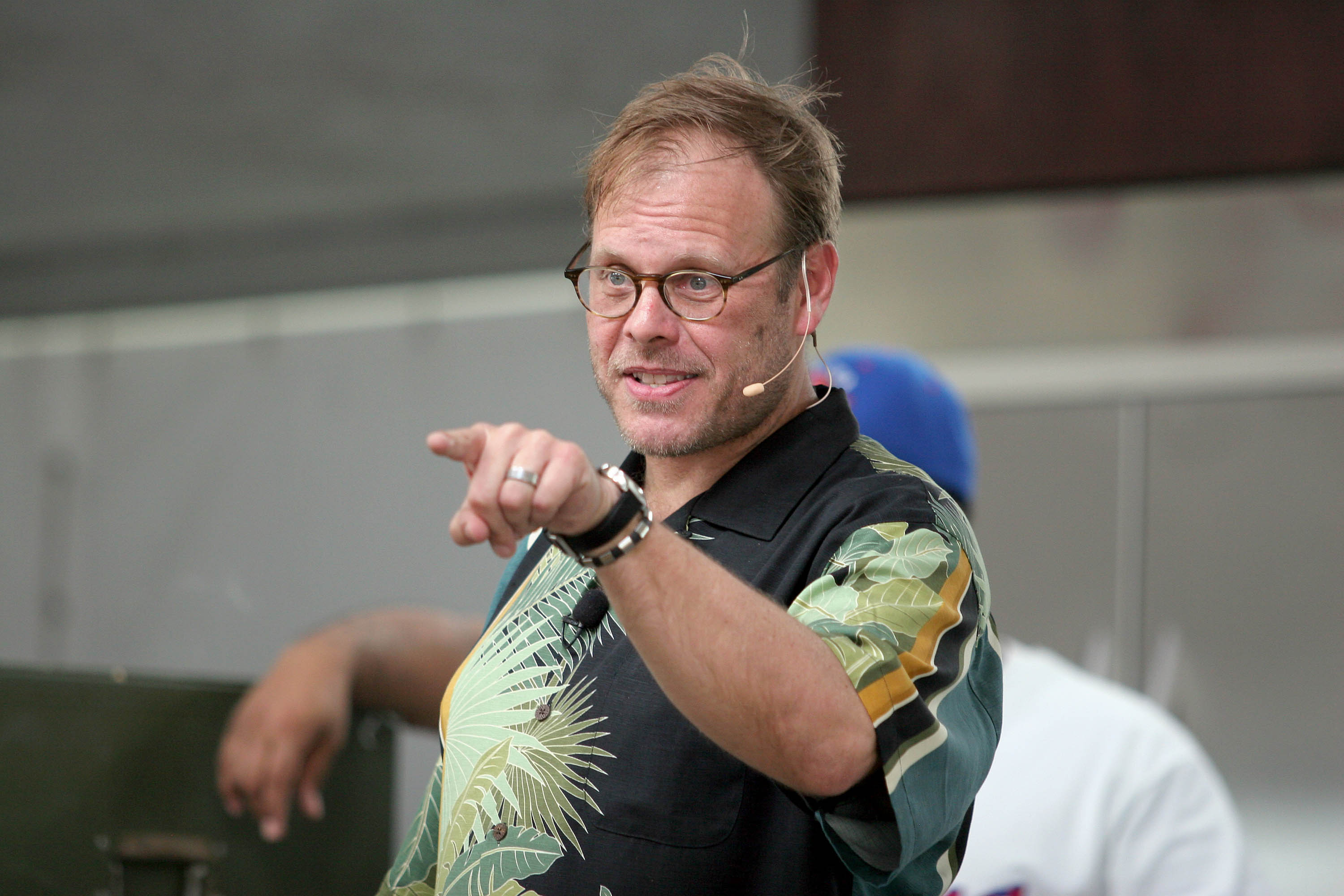 Brown's guacamole has only 9 ingredients
The culinary personality's guac calls for Hass avocadoes, lime juice, ground cumin, cayenne pepper, diced onion, jalapeno pepper, Roma tomatoes, chopped cilantro, and minced garlic.
"To really celebrate the avocado, you need chunks so pureeing, not going to work," Brown says in the Food Network video, below, for this recipe. "That said, chunks alone won't convey one of avocado's best attributes, which is its creamy smoothness. We're going to need that creamy smoothness if we're going to create a dip instead of a scoop."
With that in mind you'll need, in order to create Brown's masterful dip, your trusty potato masher.
The avocados are salted and seasoned with the cumin and cayenne pepper then crushed with the potato masher. Brown follows this up by stirring in the add-ins listed above.
His secret to developing great taste in his guacamole? "The flavors are going to have to marry and mellow for a while," Brown explains.
So, in essence, leave the dip alone, specifically "for about two hours in a nice, cool place," but not the fridge because "cold turns down the volume on flavor."
To prevent browning, the Good Eats host recommends placing "heavy-duty plastic wrap" right on the guac.
Get the full recipe, video, and reviews on Food Network's site.
Reviewers gobbled up Brown's twist on the classic Mexican dip
Many home cooks on Food Network's website declared their search for the best guacamole was over, thanks to Alton Brown's flavorful version of the dip.
Reviewers wrote, "The best guacamole recipe I've tried. I should have doubled the recipe as it [sic] gone very quickly. Perfect seasonings," "Amazing! Best thing ever! Taste just like the restaurants!," and "This blew my friends away, they couldn't believe I made it. Such a simple recipe with big taste!!"
Another home cook addressed Brown directly, writing, "Thank you so much. I finally like avocados thanks to you."
Alton Brown's recent big announcement
Brown broke some "big news" on social media and on The Late Show with Stephen Colbert.
"Hey, Food fans. Here's my big news: Iron Chef is back, bigger, better, and on @netflix starting June 15," he tweeted.
Brown will be joined in hosting duties by Top Chef winner Kristen Kish.
Netflix is saying, according to Deadline, that "The legendary Iron Chef series is reborn with a supersized approach to the ground-breaking culinary competition that started it all. … Five new trailblazing Iron Chefs will welcome brave Challenger Chefs to the reimagined Kitchen Stadium, where they'll face off and be pushed to the limits of endurance and creativity, as they cook up extraordinary culinary creations. The competition's most successful Challenger will return to battle in a grand finale for the chance to be named the first-ever Iron Legend."
'Iron Chef: Quest for an Iron Legend' debuts on Netflix beginning June 15, 2022.