Amber Heard Accused of Editing Photos by Camille Vasquez, Johnny Depp's Lawyer
The trial between Johnny Depp and Amber Heard resumed this week after a short break. The case has been extended due to the amount of evidence yet to be presented. It was initially supposed to conclude on May 19, 2022. Depp's legal team began the cross-examination of Heard this week, and tensions ran high as Depp's lawyer, Camille Vasquez, accused Heard of editing her photos to make it appear as though Depp struck her.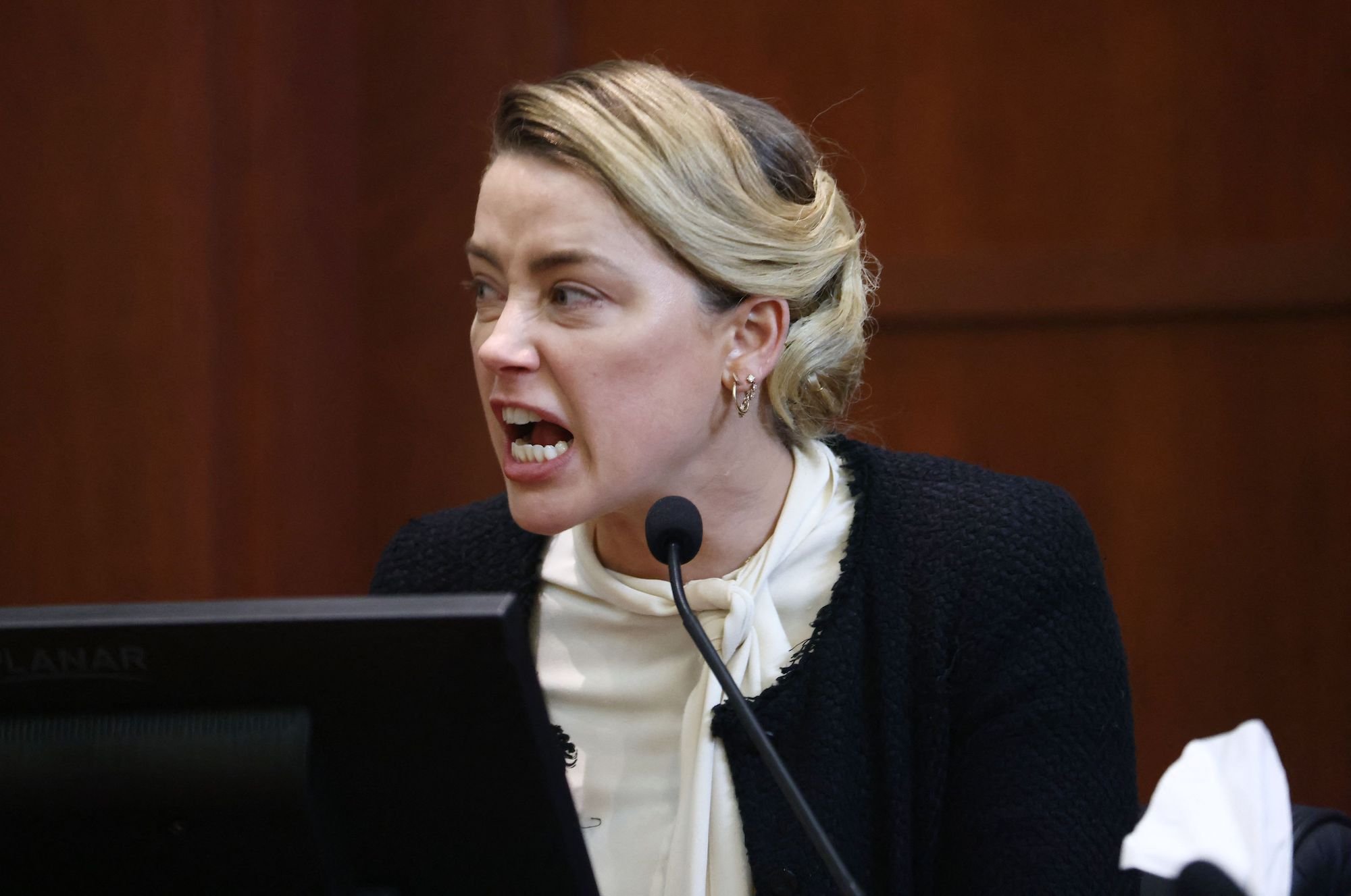 Johnny Depp's lawyer, Camille Vasquez, accused Amber Heard of editing photos of her alleged abuse
Vasquez grilled Heard today during her cross-examination of The Aquaman star and brought up everything from the reason Depp refuses to look at Heard during the trial to Heard's images of the alleged abuse. Lawyers showed two photos of Heard's allegedly bruised face to the courtroom, but Vasquez questioned the validity of the pictures. The lawyer claims Heard edited the photos, but the actor denied the allegations.
Vasquez asked Heard, "Isn't it true you just edited these photographs?"
"No, I've never edited a photograph," Heard responded.
Vasquez continued, "Didn't you just enhance the saturation from one of these photos to make your face look more red?"
Heard denied the accusation, "No, that's incorrect. I didn't touch it."
RELATED: Johnny Depp vs. Amber Heard: Body Language Expert Compares Heard to Casey Anthony and Jodi Arias
Amber Heard claimed she didn't edit the photos, instead took them in different lighting
Heard testified that she didn't edit any of the photos shown in court. She claims she took the photos in settings with different lighting saying that she took one image in the daytime while she took the other at night. She also added she thought she had a vanity mirror light turned on in one of the photos.
However, Heard's claims didn't faze Depp's attorney. She continued with her cross-examination and brought up the police officers who visited Heard's home the night of the alleged abuse. The officers saw no evidence of abuse and testified to that in court as well.
Vasquez added, "You sat in this courtroom while Officer Zeins saw you, and testified that he didn't see any injuries on your face."
Heard replied, "The officer said she didn't considered my red puffy face injured. That was her testimony in the UK."
The tense exchange continued between the two as Vasquez said, "That's just inconvenient for you, isn't is Ms. Heard? The other officer also said he saw no injuries on your face on May 21, 2016."
Heard answered, "They said they didn't consider what they saw on my face to be injuries," to which Vasquez then said, "I think we all saw, you identified yourself. And after you identified yourself, he looked at you and saw no injuries?"
Heard responded, "No, that is incorrect."
Camille Vasquez also pointed out others who said they saw no injuries to Amber Heard's face
The concierge at Depp's penthouse didn't help Heard's denial of editing photos. Alejandro Romero, Depp's doorman, testified that he never witnessed any bruising on Heard's face. 
Vasquez continued, "You were also in this courtroom when Alejandro Romero testified that he saw no injuries on your face on May 21 2016, weren't you?"
Heard replied, "No that's not what he said."
"You were also in this courtroom when James Franco said that he saw no injuries to your face on May 22, 2016?" Vasquez asked, but Heard once again denied the allegations.
Stay tuned to Showbiz Cheat Sheet for all your updates regarding the Johnny Depp v. Amber Heard trial!
RELATED: 'Pirates of the Caribbean' Actor Believes Amber Heard Lifted Lines From 'The Talented Mr. Ripley'