Amber Heard's Lawyer Expect Johnny Depp's Lawyers to 'Pound Away on the Victim'
Attorneys for Amber Heard anticipate another rocky day in the Johnny Depp vs. Amber Heard trial. After a week hiatus, court resumes, and Heard's attorneys anticipate Depp's lawyers will attack Heard during cross-examination.
A spokesperson for Heard shared with Showbiz Cheat Sheet that "we suspect Depp's attorneys will avoid the central issue of this trial: does Amber or any woman have the First Amendment Right of Freedom of Speech."
Heard's spokesperson released an anticipatory statement ahead of her cross, stating that facts are not on Depp's side. And that his attorney's strategy will be to attack her on the stand.
Amber Heard's lawyer said the facts are not on Johnny Depp's side
Heard's spokesperson shared: "There's an old saying by trial lawyers: when the facts are on your side, argue the facts. When the facts are not on your side, pound away on the podium. Today, we expect Depp's attorneys will instead pound away on the victim. We fear it will be equal parts shameful and desperate. And, the overwhelming evidence – the truth – is not on Depp's side."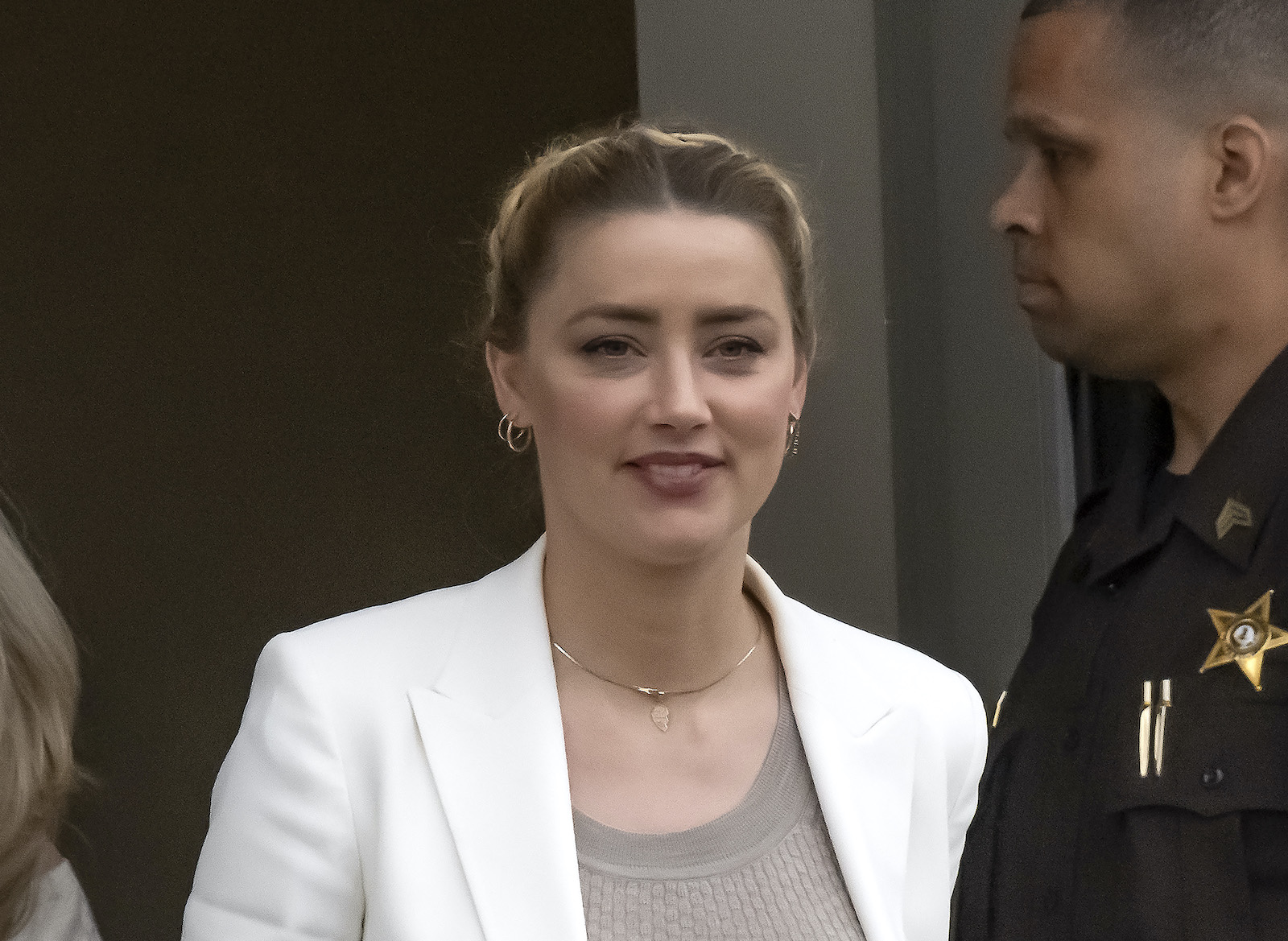 Heard's team also shared a document from the National Coalition Against Domestic Violence "for determining the core aggressor in relationships where domestic violence exists."
Depp is suing Heard for $50 million for defamation. She penned a Washington Post op-ed about abuse and while she did not name Depp as her abuser, he was painted as a "wife beater" by a British tabloid. He sued the tabloid and lost. He has since lost jobs and claimed damage to his reputation.
Amber Heard vs. Johnny Depp trial is triggering for domestic abuse survivors
NBC News reports that some survivors of domestic abuse find the coverage to be extremely triggering and the jokes and memes from the trial to be upsetting. Twahna P. Harris, who is a domestic abuse survivor and CEO of advocacy group The Butterfly Society said the case brings her back to dark days.
"For me, it takes me back to where I once was," she said. "And that's what happens. You're revictimized all over again. You're not believable, apparently … it makes you mad, it makes you angry. Until you've lived it, you will never understand." She added about the jokes and memes: "It's a slap in the face to victims and survivors," she said. 
RELATED: Amber Heard's Lawyer Elaine Bredehoft Is the 'Best Lawyer Johnny Depp Has on His Team,' Courtroom Insider Jokes [Exclusive]
Danielle Dell'Olio, who is also a domestic abuse survivor, sat in the Depp vs. Heard trial for weeks. She told Showbiz Cheat Sheet, that she believes Depp is the one who was abused but said the trial has been very triggering. She eventually returned home and will follow the trial from her home in Florida.
Dell'Olio has been covering the trial on her TikTok and podcast, Innocent Till Tipsy. She has over 1 million TikTok followers and shared she needed a mental health break. "As a domestic abuse survivor myself, sitting in court listening to Amber has been extremely triggering," she shared on TikTok. "Especially when I've been following the case as long as I have and I know that it's all lies."
Amber Heard's lawyer is trying to win the case – but not helping her client?
Dell'Olio hopes that both Depp and Heard get help. "[The psychologist] sat with Amber for over 12 hours talking with her, and she was there to evaluate Amber and she seemed super knowledgeable and well read," she told Showbiz Cheat Sheet. "She said that she would diagnose Amber with borderline personality disorder along with histrionic personality disorder. And everything kind of matched up. And then Elaine, Amber's lawyer got up and just totally tried to dismiss that."
"This whole time, especially since seeing them both in person, I just hope Amber has gotten some sort of help," she added. "I mean, obviously, the two of them are broken people. I think we've known Johnny Depp's been broken for a long time. He had a very rough childhood."
"But I hope Amber is getting help because she's had a very rough childhood as well. It doesn't seem like she's healed from it. It seems like she's still carrying on a lot and it has been hard to listen to in court even the stuff about her. So when Elaine started to kind of dispel it, I was like, I hope that your lawyer is just doing it to win your case and that you were actually getting treatment for this. Because I'm a little concerned."