Amber Heard's Privacy Was a 'Precious Thing,' and the Loss of it Could Have a Negative Ripple Effect for Victims of Abuse
The defamation trial took away a lot of Amber Heard's privacy, and her reliving the trauma of abuse could have a negative impact for victims of domestic violence.
As an actor, Amber Heard is very much a public figure, but things have gone to another level. The world knows some of the seedy details of her relationship with Johnny Depp because of their defamation trial and her court testimony. Her private life is very public now, but Heard once said her privacy was a precious item she valued. The defamation trial took away a lot of Heard's privacy, and her reliving the trauma of abuse could have a negative impact for victims of domestic violence.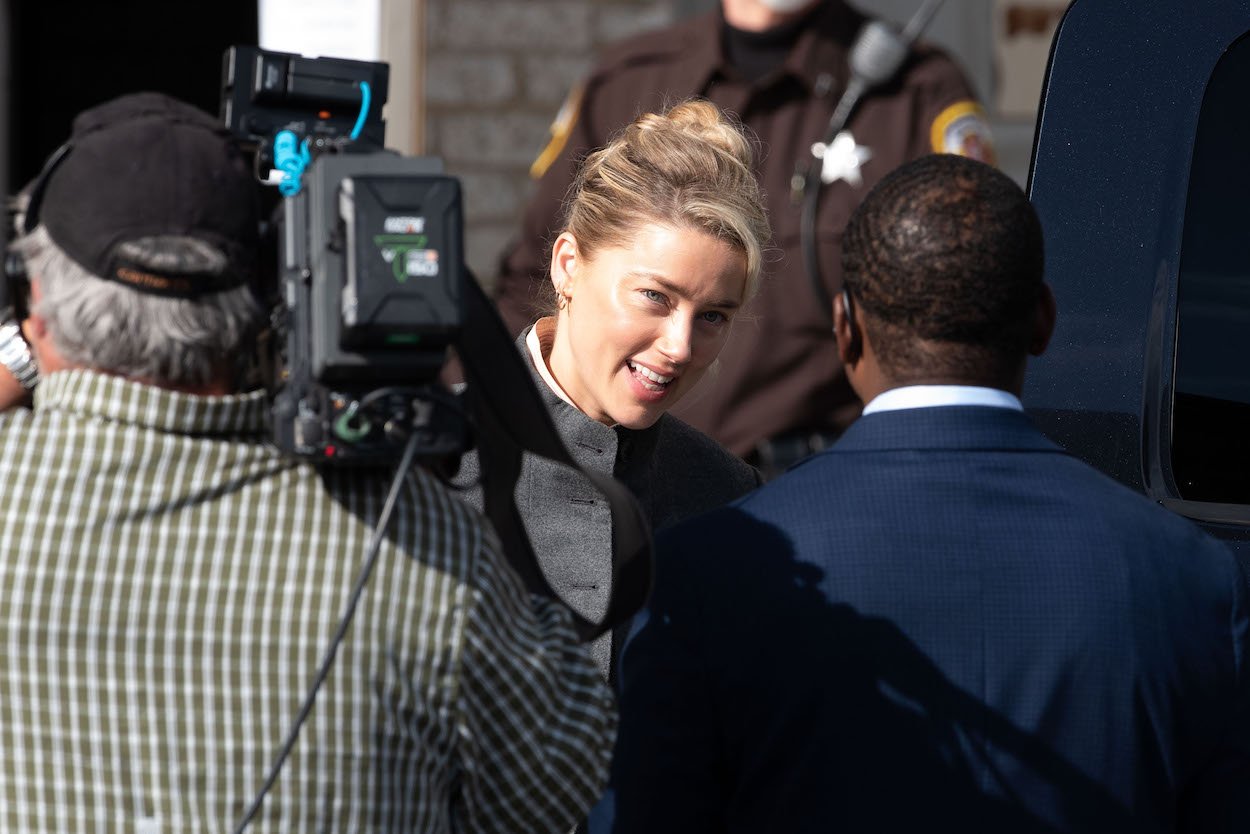 Amber Heard's privacy evaporated when her defamation trial vs. Johnny Depp started
What started with an explosive op-ed (written with important help) stating Heard was a public figure representing domestic abuse triggered the defamation trial. Even though he wasn't named in the op-ed, Depp claimed Heard's work defamed him and cost him acting work, so he sued. 
At the Fairfax, Virginia, trial, the world learned about the Hicksville trailer incident, a fight that led to Depp losing his fingertip, and poop on the bed. We heard about drug use, fights near the stairs, and more. 
What was private became very public, which was in stark contrast to the privacy Heard once said was the most precious thing she could have.
Heard once said privacy was "the most precious thing" for her
During a 2016 sit-down with Entertainment Tonight (part of a montage of discussion on YouTube), the interviewer asked Heard if she had social media accounts. The Aquaman actor said she didn't.
"I don't have social media, so I don't know," Heard said. "But I am aware of this phenomenon that I think is really interesting to see how it's affecting especially younger girls that are raised in a culture where a part of their everyday life is this superficial representation and promotion of themselves in this way." 
Heard decried social media for its impact on young girls. Still, she said her choice not to engage in social media was to protect her treasured privacy.
"For me, I think, with my life, the most precious thing I can have is privacy. So I don't have any reason or desire [to put myself out there], but I understand a lot of people do and why they would. A lot of people find ways to do it for good and to control the representations of themselves, which actors or celebrities typically don't have control over."

Amber Heard
Just a few years later, Heard's privacy all but disappeared. Her op-ed came out in late 2018, Depp and Heard appeared in a London courtroom in 2020 when he sued a British newspaper for libel, and the defamation trial started in April 2022.  
Heard lost her privacy but became the target of mocking when she spoke up about abuse, which could negatively effect victims of abuse.
The Heard vs. Depp trial could have negative effects for victims of abuse
Testimony and cross-examination in the defamation trial ended just before Memorial Day weekend. In her final statement to jurors, Heard said the harassment, humiliation, and reliving the trauma took a toll on her, reports NPR. The ripple effect could impact other victims of abuse.
Depp backers — online and in-person — have vocally supported him and just as vocally trashed Heard. The backlash against Heard sends the wrong message to victims of domestic abuse, said Ruth M. Glenn.
Glenn is a survivor of domestic abuse and the president and CEO of the National Coalition Against Domestic Violence, per NBC. She believes the negative comments directed at Heard makes victims of abuse less likely to come forward.
"I can't imagine what this might be doing to someone who may eventually want to seek safety and support," Glenn said. "Whether it's Amber Heard or Johnny Depp, how dare us make fun and make light of someone who is sharing something very personal — no matter how we feel about that person."
The Heard vs. Depp trial may seem like entertainment since it's televised and streamed in so many places, but it's real life, and mocking Heard has real-life consequences for victims of abuse. As NBC writes, "As more and more content mocking Heard's testimony floods social media, experts fear it could negatively affect victims of domestic abuse and potentially sway them to stay silent."
How to get help: In the U.S., call the National Domestic Violence Hotline at 1-800-799-7233 or text START to 88788.