Amber Riley Says She Has 'No Hatred' for Lea Michele Amid 'Glee' Cast Drama
Amber Riley has spoken out about the controversy surrounding Lea Michele's behavior on the set of Glee but refused to add more fuel to the fire.
During a recent Instagram Live chat, the singer-actress addressed the ongoing backlash against her former co-star, who has been accused of making black actress Samantha Ware's time on the show a "living hell." Though Riley expressed her support for the Ware for "speaking her truth," she also stressed that she has no ill will toward Michele.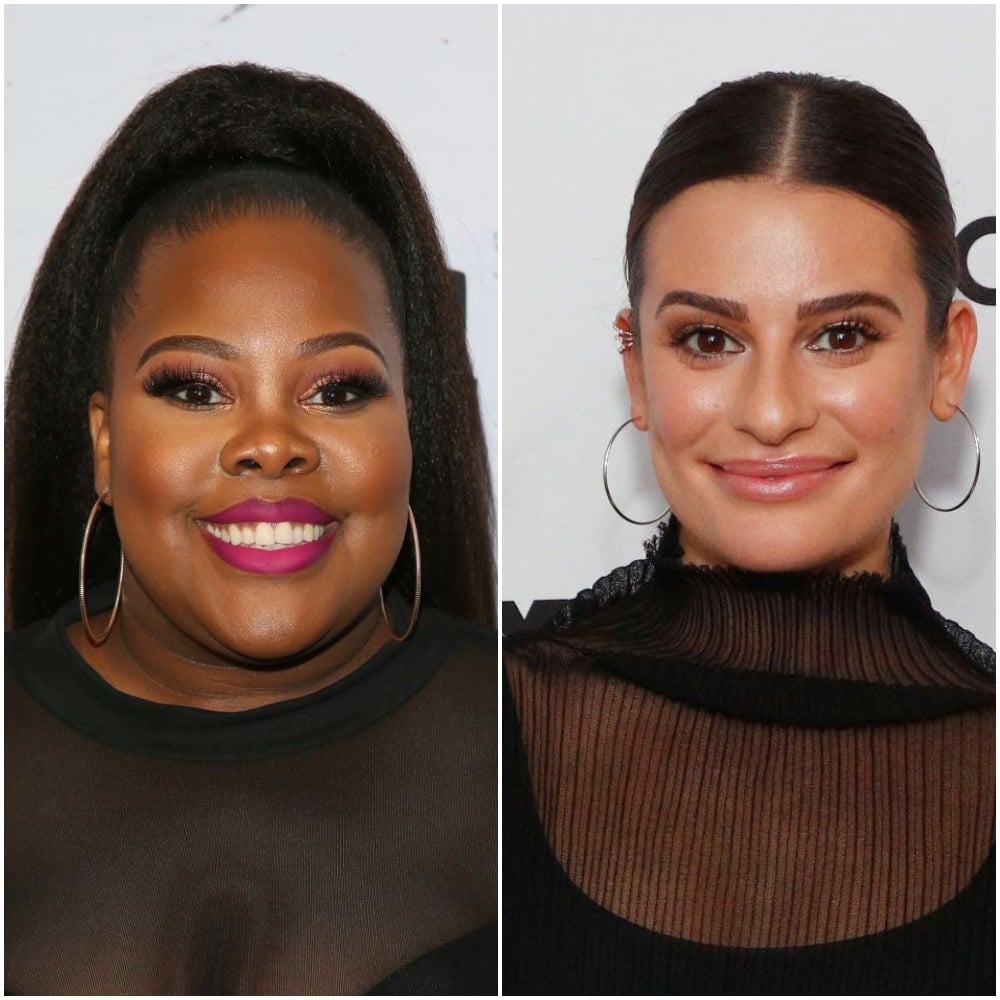 Lea Michele has come under fire for her alleged mistreatment of co-stars
Following the death of George Floyd, an unarmed black man killed by a Minneapolis police officer, millions around the country have rallied together to protest police brutality in America.
Not only have people marched and donated money to protest the country's injustices, but many celebrities have been using their platforms to encourage followers to speak out against racism and police violence.
The latest celebrity to stand in the lines of solidarity is Lea Michele, who tweeted out her support for the Black Lives Matter Movement on May 29, writing, "George Floyd did not deserve this. This was not an isolated incident and it must end. #BlackLivesMatter."
RELATED: Ariana Grande Chooses a Side in the 'Glee' Cast vs. Lea Michele Feud
Though Michele thought she was doing some good expressing her empathy for George Floyd, her former Glee co-star, Samantha Ware, called her out on Twitter for mistreating others because of the color of their skin.
Ware, who portrayed Jane Hayward in Glee Season 6, accused Michele of making her "first television gig a living h*ll.".
"LMAO remember when you made my first television gig a living hell?!?! Cause I'll never forget. I believe you told everyone that if [you] had the opportunity you would 'Sh*t in my wig!' Amongst other traumatic microaggressions that made me question a career in Hollywood," Ware alleged.
Following Ware's accusations, numerous cast members, including Glee's Alex Newell (Wade "Unique" Adams) and Heather Morris (Brittany S. Pierce), chimed in, siding with the actress's claims.
Michele has since issued an apology on Instagram, writing, "I apologize for my behavior and for any pain which I have caused."
Amber Riley doesn't "give a sh*t" about Lea Michele controversy
Though many were convinced Riley would join the growing number of Glee actors who came out in support of Ware's statement — particularly after she posted a series of gifs of herself seemingly responding to the drama on Twitter — the actress recently made it clear that she wasn't going to dig deeper into this controversy.
On June 3, the actress, who played Mercedes Jones on Glee, weighed in the drama surrounding her former co-stars during an Instagram Live interview with journalist Danielle Young.
RELATED: Disney's Live-Action 'Hercules' Fan-Casting Begins: Amber Riley And More Big Names in the Mix
During the chat, Riley stressed that she was not "going to say that Lea Michele is racist." However, she did say the Glee set was "not the most comfortable environment" to work in and was "proud" of Ware for speaking out.
"I am proud of her not being fearful for speaking her truth … [Her] feeling was, 'I am not going to allow you to jump on what is happening now when you didn't treat me right."
Riley later added that she has "no hatred" for Michele and that this was the "first and last time" she would address the situation.
"I wish Lea Michele well, I hope that she has an amazing pregnancy, I hope that she has grown," Riley said. "That [statement] she put out, I didn't read it because I told y'all I don't give a sh*t about it. People are out here dying, being murdered by police. She reached out to me, I responded to her and that's where it ends for me. I ain't talk to that girl in two years. I have no hatred or ill will on that end."