'Amber Turd' Goes Viral After Johnny Depp Testifies Amber Heard Covered His Bed in Poop as Revenge
Social media went into a frenzy after Johnny Depp testified that Amber Heard pooped on his bed as a form of revenge.
The trial between Johnny Depp and Amber Heard continues to heat up. However, the world is turning some of the actor's testimony into a meme about his ex-wife. Depp alleged that Heard covered his side of the bed in poop as a form of revenge for him leaving the penthouse. As a result, the term "Amber Turd" went viral on social media.
Johnny Depp recalled a major fight with Amber Heard
The Law&Crime Network YouTube channel dug into a critical segment of the trial. Depp alleged that Heard would often intentionally "poke" at him to get a reaction from him. He recalled a time when he was reading a book while she was watching television, but the situation quickly escalated after she repeatedly "rattled off" about what a terrible person he was.
The actor said that he didn't respond to Heard's comments and continued to read, which is when she got up and started "throwing multiple shots" at his face, head, and neck.
"I got up out of bed and I grabbed her by the shoulders and I sat her down on the bed," Depp recalled. "I said, 'I'm leaving. Please don't get off the bed, please don't follow me, please don't try to stop me. I'm leaving.' She got up off the bed and she squared off at me in the doorway of our bedroom. I said, 'What do you want to do? Hit me again? Would you like to hit me again? Go ahead, hit me.' (Motions a punch in the left cheek)."
Depp alleged that she hit him a second time in the face, which is when he moved her once again and left with a few of his things. The actor went to another one of his houses. He saw an opportunity to return to retrieve a few of his things since she was heading to the Coachella music festival for the weekend with her friends.
'Amber Turd' went viral after Johnny Depp testified about Amber Heard covering his bed in poop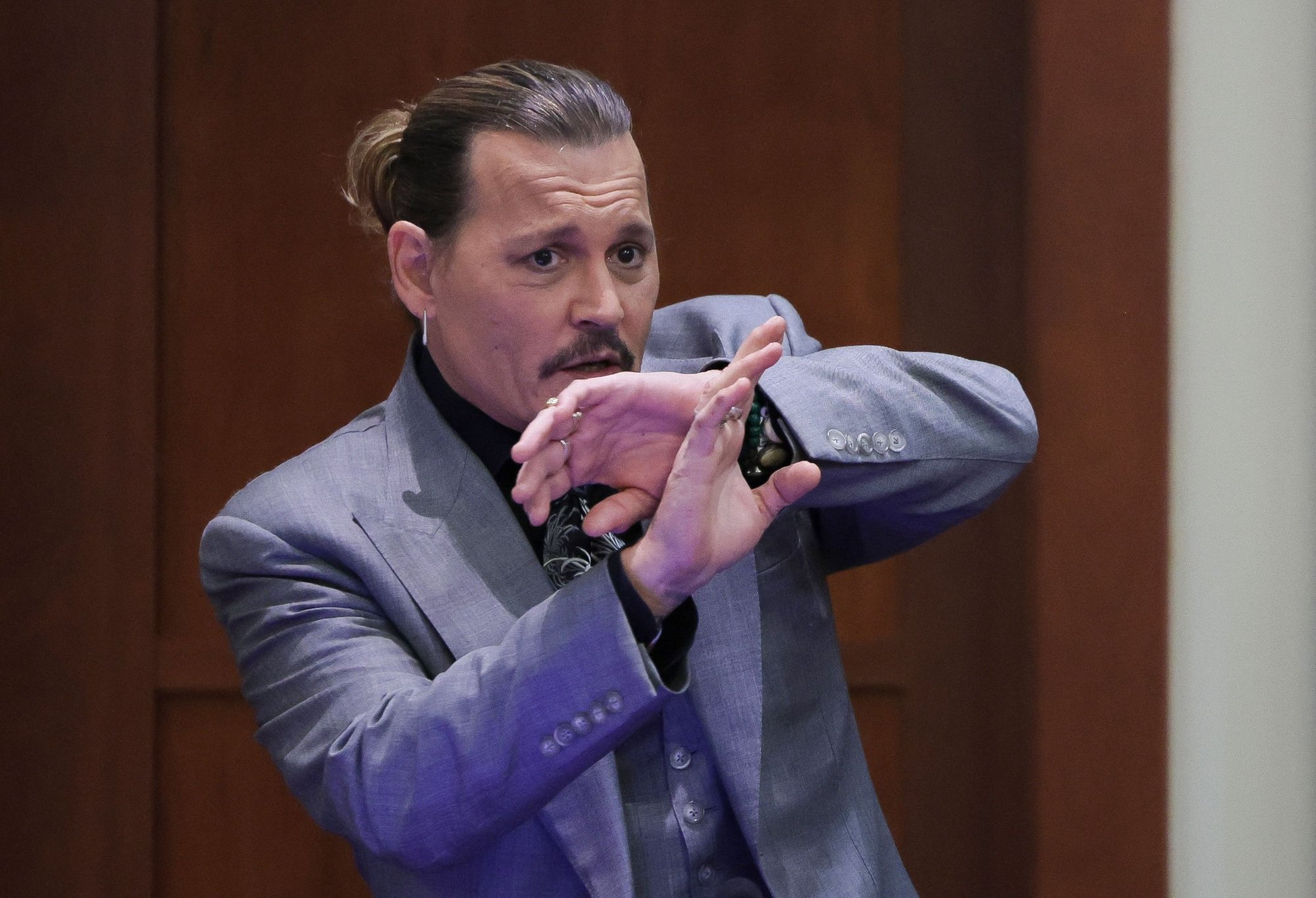 However, the biggest part of the Law&Crime Network comes from Depp's bodyguard, Sean Bett. He warned the actor about returning to the house during the time that Heard was at Coachella. Depp called the news "absurd, grotesque, and cruel."
"I had received some news that was as absurd and grotesque and cruel, and then I was shown a picture of what the problem was," Depp explained. "I had gone to Mr. [Sean] Bett and said, 'She's at Coachella. I think it's a good time to go downtown so that I can get some of my things and get them out of there."
Depp continued: "He said, 'I don't think now is a good time to go.' I thought, 'It's the perfect time, she's not going to be home for two days.' Then, he showed me a photograph on his telephone."
"It was a photograph of our bed," Depp alleged. "On my side of the bed was human fecal matter. So, I understood why it wasn't a good time to go down there. My initial response was, I mean, I laughed. It was so outside, it was so bizarre and so grotesque that I could only laugh. So, I did not go down there that day."
Social media went into a frenzy over the following days, posting memes about Heard allegedly pooping in every place imaginable that isn't a toilet.
The actor said his ex-wife blamed the dogs for the poop
At the time, Depp's mother was in the hospital and ultimately died. The actor said that this was a major turning point for him that opened his eyes regarding his relationship with his ex-wife.
"I decided that I would call Amber and tell her that my mom had died that day and then I very calmly said, 'Look, I've made a decision and I think it's the best thing,'" Depp recalled. "'I'm going to file for divorce, but I'm not going to cite irreconcilable differences, I'm not going to cite any violence, I'm going to state we simply, the two of us, we don't want to feel as though we have a collar around each other's neck and a leash attached to it.'"
However, he explained that Heard herself brought up the fecal matter incident, but she didn't take responsibility for it.
"She brought up the situation of her fecal matter on the bed and she tried to blame it on the dogs," Depp said. "The dogs are teacup Yorkies. They weigh about four pounds each."
Depp concluded: "The photograph that I saw and I mean, I lived with those dogs for many years and so did Hilda Vargas [Depp's housekeeper], she's a woman who's been with me for 30 plus years from the very beginning. She was the one who photographed it. It was clear, she knew the dogs as well as I did. That did not come from a dog, it just didn't."