'American Auto': Harriet Dyer and Tye White on Sadie and Jack's Will-They-Won't-They Romance
When it comes to sitcoms, one of the most common tropes is the will-they-won't-they couple. American Auto, NBC's newest workplace comedy, both embraces and upends this cliché with Sadie (Harriet Dyer) and Jack (Tye White). On the TV show, Sadie and Jack play potential love interests, representing the possible endgame couple sitcoms frequently have. However, American Auto makes a point to focus on Sadie and Jack's individual storylines first, letting romance take a back seat for the time being.
During a recent press junket for the show, Dyer and White discussed their characters with Showbiz Cheat Sheet and explained how they balance their characters' individual arcs with Sadie and Jack's budding tension.
[Spoiler Alert: This article contains spoilers for season 1 of American Auto.]
This interview has been edited and condensed.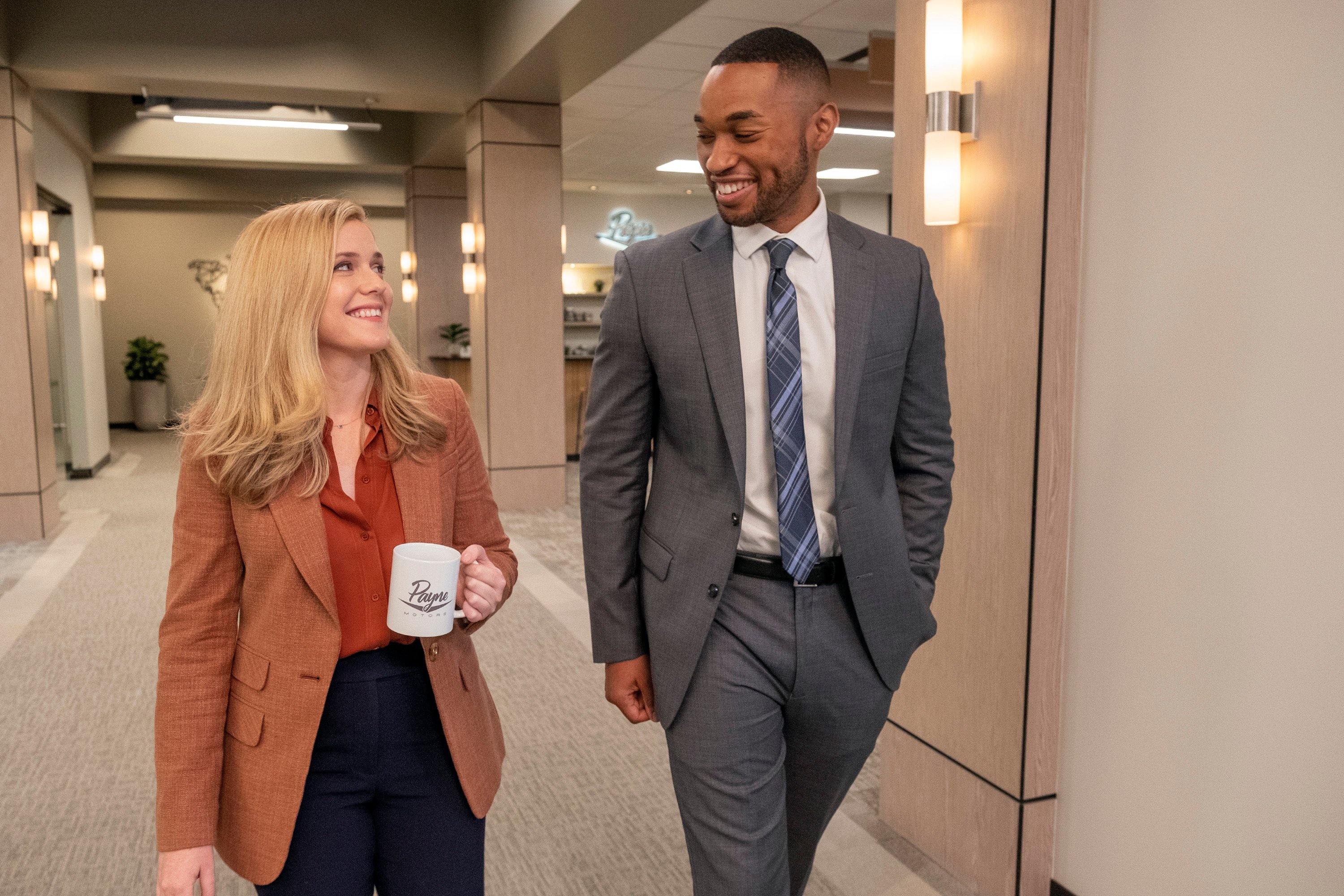 Harriet Dyer appreciates that Sadie keeps her individuality on 'American Auto'
American Auto follows executive-level employees at Payne Motors. The series stars Ana Gasteyer as Katherine Hastings, Dyer as Sadie, Jon Barinholtz as Wesley, Michael Benjamin Washington as Cyrus, White as Jack, X Mayo as Dori, and Humphrey Ker as Elliot.
Sadie and Jack hooked up before the series' pilot takes place. The two do not start a romantic relationship, but the other employees at Payne Motors constantly tease them, particularly Sadie, about their hookup.
Even though tension is present between Jack and Sadie, Dyer found it important to prioritize Sadie's character development.
"Historically, the young woman is tied to the romantic storylines, right? But as a modern young woman, I was excited to also be playing a really powerful business person. You know, she's the Chief Communications Officer. She's on the C-level of this business. And so it was really important to me to actually be an employee first," Dyer told Showbiz over a video call.
American Auto was created by Justin Spitzer, and Dyer shared that she often pushed Spitzer to make sure Sadie's scenes focus less on Jack.
"It was really good talking to Justin about that kind of thing… There sometimes would be more looks written into the script or more chemistry. But sometimes I'd be like, 'Yes, but we're dealing with a really big crisis in this episode. I feel like Sadie needs to have her head in the game trying to fix this… She's not going to just be eyeing off the guy she slept with a few weeks ago.'"
Tye White does not want to rush Jack and Sadie's story
White echoed Dyer's sentiments during the press junket, and he told Showbiz that he felt it was better to build Jack and Sadie's characterizations first.
"It was important for me not to burn our steps. Sometimes you don't want to drag things on too long, but you also don't want to come in and just immediately focus on that aspect of the show," White shared.
The actor continued, "So it was very important for me to have Jack and Sadie have their own identities and have the audience fall in love or dislike, whatever that may be, for each character before you work on a potential pairing."
In the first episode, Jack is promoted from the assembly line to the executive offices by Katherine. A great deal of Jack's storyline shows the character adjusting to the corporate world. On the show, Jack serves as the ethical voice of reason to his co-workers, and he oftentimes finds himself at a crossroads as he navigates his new position.
"He's in a new job, in a new environment he's not familiar with. So I think that has to take precedence," White told Showbiz.
Fans of 'American Auto' could see a romance between Sadie and Jack eventually
While Dyer and White are both dedicated to establishing their characters' individual arcs in the first season of American Auto, both actors acknowledged a relationship could be explored down the line.
"You want to give the people what they want, so you want to give them the flirt, you want to give them the chemistry. So for me, it was an interesting line that I'm trying to walk," Dyer said.
While White does not know what kind of relationship will form between Sadie and Jack, he thinks the two have the "potential" of other classic sitcom couples.
"As it becomes more familiar, the tension builds whether it be, you know, between Jack and Sadie, then you can explore a potential love sequence of dating, or off/on, will-they-won't-they, however many different ways as we phrase that," he said.
American Auto airs on NBC on Tuesdays at 8 p.m. ET.