'American Auto': Jon Barinholtz and Humphrey Ker on What Drew Them to the Show
During a recent press junket, 'American Auto' actors Jon Barinholtz and Humphrey Ker revealed why they wanted to join the show's cast.
American Auto premiered on NBC on Dec. 13, 2021. The new TV show follows executive-level employees at Payne Motors. American Auto stars Ana Gasteyer as Katherine Hastings, Harriet Dyer as Sadie, Jon Barinholtz as Wesley, Michael Benjamin Washington as Cyrus, Tye White as Jack, X Mayo as Dori, and Humphrey Ker as Elliot.
The series was created by Justin Spitzer, who is known for his work on The Office and for creating Superstore. During a recent press junket for American Auto, Barinholtz and Ker shared why they originally wanted to join the show's cast.
[Spoiler Alert: This article contains spoilers for season 1 of American Auto.]
This interview has been edited and condensed.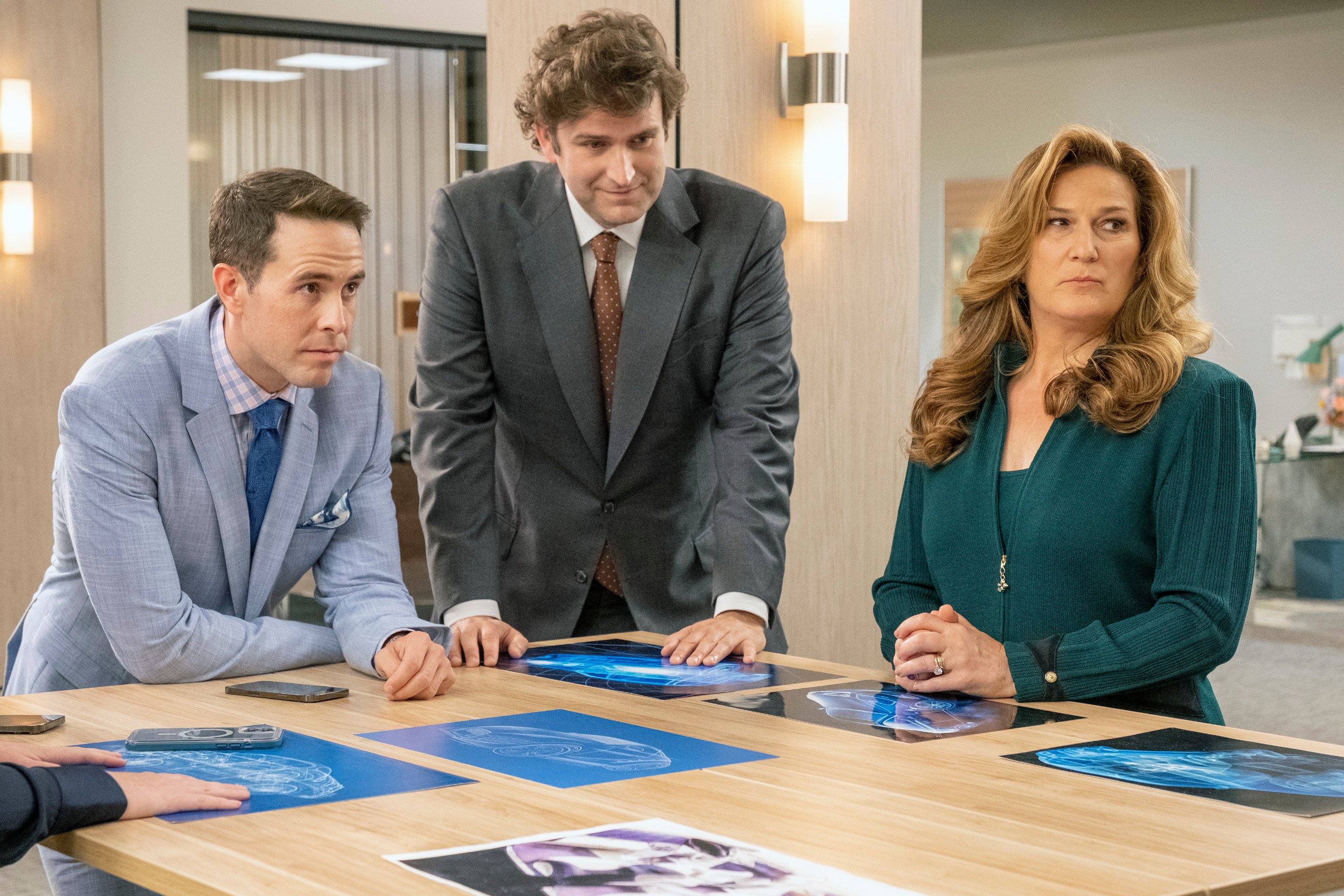 Both Jon Barinholtz and Humphrey Ker are fond of 'American Auto' creator Justin Spitzer
Superstore ran on NBC from 2015 to 2021. The workplace comedy centered around employees at a fictional box store called Cloud 9. On Superstore, Barinholtz played Marcus, a warehouse supervisor. Because of his work with Spitzer on Superstore, Barinholtz knew immediately he wanted to be a part of American Auto.
"I'd been working with Justin on Superstore for five seasons at this point when I first saw the script, and it was to be totally honest, I would have said yes to a Justin Spitzer project sight unseen, just knowing how great he is," Barinholtz told Showbiz over Zoom.
Like Barinholtz, Ker was also initially drawn to American Auto because of a previous experience working with Spitzer.
"The first job I did over here I got my green card because I did a pilot with Justin in 2013," said Ker. "And I met my wife at the commiserations dinner for that pilot failing. So, you know, I had a lot of history with Justin in that respect as well."
Jon Barinholtz called joining the cast 'a no-brainer'
While Barinholtz knew he wanted to work with Spitzer again once Superstore ended, the actor also found the concept of American Auto to be engaging.
"But reading the script on top of that was just — it was a no-brainer," Barinholtz said. "It was a higher energy, a show that took swings that sitcoms normally don't take. So I really appreciated the humor in it."
After playing Marcus for so long on Superstore, Barinholtz was excited at the prospect of playing Wesley, whose family tree is made up of the founder and former CEOs of Payne Motors. Representing nepotism in the corporate world, Wesley is entitled and always hanging around the C-suite executives.
"And just the character. The chance to play someone who no one wants around them, but they're not able to fire him. It's fun to play an annoying fly. So it was just — it was a no-brainer," the actor shared.
Humphrey Ker likes that the 'American Auto' characters are imperfect
Because American Auto follows those at the top of the corporate world, the characters are forced to make less-than-ethical decisions. As Payne Motors' Chief Legal Officer, Ker's character Elliot is oftentimes at the center of those dilemmas.
"I love getting to play like a baddie," Ker said during the virtual press junket. "And I love that this show is like, you know, we're not all… It's not all peaches and cream. We don't always end every episode by all hugging and telling each other we've learned the lesson and we love each other. It's fun to be bad."
Ker added, "Also, I was out of work, and I think my wife would've left me if I just stayed at home painting toy soldiers all day, which is what I was doing a lot of at that stage."
American Auto airs on NBC on Tuesdays at 8 p.m. ET.