'American Auto': Justin Spitzer and Ana Gasteyer on Making Corporate Executives Likeable
During a press junket for 'American Auto,' Justin Spitzer and Ana Gasteyer shared how the show makes corporate executives characters that viewers want to root for.
American Auto is NBC's newest workplace comedy. The TV show was created by Justin Spitzer and stars Ana Gasteyer, Harriet Dyer, Jon Barinholtz, Michael Benjamin Washington, Tye White, X Mayo, and Humphrey Ker. Spitzer also created Superstore, which ran on NBC from 2015 to 2021.
While Superstore followed the lives of service workers, American Auto is about corporate executives. During a virtual press junket for American Auto, Spitzer and Gasteyer discussed how the show creates characters that viewers actually want to root for.
[Spoiler Alert: This article contains spoilers for season 1 of American Auto.]
This interview has been edited and condensed.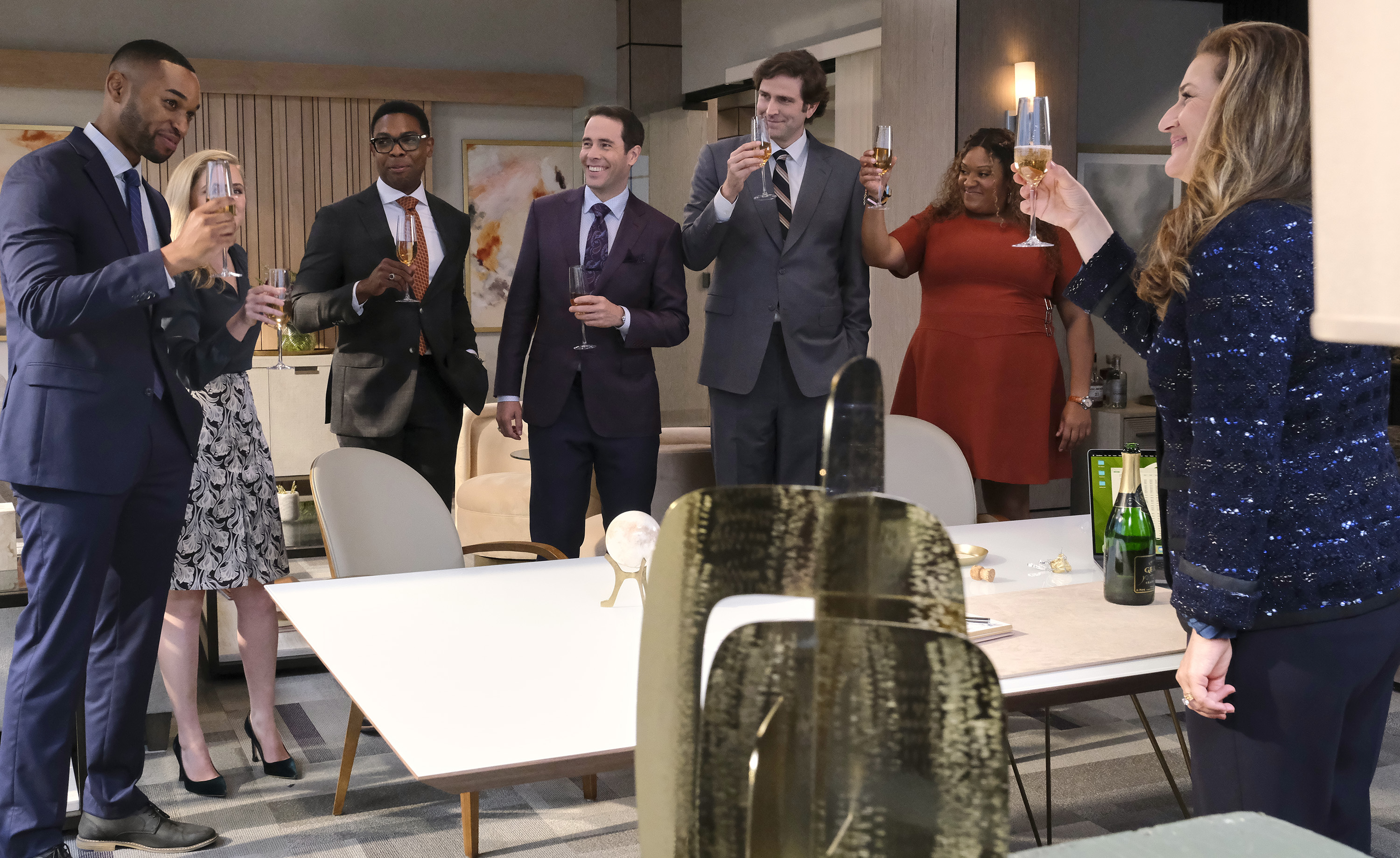 'American Auto' makes corporate the protagonist
Given that Superstore oftentimes made corporate the main antagonist, American Auto does a complete 180 and has corporate executives as the protagonists. Most of American Auto takes place at Payne Motors, a fictional car company headquartered in Detroit.
Gasteyer plays Katherine Hastings, the company's new Chief Executive Officer. Sadie (Dyer) is the company's Chief Communications Officer, and Cyrus (Washington) is the Chief Product Designer at Payne Motors.
Barinholtz plays Wesley, whose family founded and ran Payne Motors until Katherine took over as CEO. Jack (White) previously worked on the assembly line at Payne Motors, and in the show's pilot, Katherine promotes him to the C-suite. Dori (Mayo) is Katherine's assistant, and Elliot (Ker) is Payne Motors' Chief Legal Officer.
'American Auto' creator Justin Spitzer thinks the show presents 'a challenge'
Spitzer worked as a writer on the NBC sitcom The Office. He then pitched the idea of a show focused on the top people working in a corporation, but ended up pivoting to create Superstore instead.
Superstore was met with acclaim, and its subject matter of critiquing capitalism through humor matched the growing resentment of corporations, particularly amid the ongoing coronavirus (COVID-19) pandemic. Spitzer then reworked his original corporation idea, resulting in American Auto.
In a video call, Spitzer told Showbiz Cheat Sheet how it's "a challenge" to make viewers side with the characters of American Auto, saying:
"I think it's a challenge. I think from a writing perspective, we don't want to make them too soft. We want them to have edges, but try to remember to find those moments of vulnerability occasionally. And Ana and our cast are so great. I mean, they bring so much humanity to it. You know, a different actress could have played the part of Katherine as too tough, as having no warmth to her. I think Ana brings so much of that to her too, which is great. And you know, it's funny. When I originally had pitched Superstore, I think there was this conventional wisdom — I don't think it was universally thought, though, that people wanted to see affluent characters on TV. And I just, you know, it was a little bit of a journey to get to saying, like, 'No, we can do a show about the working class.' And now I think there's maybe a little more resistance to see, you know, the upper people in corporate America. And that's the challenge. But hopefully, if we're doing our jobs, people will start to love them regardless of their paycheck."
Ana Gasteyer compared the show to 'Succession'
After being promoted in the pilot of American Auto, Jack provides a different worldview to the other executives. During the show's press junket, Gasteyer credited Jack for bringing that shift in perspective.
"Yeah, and it's funny because I mean, obviously, like the function of a character like Jack who's coming from the working-class side, or the blue-collar side of Payne. And we see it through his eyes," she told Showbiz.
Gasteyer went on to compare American Auto to HBO's Succession, but instead of satirizing a corporation, Gasteyer believes American Auto must take it a step further.
"But people are very willing to rip Succession, you know? But it's funny. I don't know that they're as willing… It's our job to make them want to laugh at it, too. And not just find it appalling," said Gasteyer.
American Auto airs on NBC on Tuesdays at 8 p.m. ET.