'American Horror Story' Season 10: Part 1 of Season Allegedly Finished Filming Prior to Production Shutdown
Fans eagerly await the premiere of 'American Horror Story' Season 10. Unfortunately, production on the new season halted due to a positive coronavirus test. But reports claim this happened while filming part 2 of the series, which likely means part 1 is complete and ready to premiere on time.
With Ryan Murphy's spinoff, American Horror Stories, in full swing, fans want to know what's coming up for American Horror Story Season 10. We continue to get bits and pieces of what we can expect — but it seems production hit a snag. Reports claim filming halted due to coronavirus (COVID-19), though it sounds like production finished filming a lot of the season prior to the shutdown.
What is 'American Horror Story' Season 10's theme?
We don't have too much information on American Horror Story Season 10, but we do have an idea on the theme. The title of the season is Double Feature, and it sounds like fans will get two stories in the same season. "The title of American Horror Story Season 10 is Double Feature," the video promoting the new season notes. "Two horrifying stories, one season. One by the sea, one by the sand. More to come …." 
Murphy gave more explanation to fans regarding the new season. "It means TWO SEASONS for the fans airing in one calendar year," he added on Instagram. "So double the viewing pleasure. One set by the sea (this cast already announced). A second by the sand (that cast announcement coming)."
As for the portion of the season "set by the sea," the name of the first episode is "Cape Fear." Fans think this is a nod to the Cape Cod urban legend known as the "Black Flash" — a tall figure dressed in all black with glowing eyes who terrorizes the Cape.
Production shut down due to coronavirus, but part 1 is allegedly finished filming
Like so many other shows during the pandemic, it looks like production halted after an actor on American Horror Story Season 10 tested positive for coronavirus on June 20, 2021. The halt in production is likely to last "until at least the end of the week," Variety notes.
The publication notes production was filming part two of the season when the positive coronavirus test cropped up. According to Murphy's previous announcement, it sounds like the part of the season set "by the sand" was affected, and the portion of the season "by the sea" was not.
"Well, at least we got part one of it completed," a fan commented on Reddit.
Others suspect fans might see a delay between the release of part one and part two due to the production snag.
"When it starts rolling out, if we have to go one or two weeks without an episode, I'd be fine with that …," another fan commented on Reddit.
When is 'American Horror Story' Season 10 out?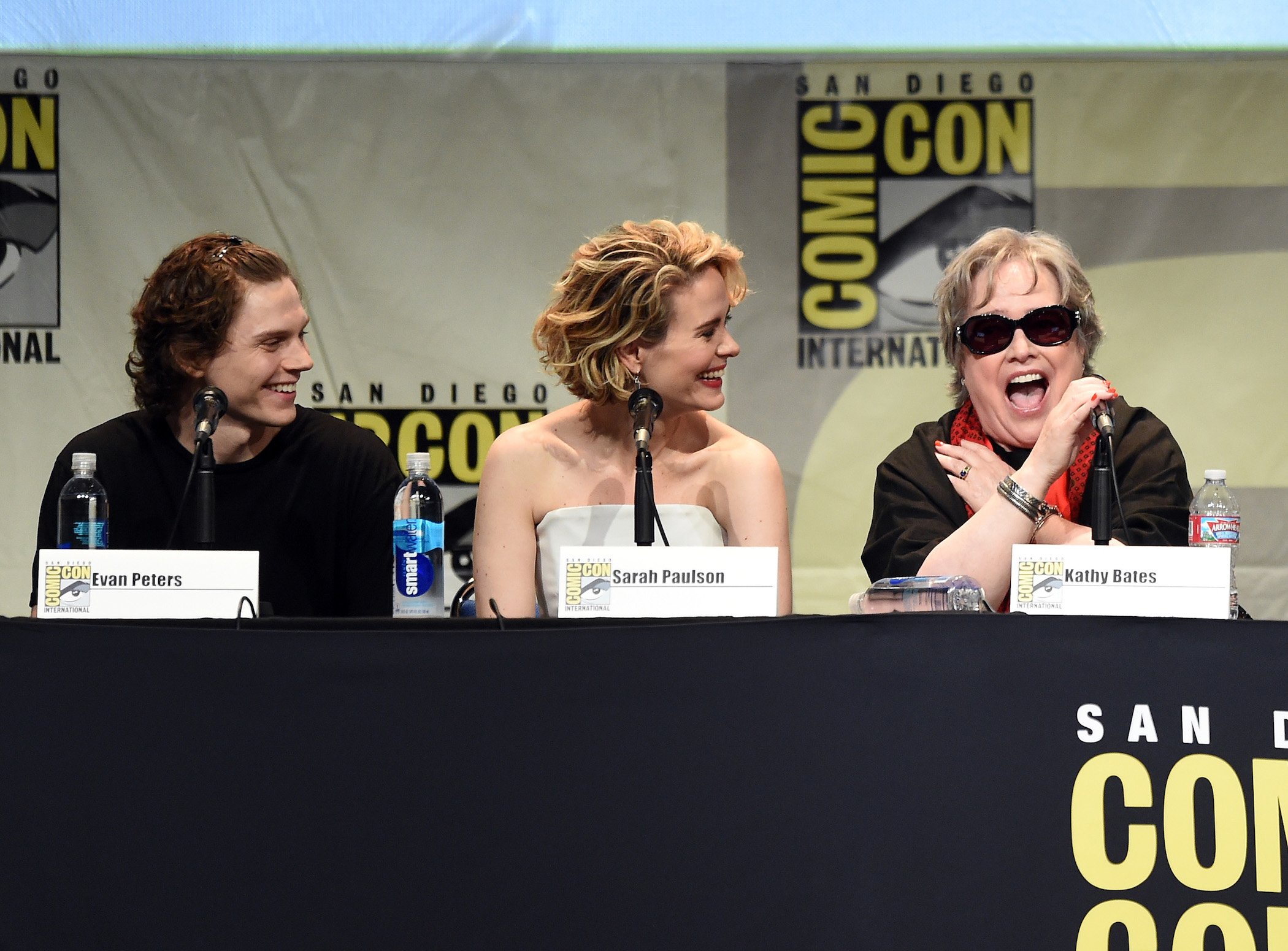 The show was originally set to premiere in late 2020, but the pandemic prolonged the release date. Currently, American Horror Story Season 10 will premiere on Aug. 25, 2021. It doesn't sound like FX will push the release date back, either, especially if part one really did finish filming. If anything, we suspect the network will delay part two.
There's no word on which cast member was affected by coronavirus, either. But we know a number of familiar faces joined the cast this season. Frances Conroy, Billie Lourd, Finn Wittrock, Lily Rabe, Leslie Grossman, Adina Porter, Angelica Ross, and Macaulay Culkin will play a role. And we'll also see beloved returning stars Sarah Paulson and Evan Peters taking center stage once again.
We look forward to more updates on AHS Season 10!
Check out Showbiz Cheat Sheet on Facebook!