'Amok, Amok:' Here Are the 5 Best Quotes From Disney's Halloween Flick, 'Hocus Pocus'
The wierdos are out! Here are some of our favorite quotes from Disney's witch-filled Halloween movie, 'Hocus Pocus,' available for streaming on Disney+.
This movie was initially released in the 1990s but is still a favorite October flick for many Disney fans. "I Put a Spell On You," and Winifred, Sarah, and Mary are pretty iconic, but there are also a few lines from Hocus Pocus that have us feeling spooky all-year-round. 
Here are a few of our favorite quotes from Max, Dani, and the rest of the characters from Disney's beloved Halloween movie.
'Oh look, another glorious morning'
Makes me sick! Not everyone is a morning person, especially the Sanderson Sisters. Their goal of staying young forever backfired quite a bit, with the townspeople hanging them for sucking the lives out of little children. 
Not to worry, though, the witches come back and take over the town of Salem, bewitching the townspeople one song at a time. (Sarah Sanderson sings "Come Little Children" and Winifred Sanderson performs "I Put a Spell on You.")
'It's just a bunch of hocus pocus'
When the Sanderson Sisters make a curse, it's sure to work. A few centuries following their death, three kids stumble into the Sanderson Sisters' old house-turned-museum. One of them, a teenager named Max, isn't really afraid of some dead witches. That comes back to haunt them, literally. 
'Amok, amok, amok'
After being dead for 300 years, there's sure to be some new concepts that need to be grasped. There's a sprinkler system installed in the Sanderson Sisters' home. The road is now made of asphalt. There's also a new way of celebrating Halloween. 
Venturing out on the October holiday, Winifred declares, "sisters, All Hallow's Eve has become a night of frolic, where children wear costumes and run amok!" Of course, Sarah and Mary don't understand.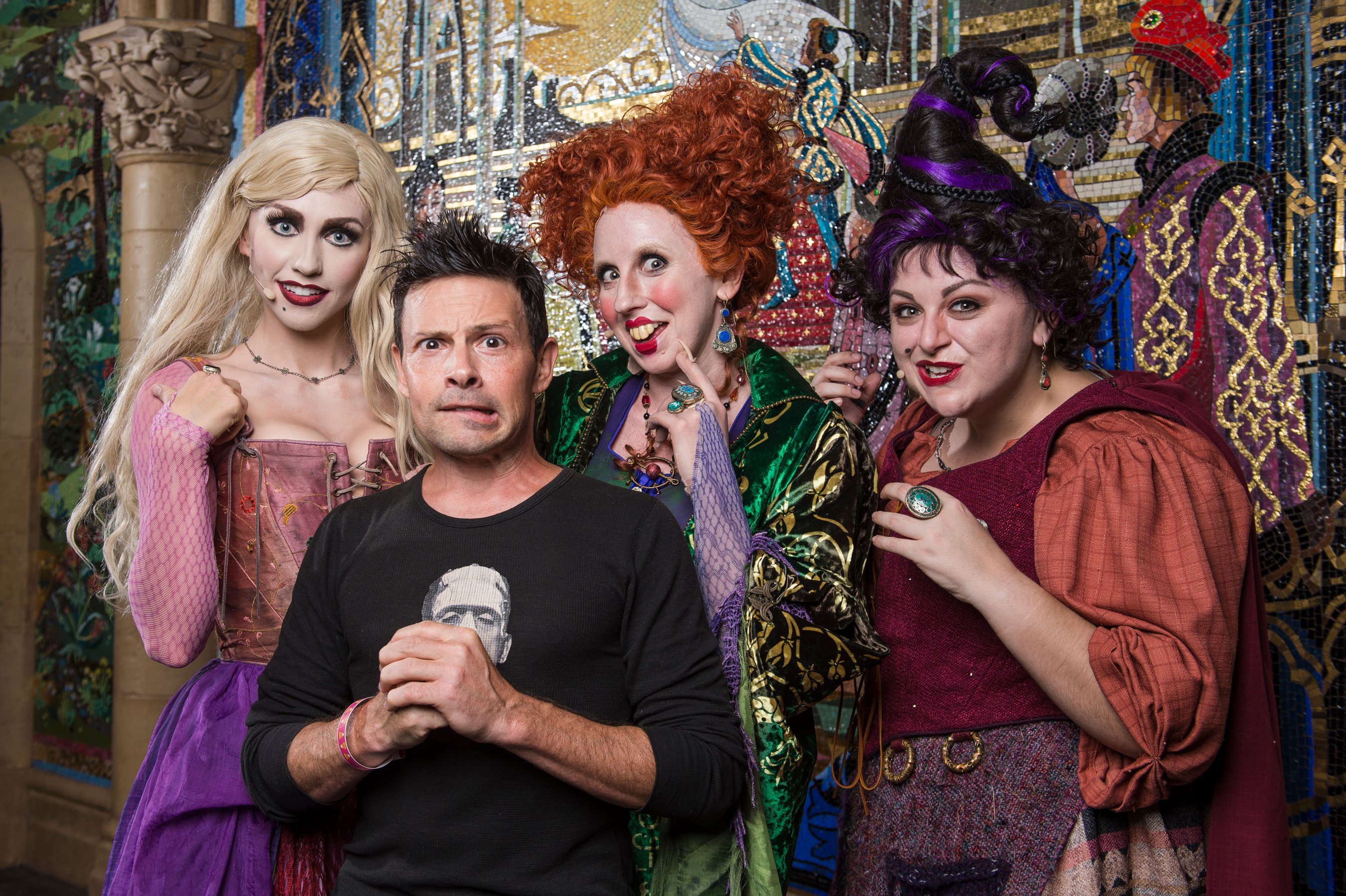 'It's a full moon tonight. That's when all the weirdos are out'
Unlike her brother, Dani is excited about Halloween and to go trick or treating. This year, she's going as a witch, and her parents said Max would have to take her around this new neighborhood. 
There's just one problem: her brother doesn't want to go. How is she supposed to go by herself? She'll get lost! Or worse, the weirdos will get her!
'Everyone here knows that Halloween was invented by the candy companies. It's a conspiracy'
It's just a bunch of hocus pocus — right? For Max, who moved to this Halloween-obsessed town from Los Angeles, it certainly seems like that. Even when hearing the story of the Salem witches, he's not afraid to voice his opinion in front of his class. 
His skepticism is why he's not afraid to light the black flame candle at the old Sanderson Sisters' house. Of course, that backfires when the witches come back to life. 
Hocus Pocus is available on Disney+, where Halloween-inspired movies like The Nightmare Before Christmas, The Haunted Mansion, and Halloweentown II: Kalabar's Revenge are also available for streaming. To learn more about Disney+ and to subscribe, visit their website.