Amy Poehler Confessed Rashida Jones Was Left Out of 'Parks and Recreation' Group Texts
The comedians involved in the show Parks and Recreation have a close friendship outside of the set.
In fact, the group had group texts to keep up with everyone while not filming. However, there has been some drama with the group texts between Rashida Jones and Amy Poehler.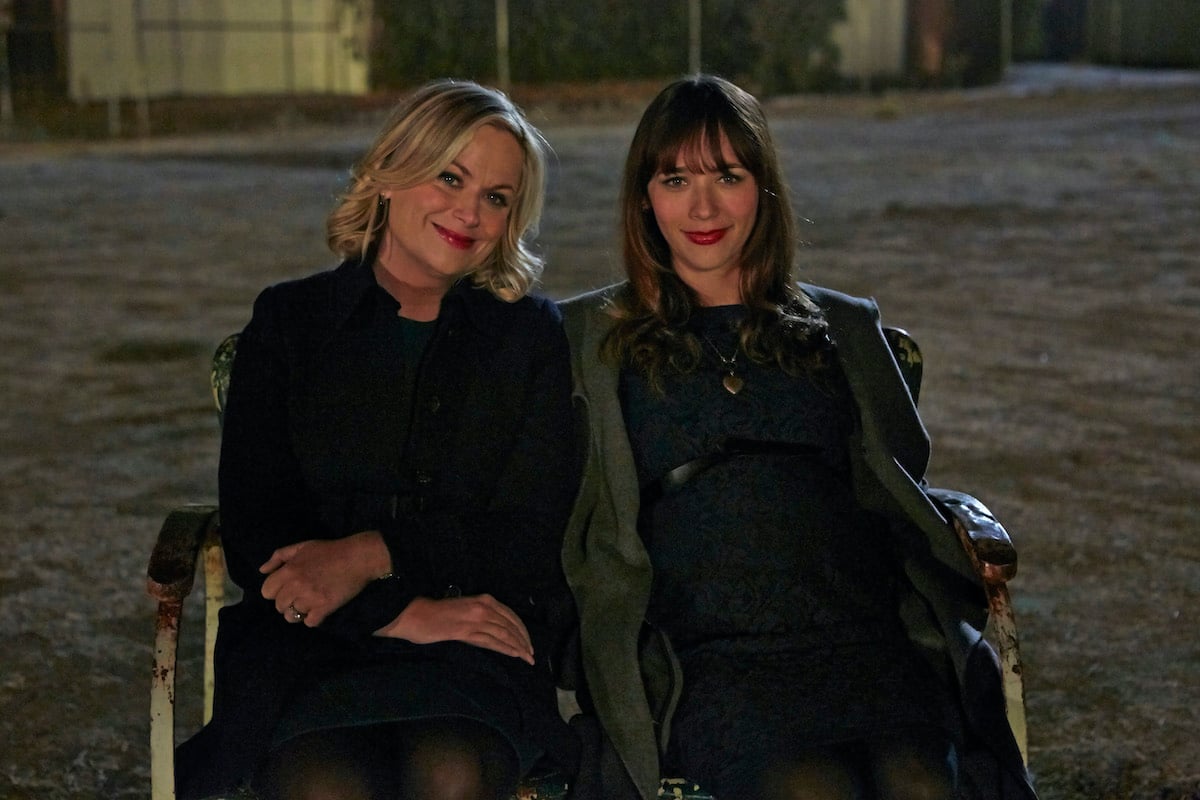 The two recently submitted to a lie detector test for Vanity Fair and answered some uncomfortable questions.
Let's take a look at the controversy around the group text and what the cast are up to these days.
The lie detector test
Vanity Fair's lie detector test goes something like this: Poehler takes a lie detector test while Jones asks questions, then the two switch places, and a professional scores each person's exam.
Jones asked whether there is a group text that she was not included in, to which Poehler skirted the question to keep from failing the test. Eventually, Poehler admitted there was a group text Jones wasn't in — but it was because they were trying to organize a surprise for Jones.
However, Poehler did admit that there were other Parks and Rec chats that Jones wasn't in, but it didn't seem there were any hard feelings.
The cast of the show are friends in real life
The cast of the show shares a close bond in real life. Besides the friendship between Jones and Poehler, Leslie and Ben Wyatt, among other characters, end up getting married on the program.
Even though they weren't in love in real life, they had a close bond nonetheless. In 2019, the two disclosed that they both experienced butterflies in the scene where Ben proposes to Leslie during the show's 10-year reunion.
The actors reunited recently for a special "quarantine edition" episode of Parks and Recreation. It's evident from the episode that they've maintained their close friendship since filming concluded five years ago.
Why Rashida Jones left the show
Many have wondered why Jones wanted to leave the show. As it turns out, Jones wants to move away from acting after years on Parks and Recreation and focus more on the writing and production side of entertainment.
She had received several offers on the production side of the industry at the time, but she didn't have time to pursue them all while filming the show.
Another reason for her departure from the show is that her character was actually written out.
Michael Schur, the show's executive producer, told HuffPost in 2019 that he had always expected Perkins and Traeger to leave at some time. He said,
"We had the idea creatively to sort of move in that direction and it totally dovetailed and aligned with what the two actors envisioned for themselves in their careers. So it's a big, happy, mutual hug-fest celebration."
Even though the show has concluded, it's clear that the mutual love and respect that the actors shared lives on. The show was a success even though it had a shaky start.
Despite being on the verge of being canceled several times due to low ratings, Parks and Recreation was able to reach its intended finale and conclude on its own terms. 
Being on the show has clearly resulted in some life-long friendships between members of the cast. As reported by TV Line, director Michael Schur said,
"The chance to do it again, should it arise, would be incredible. But I think we'd only do it if we all felt like there was some compelling reason to do it. … [Each cast member] would have a veto. If one single person says, 'No,' we wouldn't do it." 
This touching sign of solidarity is further proof that the cast and crew shared a unique bond that did indeed bleed over into real life.
RELATED: 'Parks and Recreation': How Nick Offerman Got Into Character for Ron Swanson