Amy Schumer Shares Her Hilarious Tip for Getting Through the Pandemic
Comedian Amy Schumer recently shared her humorous tip for getting through the pandemic and it has nothing to do with organizing closets or fitness.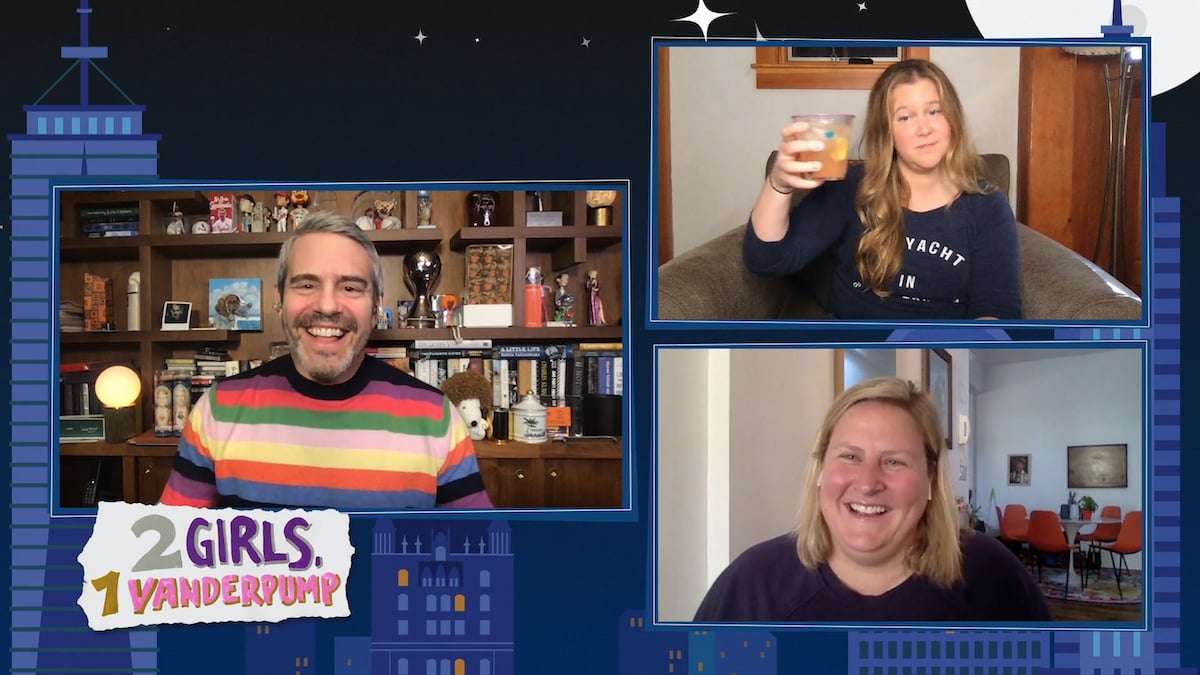 She jokingly suggested that rather than openly day drink, to instead hide the booze inside a seltzer can so no one knows. Schumer shot a tongue in cheek video with a "demonstration" on how to covertly booze on the sneak. She captioned the video, "Another pandemic summer tip. Ignore my nips please."
Her video is somewhat of a complementary approach to how she shoots her new hit cooking show, Amy Schumer Learns to Cook. In the series, she and husband Chris Fischer cook a meal and make a cocktail from their home on Martha's Vineyard. The series was shot by their nanny and has the same homespun approach as her "drinking on the sneak" Instagram video.
A better approach during the pandemic
Schumer shares that some people find that they are drinking a little more during the pandemic. "Well, now I've discovered something a little better," she explains as it appears she's going to offer a tip on how to get healthy or avoid drinking during the pandemic.
But instead, she offers her advice on how to hide drinking during the pandemic. "So what I do is take a bottle," she explains. "It seems like it's just seltzer and I pour something like clear … or not." She pours gin directly into a can of seltzer.
RELATED: The Surprisingly Normal Way Amy Schumer Met Her Husband
"It doesn't matter. It's your little secret. And then I walk around just like a woman after a spin class," she says taking a big gulp of her "seltzer." Schumer gazes into the camera and says, "I'm not drinking tonight."
Fischer who is filming the video agrees. "Me neither," he deadpans from behind the camera.
'Amy Schumer Learns to Cook' returns this month
Fans can consume more comedy from Schumer as the low-budget, high comedy series, Amy Schumer Learns to Cook returns for another season on August 17. The show continues to offer laughs and recipes for the perfect meal and cocktail combination.
Schumer shared a video clip on Instagram in July. She also dished that the series was nominated for an Emmy award. "Still a raging pandemic so you know what that means?? A strong plan of action from the government? NO! Season 2 emmy EMMY NOMINATED," she captioned the preview clip video.
RELATED: Where Is 'Amy Schumer Learns To Cook' Filmed?
The first show of the second season will feature cocktails and kid food. "Chris decides to teach Amy how to make some of her favorite frozen foods from scratch," according to the Food Network episode description.
"While Amy gets things going with a Pina Colada, Chris shows Amy how to make crowd-pleasing Pigs in a Blanket and Pot-Stickers, before capping things off with homemade Potato Skins," according to the episode summary. "Then, Amy and Chris discover that everything on the kid's menu is fun for adults, too. They kick things off with a Frozen Hot Chocolate, as Chris teaches Amy how to make Ricotta Pancakes with a shocking but undetectable amount of broccoli. The pair also hide some veggies in a refreshing Couscous Salad and hearty Meatballs."