Ana de Armas Had to Film 'Blonde' and 'No Time to Die' at Nearly the Same Time: I'm a 'Bond Girl with a Marilyn Monroe Body'
Ana de Armas is one of Hollywood's biggest up-and-coming stars, an actor who made a name for herself in Cuban films before transitioning to American movies. With several big films on the horizon, including a high-profile role in No Time to Die, Daniel Craig's final movie as James Bond, many fans are discovering the work of de Armas for the first time — and discovering all the details behind her big year. In a 2019 interview, as de Armas was just becoming a big name, the actor opened up about some of her upcoming projects, revealing her thoughts on Knives Out and her Marilyn Monroe biopic.
Ana de Armas had her big breakthrough role in 'Knives Out'
De Armas was born in 1988, and by the time she was a teenager, she knew that she wanted to pursue a career in acting. After a string of successful roles in Cuban-Spanish films, de Armas moved to LA, where she landed roles in movies such as Knock Knock and War Dogs. In 2017, de Armas appeared in the big-budget movie Blade Runner 2049 — but it wasn't until she acted in Rian Johnson's 2019 comedy-drama Knives Out that she really became a Hollywood power player.
In Knives Out, de Armas played nurse Marta Cabrera, showcasing her range and ability to pull off both comedy and drama. She even earned a nomination for the Golden Globe Award for Best Actress in a Comedy or Musical. In a 2019 interview with the LA Times, de Armas admitted that she was very impressed by the script for Knives Out, saying that the character of Marta was written as both multilayered and complex: "Usually, when you're Latina, what is usually highlighted is not necessarily the most positive qualities. These characters, they don't exist."
Ana de Armas filmed 'Blonde' and 'No Time to Die' concurrently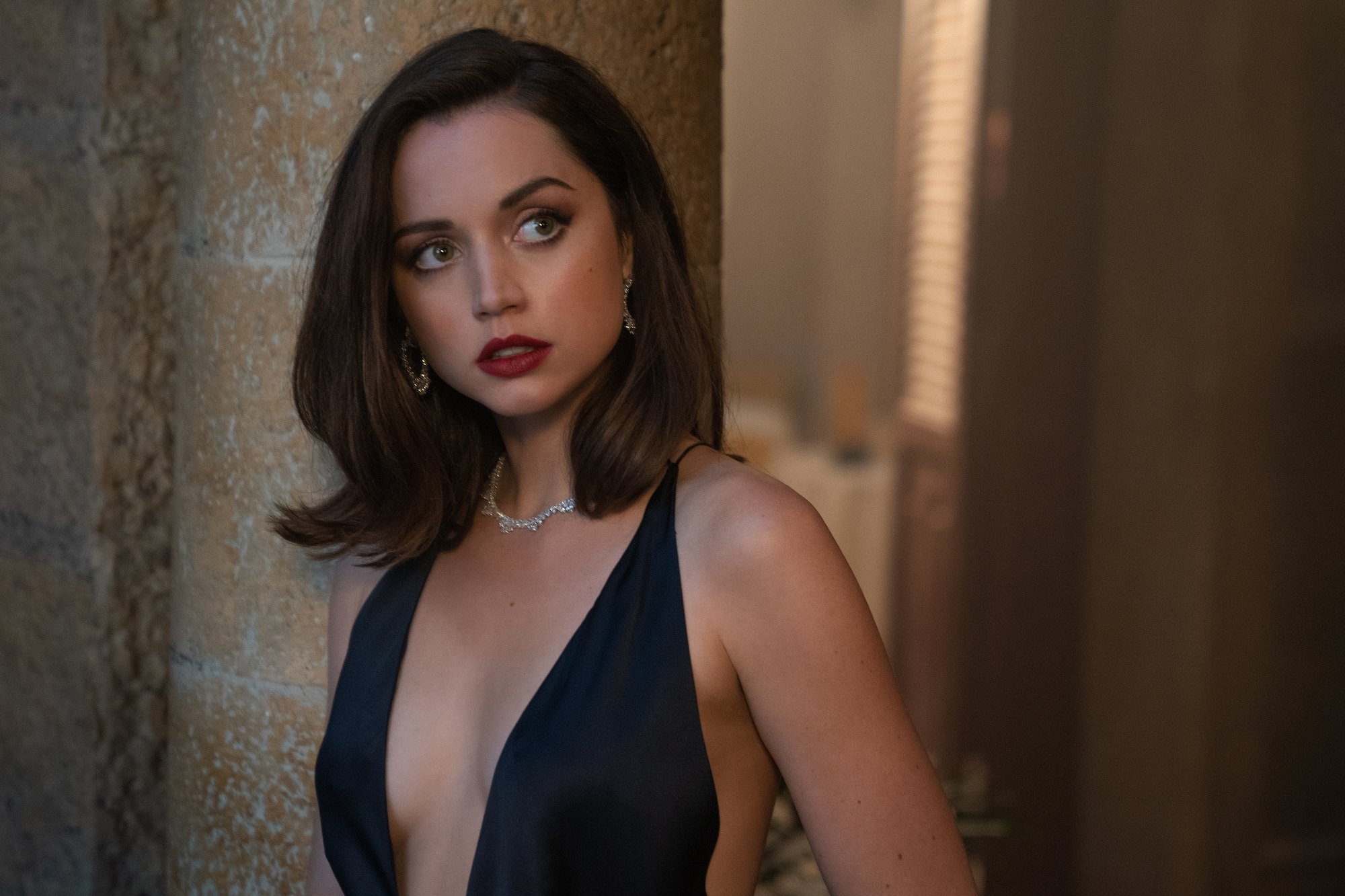 It was de Armas' role in Knives Out that indirectly led to her role in the James Bond film No Time to Die. The actor revealed to the LA Times that the role of Paloma in the Bond film was custom-written for her, just months after co-starring with Daniel Craig in Knives Out. Originally, de Armas said that she had planned on filming No Time to Die, followed by work on her Marilyn Monroe biopic, Blonde. However, a series of circumstances that included Daniel Craig getting injured and the coronavirus (COVID-19) pandemic eventually led to de Armas filming both films nearly back to back.
"It was kind of crazy, because the physicality of the two characters are so different, and their mind-set," de Armas told the LA Times. "I've never done such intense work and research and preparation as I did with Marilyn. I have never done — or will do — anything like it ever again." De Armas pointed out that the scheduling for filming ended up so that she had to go straight to the set of No Time to Die almost immediately after wrapping Blonde, joking "So I will be a Bond girl with a Marilyn Monroe body."
What's next for Ana de Armas?
Ultimately, Blonde was delayed even further, with a current release date set for 2022, while No Time to Die is currently playing in theaters. For de Armas, things are just heating up, although the actor did reveal in her LA Times interview in 2019 that she had hoped for a small break after filming her big projects. "I don't know for how long, but I feel like it's time to get out of here," de Armas said, admitting that she would like to spend time with her family in Havana. For now, with a multitude of promotional opportunities and filming projects on her planner, it might be a while before de Armas gets that downtime.
RELATED: Ana de Armas' Message for People Who Doubt Her Ability