Anakin and Ahsoka's Force Connection Shown in 'The Clone Wars,' Season 7, Mirrors Another Major, 'Star Wars Rebels' Scene
'The Clone Wars' Episode 6 had a small moment between Anakin and Ahsoka an it isn't the first time their Force connection was shown after she left the Jedi Order.
The Clone Wars Season 7 is currently halfway done, and the second episode in Ahsoka Tano's arc just aired. With six episodes left — including her arc and the Siege of Mandalore arc — Ahsoka will eventually meet back up with her former master, Anakin Skywalker. It's unknown exactly what episode it takes place in, but it's coming and it's going to be emotional. But Episode 6, "Deal or No Deal," also gave a small Ahsoka/Anakin moment, which was also wildly emotional. And it mirrors another important scene from Star Wars Rebels.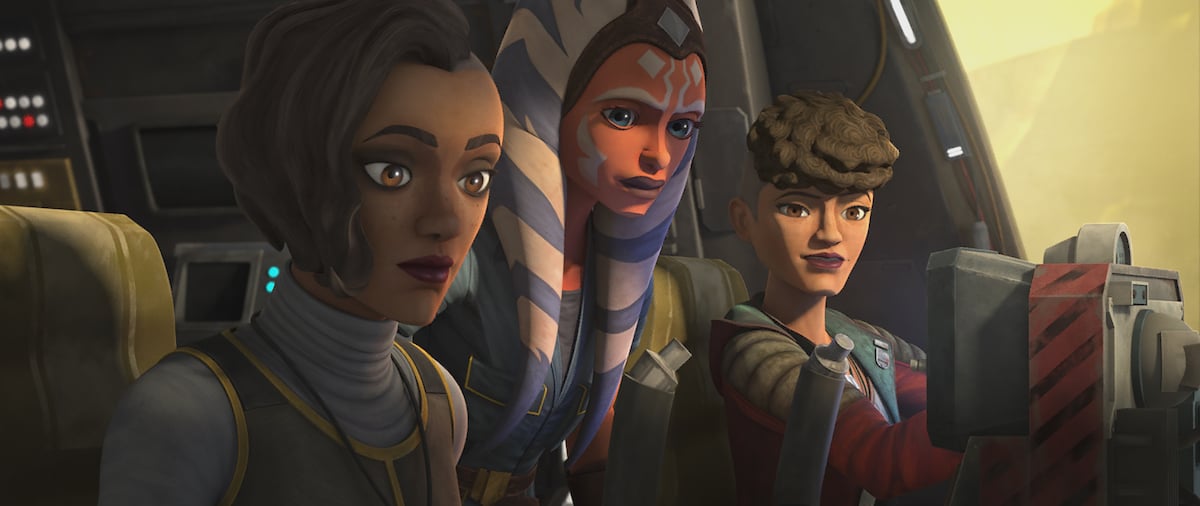 Anakin and Ahsoka still share a Force connection, as shown in the newest 'The Clone Wars' episode
In Episode 6, Ahsoka heads off on a mission with Trace and Rafa, the Martez sisters who she's been spending more time with since her speeder bike broke down in Episode 5. Trace really isn't the best pilot and accidentally flies in a military lane. The Republic captain in charge was about to pull them over and possibly arrest them, but Anakin and Ahsoka shared a moment of acknowledgment. While neither puts it into words, it's clear that they can sense each other. Anakin says there isn't a need to arrest them. Ahsoka and the Martezes head off to Kessel. 
Even the voice of Ahsoka, Ashley Eckstein noted that it was "interesting" to see that connection. 
"Even I was surprised that Ahsoka and Anakin sense each other," she said in a new Clone Wars Download episode on YouTube. "It's really a cool moment to see that they're still connected through the Force. And that it's actually Anakin that allows them to go. It's one of my favorite moments in that episode." 
Dave Filoni stated that Anakin and Ahsoka do share a Force connection in a way that's close to a father and his child
In 2016, at the "Ahsoka's Untold Stories" panel at Star Wars Celebration Europe, Dave Filoni said that Anakin and Ahsoka knew each other so well, that even though she left the Jedi Order, they could sense each other in the Force.
"It's an extension of that idea that you'll have stories where parents get a feeling that their kids are in trouble, they might be somewhere else in the world," Filoni, supervising director, said. "Then the kid calls and something bad has happened… This is real stuff that people talk about that happens in our world. So you extend that to the Force… and there's always this feeling that Anakin's around, that he's alive, that things are going on."
It's very clear that's what's going on here. In Episode 5, Ahsoka called Anakin her "brother" who taught her how to fight so well. She was also an extension of him to a certain degree, basically a mini-me in her recklessness and skill. 
This scene mirrors another scene from 'Star Wars Rebels' 
While it was totally unexpected to see Anakin in this episode, the moment was very touching for fans. Even more so, it's not the first time that audiences have seen these two interact in this way. 
Even though fans never got the end to The Clone Wars until now, they know that she survived the upcoming Order 66 or Jedi Purge. For one, her time one year after the final events of Revenge of the Sith are described in Ahsoka, the novel. And another, she shows up at the end of Star Wars Rebels, Season 1, and is a main character in Season 2. In fact, Season 2 has a scene that is all too familiar to Episode 6's. 
In the first episode of that season which occurs about 15 years after Order 66, Darth Vader is out to squash the rebels and the Jedi among them. Kanan, Ahsoka, and Ezra sense the Sith Lord's presence, and the first two reach out in the Force to get a better grip on who it is. 
Vader senses Ahsoka and says, "The apprentice lives," using the Sith term instead of the Jedi term "Padawan." Ahsoka screams in horror and passes out. While the outcome is vastly different, it's almost a direct parallel to the scene in Episode 6. Both showcase their Force connection despite time apart, they just have different reactions. 
Anakin and Ahsoka have yet to officially reunite on Season 7, but when they do, get the tissues. The emotions will be even higher.