Anakin Was 'Absolutely' the Best Master for Ahsoka, According to Ashley Eckstein
Ahsoka Tano is such an important member of the Star Wars franchise and she's finally making her return to The Clone Wars on March 20. Episode 5, "Gone With a Trace" will be the first time she's returned to the show since she left the Jedi Order in Season 5 (aside from Yoda's vision in Season 6). She has some catching up to do with the audience, since the next time you see her is years later, as an adult and rebel spy, in Star Wars Rebels. In a new interview, the voice of Ahsoka shared just how important Anakin's teachings were to her.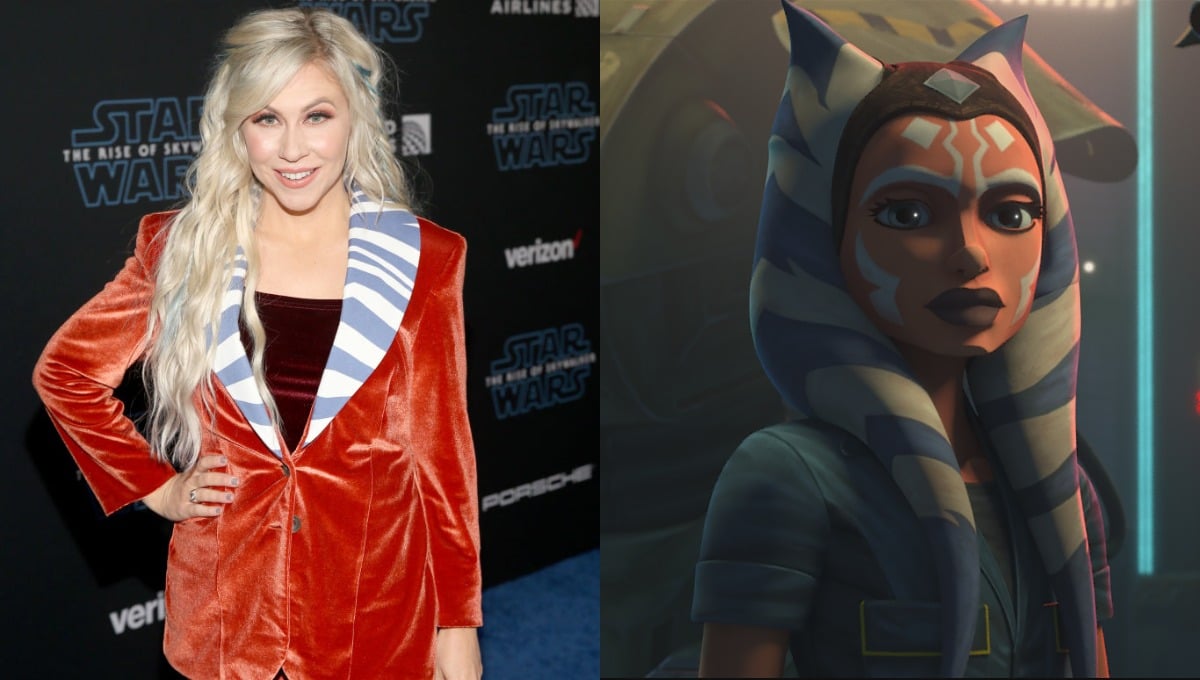 Ashley Eckstein said Anakin was definitely the best choice for Ahsoka's master
On SYFY WIRE's Jabba the Pod podcast, Ashley Eckstein shared that despite Anakin's future with the Dark Side, he was the best master Ahsoka could have had. 
"Oh, I absolutely think Anakin was the best master for Ahsoka," she said. "Ahsoka… has — I shouldn't even say the best of both worlds. She has the best of so many Jedi. She has the spontaneity of Anakin. He taught her to think outside of the box. She doesn't think in black and white. Whereas we've seen other Jedi; they're very black and white. Ahsoka thinks in shades of grey and I think she learned that from Anakin." 
Anakin famously doesn't stick to the Jedi Code all the time, especially when it comes to repressing his emotions, not falling in love, and getting attached. But Ahsoka's experience with her master, in turn, helped her learn that maybe the Jedi's "black and white" view of the world is not OK. It's partly what made her leave, which ultimately is the best decision for her. 
Eckstein also shared that she learned so much from so many Jedi, making her training and skills much more powerful than others her age, or even older. "Ahsoka is kind of a melting pot of so many different beliefs of multiple different Jedi," Eckstein said. "So in my opinion, that's why she's so powerful. That's why she's so good. She didn't learn just from one Jedi. Obviously Anakin was the most influential and Anakin being so powerful, it's no surprise Ahsoka's so powerful." 
It's also because Ahsoka is so much like Anakin, according to Dave Filoni 
Ahsoka worked so well with Anakin because she was also a mini version of him. In a 2018 interview, executive producer and supervising director Dave Filoni said Ahsoka was literally just like Anakin, which might be why Yoda put them together in the first place. It's also why she's such a fan-favorite. 
"This generation is being very vocal about her," he said. "One of her secret superpowers is that she is Anakin adjacent, and that relationship is everything." He explained that this allowed Ahsoka's character to resonate with old and new fans. 
"She is a tremendously important bridge character that way," Filoni stated. "When working on her, I noticed this shift as we went along. But I know what happens in the end, I have worked that out finally."
Captain Rex's bond with Ahsoka also taught her so much 
And don't worry. In the coming episodes, fans will also get to see Ahsoka and Rex team up again, which is fitting considering he's a big teacher to her too. 
"I would be remiss not to mention Captain Rex. Captain Rex and the clones taught Ahsoka so much," Eckstein shared. "Rex taught and also gave Ahsoka experience in terms of all these lessons and war and everything that they went through together…. Captain Rex is truly a brother to Ahsoka, it's one of my favorite in all of Star Wars. And I think after these next episodes, you guys will feel the same way."