'And Just Like That' Star Sarita Choudhury on the 'Diwali' Episode 'Sari' Controversy
'And Just Like That' star Sarita Choudhury explains what may have led to the sari mixup in the Diwali episode of the HBO Max series.
In the And Just Like That "Diwali" episode, Carrie Bradshaw and her new BFF Seema Patel shop for ethnic Indian outfits, casually referring to them as saris. Some fans of the HBO Max series felt the show misdescribed the clothing. But Sarita Choudhury, who plays Seema, recently clarified why the term sari was used in the episode. 
'And Just Like That' Diwali Episode mixes up Indian terminology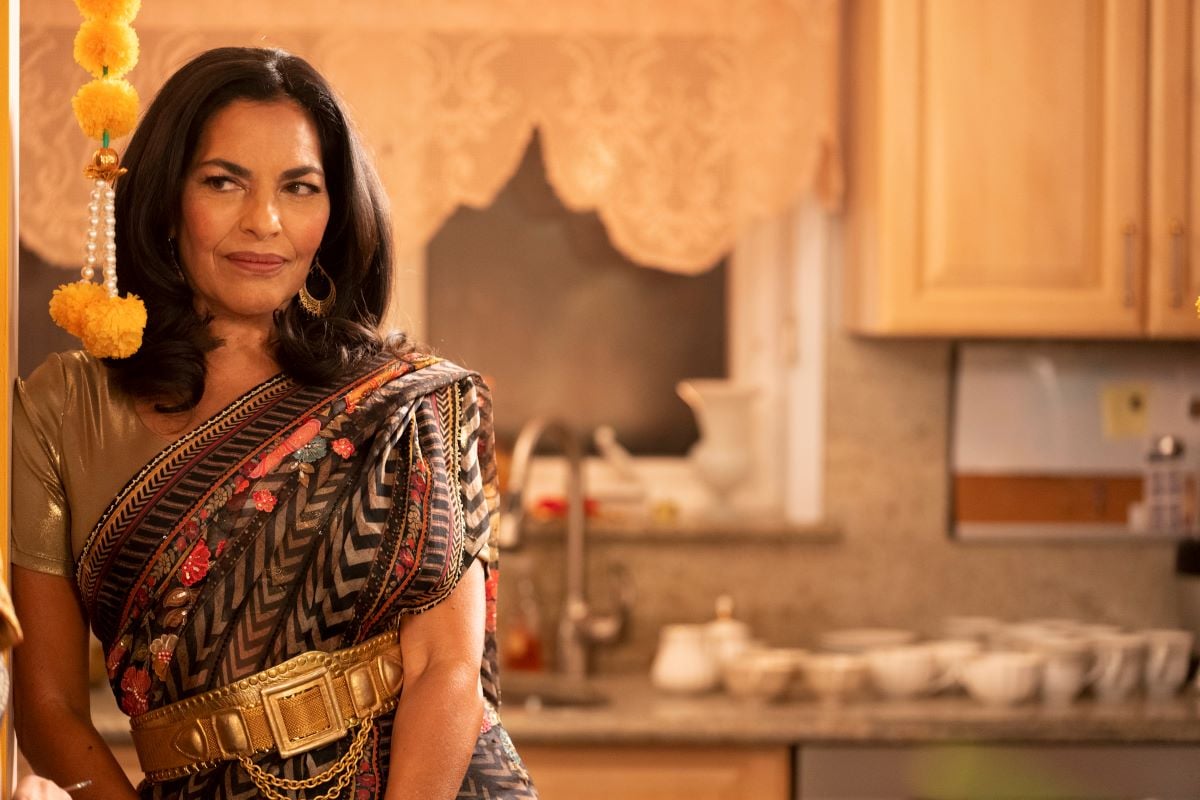 And Just Like That featured more diversity in its first 10 episodes than all six seasons of its predecessor, Sex and the City. The show tried its best to reflect the tone of the times. So it gave each of its three main characters — Carrie (Sarah Jessica Parker), Miranda (Cynthia Nixon), and Charlotte (Kristen Davis) — new friends and diverse cultural experiences.
In Episode 6, Seema takes Carrie to an Indian "sari shop," where she looks for an outfit to wear to her family's Diwali celebration. When Carrie offers to accompany her, Seema responds, "Well, let's get you a sari," and suggests it's "cultural appreciation," not "appropriation" for Carrie to wear it. 
But when Carrie arrives at the party, she's not wearing a sari. In Hindi, the embroidered flowing skirt she dons is called a "lehenga" or "ghagra." And the cropped blouse is referred to as a "choli."  
Some fans called the show out for making a mistake in the distinction. And others noted that most of the outfits visible in the supposed "sari shop" were "lehengas." 
'And Just Like That' star Sarita Choudhury clarifies what happened in the Diwali episode
Choudhury recently opened up about her experience on And Just Like That. And in addressing fans' criticism of the mixup, she noted that her character did wear a sari. And she revealed that the store actually had a variety of clothing. 
"When we went to the location of that store, it had saris and lehengas," Choudhury told AV Club. "The angle for the light had to be on one particular side."
The actor also explained that Seema may have suggested Carrie get a sari. But it's plausible Carrie decided to purchase a different outfit. 
"We also never saw what Carrie actually bought," Choudhury said. "She could've looked at saris and then changed her mind." 
But Sarita Choudhury also explains why the 'And Just Like That' Diwali episode mixup happened
Choudhury acknowledged how much went into the "Diwali" episode in her chat with AV Club. And she explained how she believes the "sari" mixup happened.
"There are so many people involved: The store they've selected, the production manager who has to get the items, the costume designer who has to check the outfits," Choudhury revealed. "There are so many levels that when something happens, and the audience goes, 'Wait a minute,' it's really hard to deconstruct."
"I understand how the audience feels, but at the same time, I also understand how it might've happened," she added. "With that episode, I was combing through it to make sure things were right, and it did make me think, 'No matter what we do, there's always going to be something.' That's the nature of it."