Andra Day Took up Smoking and Drinking for Billie Holiday Role
Andra Day took up new habits while filming The United States vs. Billie Holiday. The 36-year-old started smoking cigarettes and drinking to help her in her portrayal of the legendary jazz singer.
Does Andra Day sing in 'The United States vs. Billie Holiday'?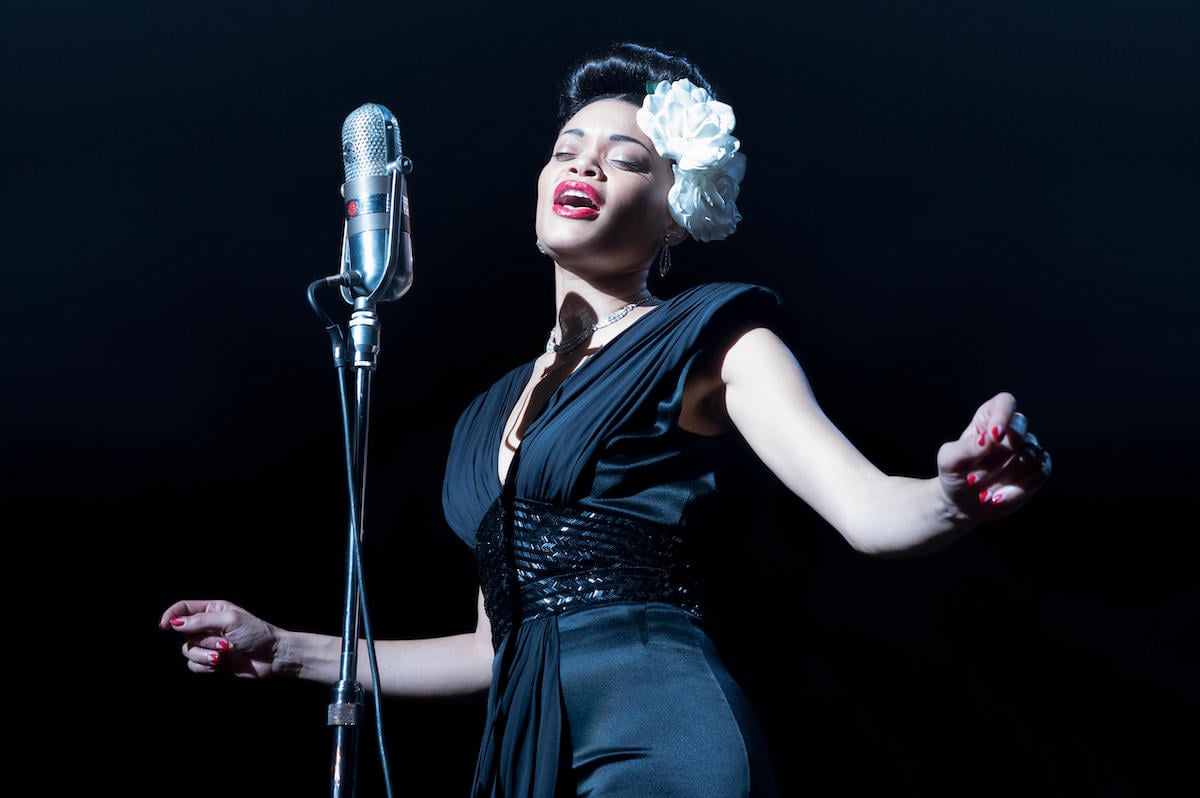 RELATED: Billie Holiday's Dog Created a Panic When She Was Released from Prison
Does Day sing in the Billie Holiday movie? Yes. In the Hulu original film all about the FBI orchestrating a sting operation to take down Holiday, she does all of her own singing. Day performs Holiday's "Strange Fruit," which plays a significant role in the story.
She also contributes her own original song to the 13-track soundtrack. Day is the co-writer and performer of the movie's "Tigress and Tweed" song, which earned her a Golden Globe nomination for Best Song.
Before starring in the Holiday movie, Day played a singer in 2017's Marshall. She also lent her voice to the soundtracks for Ben-Hur (2016) and American Assassin (2017).
Andra Day smoked cigarettes and drank gin while filming 'The United States vs. Billie Holiday'
In an interview with PBS NewsHour published on March 1, 2021, Day discussed the lengths to which she went for her portrayal of Holiday. After confessing "it's probably one of the most unhealthy things I've done," Day proceeded to explain it felt necessary for the role.
"These are the areas where Billie's very different from me. I never did smoke cigarettes. I drank a little bit in my life, but I've just never really been a heavy drinker. You know, I smoke weed more than anything, but I gave that up as well. But I don't drink or cuss. I've also been abstinent for almost seven years now. She's very different from me in that regard. But I felt like I had to earn it. I had to feel it in my body."
Day continued, saying she worked closely with a dialect coach on "vocal cord practice" and "chasing her breath." Even with the guidance, the actor and singer felt there was only so much she could do to mimic Holiday's voice before she had to "earn it."
" [I] felt like the gravel in Billie Holiday's voice, the sound and the tone, is something that women earned over years of her life," she said. "I had to figure out how to earn it in a very short period of time."
RELATED: Andra Day Took 2 Years Off Music to Focus on Her 'Terrifying' Role as Billie Holiday
That meant hitting the bottle and smoking cigarettes to achieve a sound as close to Holiday's signature voice as possible. Initially hoping to tweak her voice, Day got more than she bargained for.
"Interestingly enough, the cigarette smoking, drinking a lot of gin, really helped me to feel that gravel, you know what I mean? To feel where it came from, and it had to slow me down because I'm fast — (motions) and I do all this. And Billie Holiday is, like, easy," she explained.
"Everything is slow motion. The cigarettes — my brain is not used to them, my body's not used to them, not used to drinking alcohol," she added. "And so it slowed me down in a way that allowed me to pay more attention to the emotional performance and being present with Lee [ Daniels] and listening and being fluid with him and my cast. I don't recommend it to everybody, but it did help me just for this project."
Andra Day almost turned down the role of Billie Holiday
Day is now a Golden Globe winner — she won the award for Best Actress — thanks to her performance in The United States vs. Billie Holiday but she nearly turned down the part. Why? Because she had "feelings of inadequacy and unworthiness." On top of that, she didn't want to be part of what she initially thought was a remake of Lady Sings the Blues. The 1972 biopic earned Diana Ross an Oscar nomination.
Once she learned more about the Hulu original film and "that it would be vindicating Billie's legacy," Day signed on for the project. However, she wasn't sure she could pull it off. Even after getting cast in the role, she second-guessed herself.
"Even when Lee told me I got the part, I was like, 'Wow, are you sure you don't want to, like, look at other people? Like, I'm still not sure this is a good idea,'" she said.
Stream The United States vs. Billie Holiday on Hulu.