Andy Serkis Admits He Was 'Devastated' by Snoke's Fate in 'Star Wars: The Last Jedi'
Venom: Let There Be Carnage is finally in theaters. The sequel hit theaters Oct. 1, and it's directed by none other than Marvel's very own Andy Serkis. The iconic motion capture actor wore his director hat for the Tom Hardy sequel. But he's most known for his iconic work as a motion capture actor. From Gollum in Lord of the Rings to Supreme Leader Snoke in Star Wars, there's no one in Hollywood with such an impressive resume in motion capture acting. In an interview leading up to Venom: Let There Be Carnage, Serkis opened up about his long career, revealing he was actually pretty bummed when he learned Snoke's fate in Star Wars: The Last Jedi.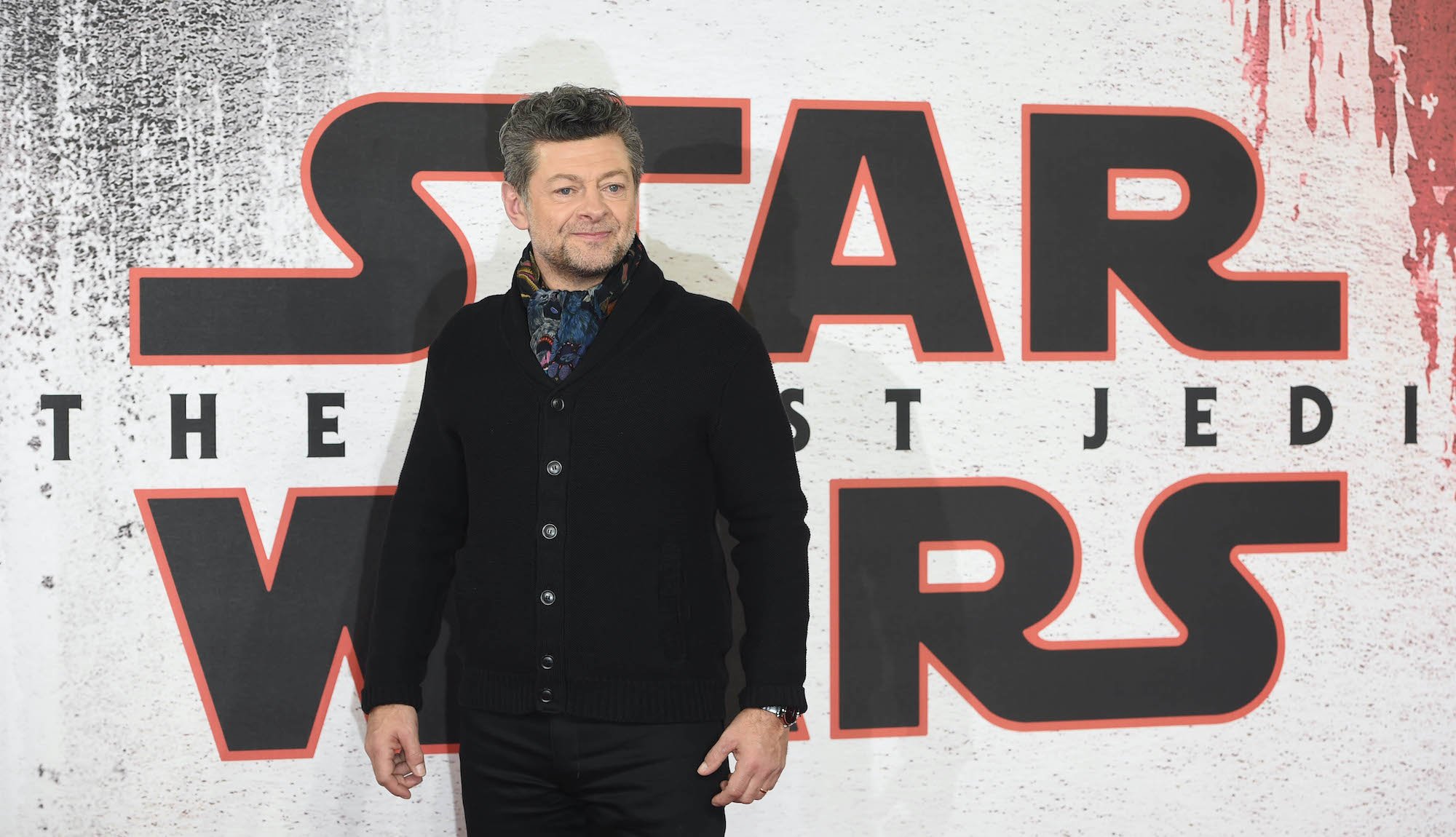 Andy Serkis played Supreme Leader Snoke in 'Star Wars: The Last Jedi'
Serkis debuted Snoke in Star Wars: The Force Awakens. The mysterious character was to Adam Driver's Kylo Ren as Emperor Palpatine was to Darth Vader. Snoke was killed by Kylo Ren in The Last Jedi after he and Rey joined forces and fought together for the first time. Serkis didn't have this fate in mind when he signed onto the franchise.
"I was devastated when I read that script because it was all going so well," Serkis told Gizmodo. "I was like, 'Man, this is a boss character. I'm going to love playing… what!? You're kidding me, what?' I was like 'OK, is a good idea? I supposed it is. I was slightly mortified, pardon the pun."
While the Black Panther star was bummed Snoke didn't make it to another movie, he understood it was good for the plot.
"It was all in the right, I think," he said. "I loved playing that character and I love the face-off scene between Kylo Ren and Rey, and so it was great."
Snoke's death in 'The Last Jedi' was a shock to fans
Snoke's death was a hugely effective plot twist in The Last Jedi. The film was written and directed by Knives Out director Rian Johnson. And he explained his decision to kill off Snoke — a decision J.J. Abrams then inherited when creating The Rise of Skywalker — in a March 2021 interview.
According to Fansided, Johnson told author Sariah Wilson learning Snoke's identity wasn't a priority. In fact, he found it completely uninteresting. To Johnson, focusing on who Snoke was would be too similar to the original trilogy. He felt seeing Kylo Ren ascend as Supreme Leader would be far more captivating in terms of character development. Basically, Snoke seemed like he was going to be the Big Bad Villain. But the trilogy's focus was always going to be on Rey and Kylo Ren.
In Star Wars: The Rise of Skywalker, Snoke was revealed to be a creation of Palpatine's. And that secret was kept from him almost as much as it was from fans.
"The journey towards discovering that he was a Palpatine clone was something that happened during the process because everything was so secret since Force Awakens."
Andy Serkis directed 'Venom: Let There Be Carnage' and credits Peter Jackson for it
Now, the Rey and Kylo Star Wars trilogy is complete. And Serkis has moved on to other projects. Venom: Let There Be Carnage marks Serkis' third foray with the Marvel Cinematic Universe. He first played Ulysses Klaue in Avengers: Age of Ultron and then in Black Panther. The Venom sequel marks Serkis' third feature film directorial effort. And he says he couldn't have gotten the job without The Lord of the Rings and The Hobbit director Peter Jackson.
"It cannot be underestimated the opportunities that [director] Peter Jackson gave me back in the day when he asked me to direct second unit on The Hobbit," he told Gizmodo in a separate interview. "As a director, I was literally about to make my first small movie with a handful of actors in two or three rooms. So that experience of shooting for 200 days on the second unit of a trilogy, that really set me [up] for all the things that I've made since."
Venom: Let There Be Carnage is now in theaters.