Angela Bassett Remembers the 1 Time She Met Chadwick Boseman Before 'Black Panther'
With Chadwick Boseman passing of colon cancer, many of his Marvel co-stars shared their tributes for the actor. That includes Angela Bassett, the actor behind Queen Ramonda in Black Panther, who told fans of the time she met Boseman at his alma mater, Howard University.
Once news broke of Chadwick Boseman's death, Angela Bassett shared pictures from Marvel's 'Black Panther'
Angela Bassett, formerly of American Horror Story, Strange Days, and Contact, took her talents to one Marvel movie. She appeared alongside Chadwick Boseman, the actor who portrayed King T'Challa, the Black Panther of Wakanda.
Following the news of Chadwick Boseman's death, Angela Bassett posted a photo of herself and the actor on the set of Marvel's Black Panther.
A second post from the actress talked about one moment she shared with him prior to their time filming Black Panther. This was at Boseman's alma mater, Howard University.
Angela Bassett shared that she met Chadwick Boseman before they starred in Marvel's movie
As his on-screen mother for Black Panther, Bassett took to Instagram, sharing her admiration for the actor. Her tribute, named him as a "beautiful spirit, a consummate artist, a soulful brother."
"It was meant to be for Chadwick and me to be connected, for us to be family. But what many don't know is our story began long before his historic turn as Black Panther. During the premiere party for Black Panther, Chadwick reminded me of something," Angela Bassett wrote.
"He whispered that when I received my honorary degree from Howard University, his alma mater, he was the student assigned to escort me that day," her post continues. "And here we were, years later as friends and colleagues, enjoying the most glorious night ever! We'd spent weeks prepping, working, sitting next to each other every morning in makeup chairs, preparing for the day together as mother and son."
Angela Bassett shared that she is honored to have a "full-circle experience" with this actor. However, she wouldn't be the only Marvel actor to honor Boseman. Since then, Brie Larson, Mark Ruffalo, and Chris Evans shared their tribute to the King of Wakanda.
RELATED: All the Times Shuri (And the Rest of the 'Black Panther' Women) Proved They Should Be Full-Time Avengers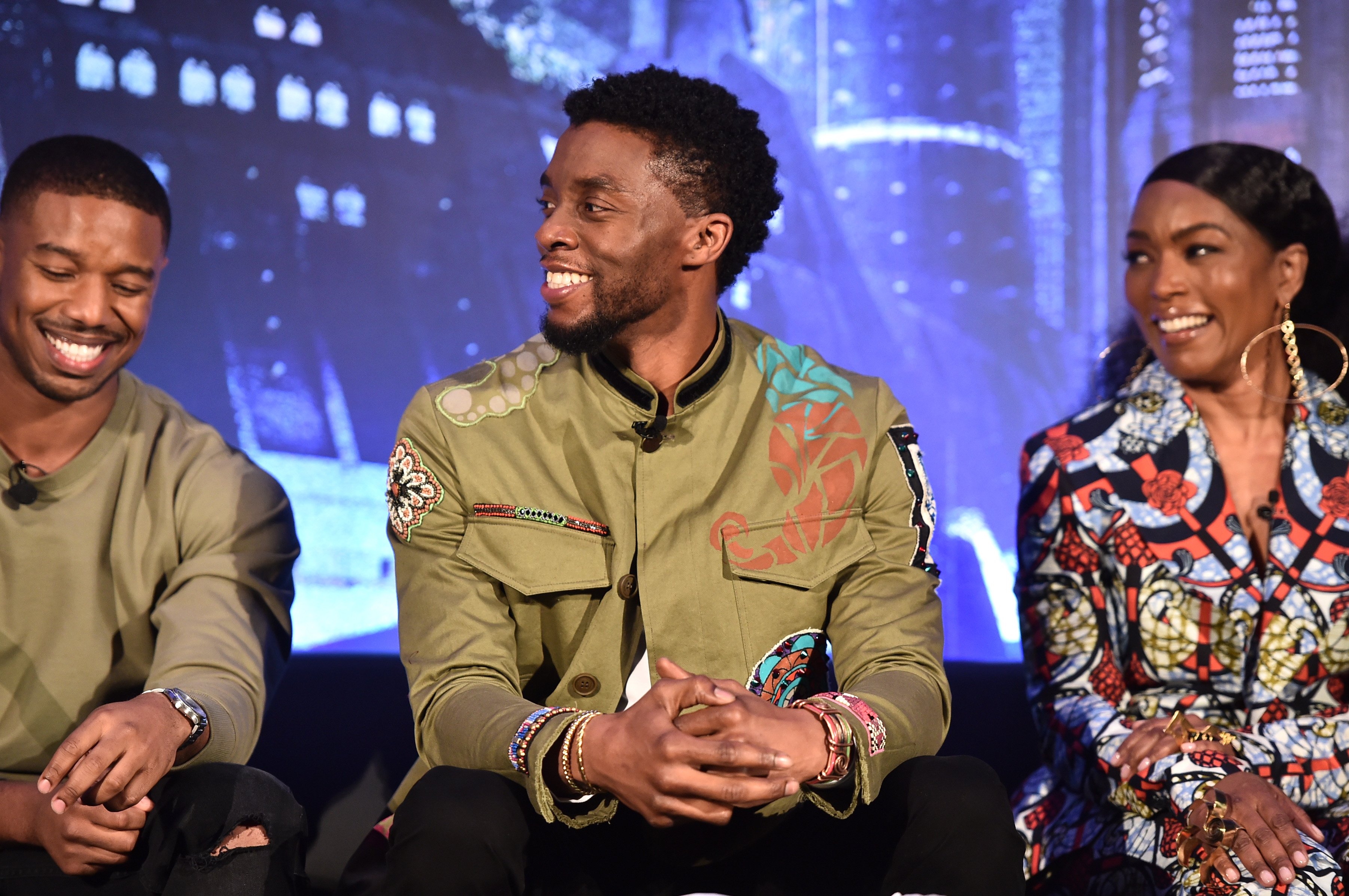 Chadwick Boseman died of colon cancer on Aug. 28
The beloved star of Marvel's Black Panther died on Friday, Aug. 28, after a four year battle with colon cancer, a post on social media confirmed. He was 43.
The actor portrayed Jackie Robinson in 42 and Stormin in Da 5 Bloods, amongst other roles. He's best known for portraying the title character in Marvel's Academy Award-winning film Black Panther. For the superhero flick, Boseman acted alongside Lupita Nyong'o, Angela Bassett, and Michael B. Jordan.
Fans can see Chadwick Boseman in movies like Avengers: Civil War, Avengers: Infinity War, and Black Panther, all of which are available for streaming on Disney+.
RELATED: How African Art, History, and Traditions Inspired Marvel's 'Black Panther'