Angelina Jolie Agreed To Star in 'The Tourist' With Johnny Depp for 1 Reason
Angelina Jolie and Johnny Depp have both had extensive opportunities and roles in Hollywood. Though Depp has been acting for a bit longer than Jolie, they've both had powerhouse careers and been involved in massive franchising including, Lara Croft and Pirates of the Caribbean.
Though they've often run in the same circles, Jolie and Depp have only ever starred in one movie together. The actors were paired in the 2010 romantic thriller, The Tourist.
The movie follows a heartbroken math teacher, Frank Tupelo (Depp), who finds himself enraptured by an alluring stranger Elise (Jolie), while on vacation in Europe. The film received mixed reviews and was not well-received at the box office. The Girl Interrupted actor only agreed to do the movie for one reason.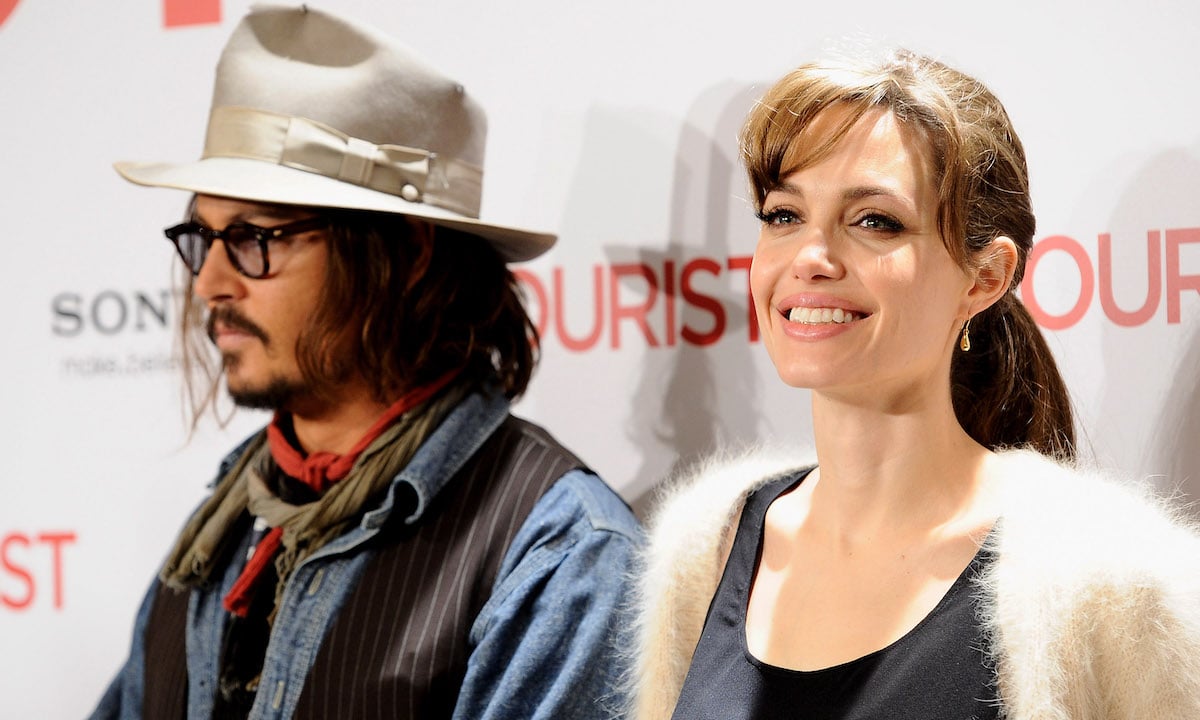 Angelina Jolie called Johnny Depp a brilliant actor
Though they had not worked together prior or since their press run for The Tourist, Jolie called Depp, a brilliant actor. The Tourist did not turn out to be the film either of the actors hoped it would be. However, Jolie did remember her time on set with the Edward Scissorhands actor fondly. She told PopSugar,
He's just such a nice guy. He's so funny and so fun to hang out with. He's just that friend you're so happy to come to work and do scenes with. Plus, he's such a brilliant actor. He's often thought of so much for his deep character work, but it really comes from an artist who is willing to try things. He's not just somebody who's doing these fun [movies]; he's a real experimental deeply-feeling artist, who gives a lot and is very gracious on set to everybody and to his fellow actors. He's just a pleasure.
Angelina Jolie made Johnny Depp use mouth wash before their kissing scenes in 'The Tourist'
Unfortunately, Jolie did not enjoy every aspect of working with Depp, especially when it involved more intimate moments between their characters on set.
When the Maleficent actor had to kiss Depp, she requested that he rinse his mouth thoroughly with mouthwash first. Depp is a notorious cigarette smoker, which Jolie hates. According to Screen Rant, Depp's breath was so terrible that Jolie allegedly asked him to rinse his mouth out with some Listerine. When he completed that task, she then offered him mints as well.
Angelina Jolie agreed to star in 'The Tourist' with Johnny Depp for one reason
Filming The Tourist turned out to be a good experience for Jolie, despite the Listerine incident. However, she almost turned down the role of Elise. She only took it on so that her family could have a nice vacation.
"I was looking for a very short thing to do before Brad started filming [Moneyball]," she told Vogue. "And I said I needed something that shoots not too long, in a nice location for my family. Somebody said there's a script that's been around, and it shoots in Venice and Paris. And I said, 'Is it a character I haven't played before?' And they said, 'Yes, it's a lady.'"
The Tourist wasn't exactly a success, but Jolie remembers that time as being blissful.