Angelina Jolie Bought Brad Pitt a $1.6 Million 'Just Because' Gift
Angelina Jolie and Brad Pitt were once the "it" couple in the world of Hollywood romances. They shared good looks, successful careers, and a passion for the movie industry. Their relationship spanned a decade, lasting for 12 years, but after only two years of marriage, they divorced.
Jolie, known for her generous nature, always seemed to be giving her husband extravagant gifts. One gift, in particular, that she says she gave to Pitt "just because", set her back $1.6 million
Angelina Jolie and Brad Pitt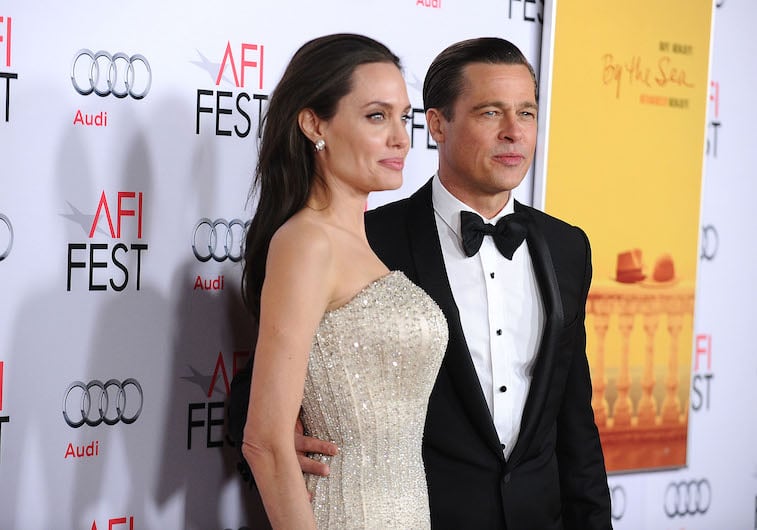 RELATED: How Brad Pitt Has 'Impressed' Angelina Jolie, Says Insider
Jolie has a net worth of $100 million. The controversial actress is best known for her recent role in Disney's Maleficent. The daughter of actor John Voight, she earned her first Academy Award in 2000 for her supporting role in Girl, Interrupted. In 2011, she began writing, producing, and directing her own films.
The mother of six is devoted to global humanitarian efforts. She has worked effortlessly around the world to help refugees and is a special envoy to the United Nations. In 2014, Jolie received the  Humanitarian Award for her work in film supporting human rights.
Women around the world fell in love with Pitt's good looks and charm when he first appeared on screen in the classic film Thelma and Louise. Pitt went on to star in Seven, Fight Club, and Ocean's Eleven, to name a few.
Now a Hollywood staple, Pitt commands $20 million to work on a movie. In 2001, he created Plan B Entertainment, producing countless successful films, and in 2014 won an Academy Award for producing 12 Years a Slave. 
The handsome A-lister won another Oscar in 2020 for Best Supporting Actor in Quentin Tarantino's Once Upon a Time in Hollywood. Decades later, Pitt has proved his abilities in the film industry, with an estimated net worth of $300 million, according to Celebrity Net Worth.
The rise and fall of Brangelina
RELATED: What Did Jennifer Aniston Say When She Met Angelina Jolie While She Was Still Married to Brad Pitt?
Jolie will always be known as the woman that tore apart Pitt and Jennifer Aniston. In 2004, Jolie developed undeniable chemistry with Pitt on the set of Mr. and Mrs. Smith. After months of speculation, according to Rolling Stone, their relationship became public, and Aniston had no other choice but to file for divorce.
Resisting marriage, Jolie and Pitt finally tied the knot in 2014. Two short years later, they found themselves separated. After a long-drawn-out custody battle, the divorce was finalized in 2019.
Money played a huge part in the lengthy divorce proceedings. When the couple married, they decided against a prenuptial agreement because they both had a net worth exceeding $100 million. 
At the time of the divorce, Celebrity Net Worth reported that "Angelina earned $28 million from salary and endorsements which made her the second-highest-paid actress on the planet."
The couple now has separate lives, and the children reside with Jolie. They both are continuing to work hard, and Pitt has regular visits with his kids.
Extravagant gifts that Jolie gave to Pitt
The Lara Croft: Tomb Raider actress was known for showering Pitt with lavish gifts. In 2010, she planted a 200-year-old tree for Pitt on their Chateau Miraval estate in France.
In 2011, Jolie gave him a six-figure diamond pendant that was engraved with a minuscule love note. According to Marie Claire, as a wedding gift, she spent $250,000 to surprise Pitt with the typewriter Ernest Hemingway used to write From Whom the Bell Tolls.
The most expensive gift Jolie ever bestowed upon her Moneyball husband was a helicopter worth $1.6 million. The "just because" gift came complete with flying lessons for the love of her life.
US Weekly reported that Pitt returned Jolie's generosity by gifting her a pack of breath fresheners for Valentine's Day since she always has bad breath. This could be one of the reasons the couple is no longer together.