Angelina Jolie Jokes About Hanging With Her Kids: 'They Think That I'm a Bit Ridiculous'
Mother of six Angelina Jolie is often photographed out with her brood, but she rarely opens up about their life at home.
The Jolie-Pitt children have grown up in the public eye, and some may remember watching the family grow from just Maddox and Pax to welcoming Zahara, Shiloh, and the twins. It's hard to believe Knox and Vivienne will be turning 13 this year. Time flies!
Though Jolie and ex-husband Brad Pitt went through a high profile divorce, they are still working out the current terms of their custody arrangement.
With that said, their children spent much of their quarantine time at home with Jolie, and she recently opened up about what that's been like and how much they've grown over the past few years.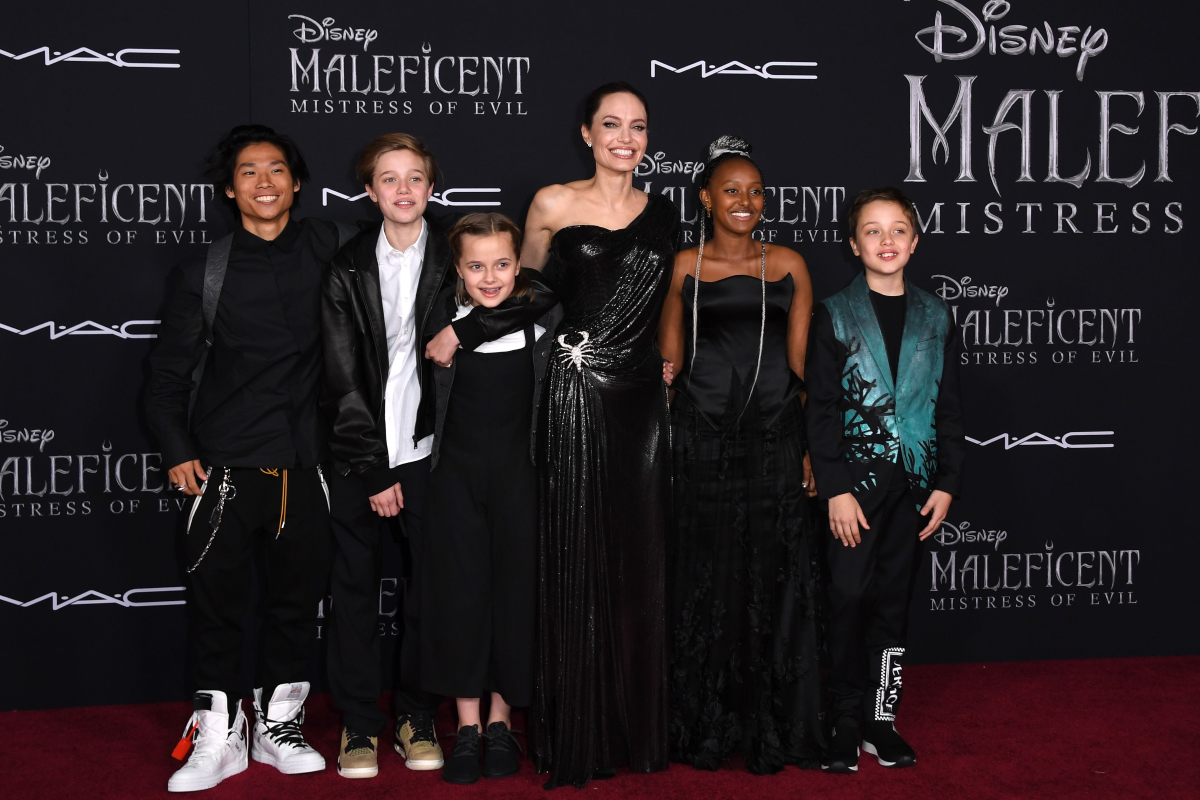 Angelina Jolie talks about her family healing
When Brad Pitt and Angelina announced their split in 2016, there were also child abuse accusations leveled against Pitt. After an investigation by family services, he was cleared of any wrongdoing and the pair attempted to move forward with custody negotiations.
Some of their tumultuous back and forth played out in the media, and Jolie insisted that she was focused on her children's healing.
In a new interview with British Vogue, Jolie shared that things haven't always been easy. "The past few years have been pretty hard," she said. "I've been focused on healing our family. It's slowly coming back, like the ice melting and the blood returning to my body."
Jolie mentioned that she chose her current home's location so the children could be close to their dad, and he's "only five minutes away."
Jolie says she doesn't have traditional parenting skills
Though she's been a mother for more than 19 years (son Maddox is an adult now), Jolie told the magazine that her kids help her out sometimes.
She stated, "I feel like I'm lacking in all the skills to be a traditional stay-at-home mom. I'm managing through it because the children are quite resilient, and they're helping me, but I'm not good at it at all."
Jolie praised her kids as being "capable" and added their family is a loving team. In fact, the kids are so protective of her they worry about her hurting herself.
She joked that one day they were all playing on the trampoline and they warned her. "No, Mom, don't do that. You'll hurt yourself," Jolie shared. She found it funny considering her film run as an action hero.
Jolie loves hanging with her kids
As the Jolie-Pitt children get older, Jolie is enjoying the teenage years. She reflected on her own relationship with her mother and said they were best friends. Now, Jolie says she loves hanging out with her brood.
When Vogue's Edward Enninful asked if her children challenge her sometimes, she laughed and affirmed it. "Oh yeah… They think that I'm a bit ridiculous, as they should," Jolie said.
"And they all know me in different ways. You know, they've all crossed into that moment when they realise that there's nothing special about me. I'm just older. I don't have all the secrets. I just mean well," she mused.