Anna Duggar Gushes About Married Life With Josh Duggar and 'Counting On' Fans Are Not Having It
Anna Duggar doesn't appear on Counting On very often. This is because her husband Josh got caught up in two nasty scandals back in 2015. The controversy led to TLC canceling his family's reality show 19 Kids & Counting. When the Duggars returned a few months later with the spinoff Counting On, Josh was left out.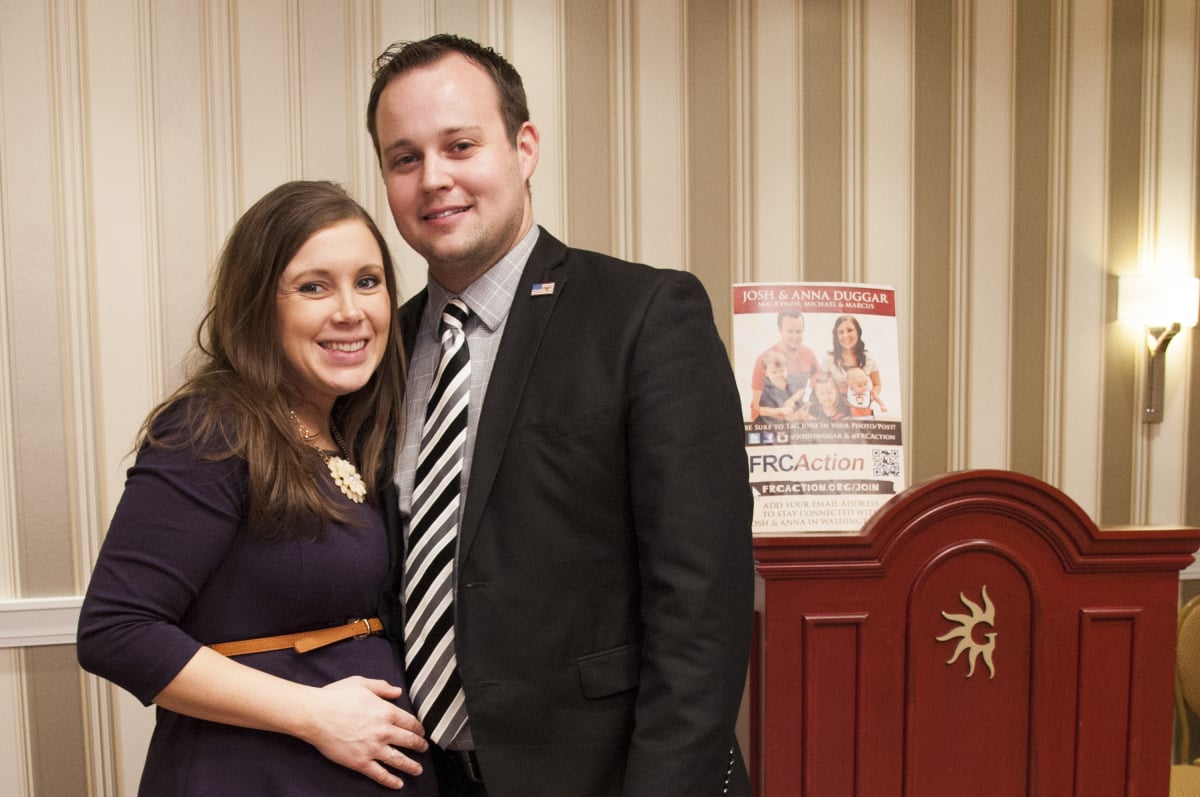 Meanwhile, Anna only shows up on the series every once in a while, usually at family gatherings. But she's still active on social media and often shares pics and videos that feature Josh and their six children. While fans do enjoy Anna's posts about her kids, the same can't be said when she mentions Josh. Recently, Anna gushed on social media about married life with the disgraced reality star, and fans were not having it.
'Counting On' fans are wondering if Josh and Anna Duggar are living in a warehouse
Five years ago, the news broke that Josh had sexually molested five girls when he was a minor. Four of those girls happened to be his sisters, and his parents Jim Bob and Michelle had gone to great lengths to keep it quiet.
A few months later, Josh was caught with multiple accounts on the website Ashley Madison, a site for married people looking to have an affair.
In addition to TLC canceling his family's reality show, Josh lost his job at the Family Research Council in Washington D.C. This resulted in him moving his family back to Arkansas and Josh entering a faith-based treatment program for sex addiction.
RELATED: 'Counting On': Josh Duggar Has Some Insane Rules That Anna Duggar Must Obey
For a few years, Josh, Anna, and the kids were living in a large Arkansas farmhouse. But in the summer of 2019, they sold that home for $285,000. It wasn't clear where the family moved to after the sale. But, it didn't take long for internet sleuths to come up with the theory that they were living in a warehouse on Jim Bob and Michelle's property.
The warehouse rumors have been swirling since September
As The Hollywood Gossip points out, the warehouse rumors started to swirl in September. However, many Counting On fans found it hard to believe. That all changed in mid-December when Anna posted a pic of her five-year-old daughter Meredith hiding under a piece of rustic furniture during a game of hide-and-seek.
"Nothing to see here… just a quick game of hide-and-seek! What are you up to?" she wrote as a caption.
Once Anna posted the pic, fans on Reddit started examining the image. Many started slamming the 32-year-old mom for her "horrible decor" and "living in a warehouse."
RELATED: 'Counting On': All the Signs Josh and Anna Duggar Are Planning on Baby No 7
"My storage room and garage look more like a home than this miserable warehouse," a skeptic wrote.
The clues that Josh, Anna, and the kids are living in a warehouse come from a season 9 episode of Counting On that featured a pop-up bridal shop for John David's then fiancee, Abbie Burnett.
The Duggars set up the special bridal shop in the warehouse on Jim Bob and Michelle's property. In recent pics that Anna has posted of the kids at home, the interior and exterior look exactly the same as the warehouse in the Counting On episode.
Anna Duggar claims she is 'happily married'
Recently, Anna updated her bio on Instagram to read, "I'm a Christian. Happily married and have six beautiful children!" Immediately, fans started calling her out.
Fans are still not okay with Anna remaining married to Josh after his molestation and cheating scandals. What's more, they can't believe that she's had two more children with him.
It's hard for many to believe that Anna is "happily married" to Josh. Many fans are convinced that she's essentially a hostage in her own home. The fundamentalist Christian family doesn't believe in divorce, so it doesn't appear that Anna has a way out even if she wanted one.
RELATED: 'Counting On': Anna Duggar Just Took a Dig at Jim Bob and Michelle — In the Most Duggar Way Possible
"She's brainwashed into thinking she's happy living in a shed with her child molester cheater husband," one Reddit user wrote.
Another added, "She's not genuinely happy but she's so brainwashed into believing a perfect wife is happy so she chooses to act that way."
New episodes of Counting On will return to TLC in 2021.