Anna Duggar Just Said Her Husband, Josh Duggar, Actually Helps Out in the Kitchen
While plenty of Jim Bob and Michelle Duggar's kids get attention, it's Josh Duggar who's caused the most controversy. Josh is the oldest of Jim Bob and Michelle's 19 kids, and he was once featured on 19 Kids and Counting. But after 2015, everything changed. The media caught wind that Josh made sexual advances on young girls, some of whom were his sisters. And he also had accounts with the infidelity website, Ashley Madison.
No matter what occurred, Josh's wife, Anna, stuck by his side. And she gives her Instagram followers insight into what her life is like with Josh. Now, she just told a follower that Josh helps out with some home duties that some might not expect. Here's what Anna revealed.
The Duggars believe the men rule the house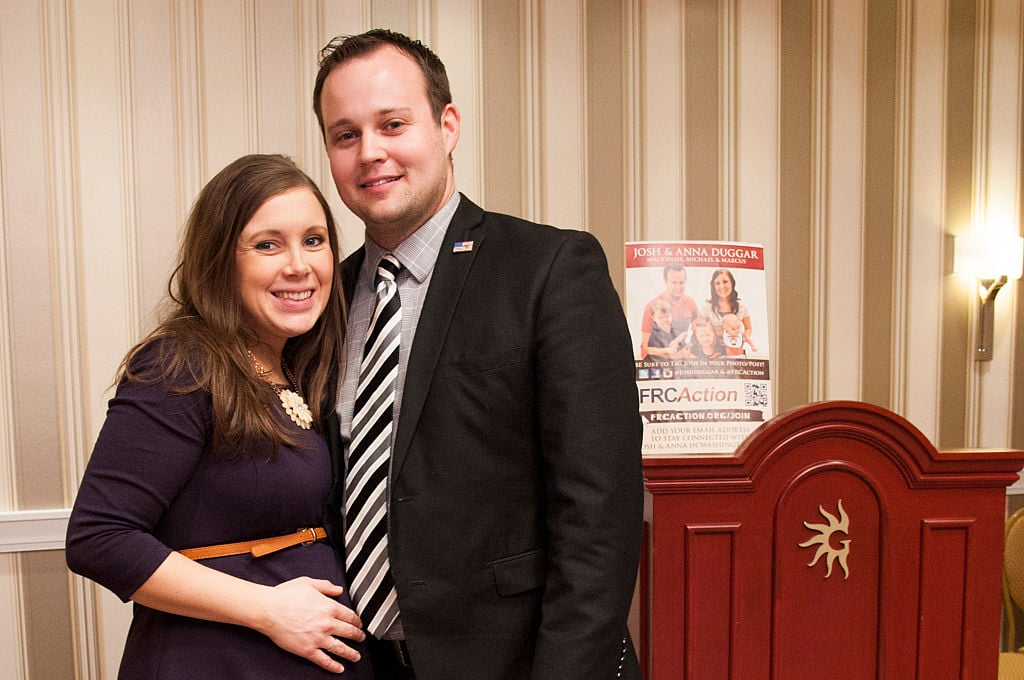 Those who've been following the Duggars for years know they believe in gender roles. According to Jim Bob and Michelle, the men rule the household, as they're the ones who typically get jobs outside of the home. The women are there to take care of the children and the home. And, of course, the women are also there to attend to the wants and needs of men.
Religion plays a major rule in the Duggars' belief in gender roles, too. Vyckie Garrison, a former follower of the Quiverfull movement explained, "Men are to be leaders, teachers, initiators, protectors and providers," the Daily Beast notes. "Women are created to be 'helpmeets' to the men in authority over them (husbands, fathers, older brothers) ~ they are to be submissive and yielding."
As for Josh and Anna, it's clear gender roles do play a role in their lives. Anna is home taking care of her six children while Josh is the sole breadwinner. And rumors suggest Josh has rules Anna needs to follow.
The Duggar kids helped cook the meals growing up
Traditional gender roles may dictate that women are the cooks of the household. But when it comes to the Duggar family home, it looks like all of Jim Bob and Michelle's kids were involved. Michelle spoke about the amount of money that went into their family groceries in the past. And after the groceries were bought, all of the kids were involved with putting meals together for their huge family.
According to Michelle, every family meal was planned for up to two weeks in advance. And the kids often chose what meal they would prepare.
"All of the kids take turns in the kitchen. I always let each one of them take a turn at learning how to prepare a meal," Michelle wrote for TLC. "We usually have teams of three or four kids that'll work together on the cooking. … There's a leader and then the rest of them follow the instructions of the leader."
As for the gender roles, she noted, "Some of the boys are really good cooks. They have lots of fun getting in there and being creative."
Anna Duggar said Josh helps out in the kitchen now
It looks like Josh might be taking a note from his childhood now. There's no doubt Anna takes good care of her six children while Josh is at work. But he might be more helpful at home than many suspect.
On Feb. 20, Anna posted a photo of her with her kids on Instagram. "Sometimes when the weather is nice you've gotta change plans and go fishing!" she captioned the post. And from there, some of her followers had questions.
"Love how you juggle it all! Does Josh help with dinner or do you cook by yourself?" a follower commented. "Just curious! When I stayed home with my kids I did it all!"
"Josh is great in the kitchen and often lends a hand," Anna responded.
Many Duggar followers don't approve of Josh due to his past. And many others think Anna's actually struggling through her marriage without showing the cracks on Instagram. All in all, we're hoping Anna is getting help in the kitchen, as caring for six young children is no easy feat.
Check out Showbiz Cheat Sheet on Facebook!