Anna Duggar Limits Instagram Comments on Pregnancy Post After Josh Duggar Arrest
Josh Duggar's no stranger to scandal. In 2015, major news broke that Josh allegedly molested a few of his younger sisters. Later, news came that he allegedly cheated on wife Anna Duggar. Now, he's arrested in 2021. And Anna is limiting her Instagram comments following the announcement she's pregnant with their seventh child.
The Duggar family is going through additional scandal associated with the eldest of Jim Bob and Michelle Duggar's 19 kids, Josh Duggar. He was arrested on April 29 and held without bail. This news comes right off the heels of Anna Duggar announcing her seventh pregnancy with Josh. Now, it looks like Anna's limiting her social media interactions following the arrest.
Was Josh Duggar's house raided? What's going on with the Duggar family arrest?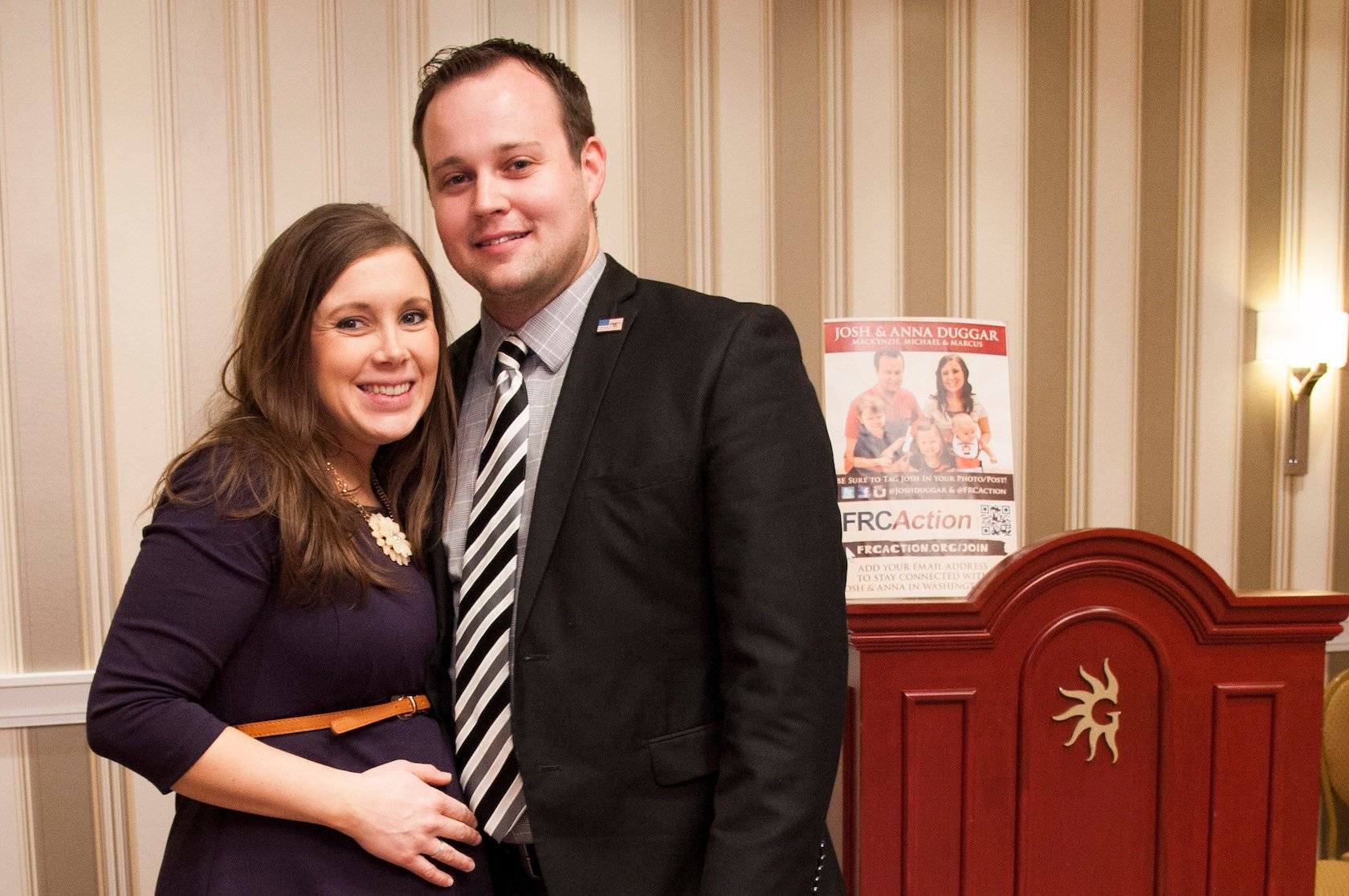 Josh and Anna Duggar continue to take over the Duggar family spotlight. Back in 2015, news came to light involving Josh and a molestation scandal of the past. After this, it was also revealed that he was dealing with a pornography addiction and infidelity to Anna. Despite the turmoil, they got through it — and for several years, things were looking up. They continued to grow their family, and Anna seemed at peace with all that occurred.
Trouble occurred again in 2019. Reports stated Homeland Security raided the Duggar family property, but other reports noted it was actually Josh's car lot they were investigating. "[I do not dispute the information that] HSI was present there [Duggar home] pursuant to an on-going federal criminal investigation," a Homeland Security spokesperson told KNWA news.
Now, in 2021, rumors are swirling that the Homeland Security raid could be linked to the most recent news of Josh's arrest. On April 29, 2021, he was taken into federal hold and held without bail. The reason for the arrest is currently unknown.
Anna Duggar recently posted about her pregnancy
Prior to her husband's arrest, Anna Duggar had major news for fans — she's pregnant with her seventh child. While fans speculated for months that baby No. 7 was on the way, Anna finally made the announcement six days prior to Josh's arrest.
"It's a GIRL!!!!!" Anna captioned her announcement video. "We are overjoyed to announce baby seven is on the way and we can't wait to hold her in our arms this fall!" The video shows Josh and Anna standing in a field with pink confetti falling over them while their six children run around them.
The Duggar family is surely overjoyed with the news. It's well-known they adore children, and Josh and Anna might even catch up to Jim Bob and Michelle at this rate.
"Another girl!!!" Joy-Anna Duggar commented. "Congratulations!!!"
"So excited for you all!" Jana Duggar added.
John David and Abbie Duggar, Kendra and Joseph Duggar, and Jessa Duggar also commented.
Anna limited Instagram comments following arrest news
Anna Duggar has yet to comment on the arrest of her husband. While Anna's quite active on social media, she doesn't typically touch on any hard-hitting topics with her Instagram. Instead, it looks like she's choosing to not post and limit her Instagram comments instead.
Her latest post came five days after the pregnancy announcement. Anna posted a photo of the girl granddaughters in the Duggar family, and she also mentioned Jessa. She captioned the post, "9 girl cousins in a row, and we are adding one more this fall … I'm more curious than ever if @jessaseewald is having a boy or girl!"
The comments on the latest post and the pregnancy post are now extremely limited. It also looks like Anna's limiting the comments on all of her posts. We imagine she'll keep up this practice going forward as well, as she won't want to deal with backlash.
None of the Duggar family members have broken their silence about Josh just yet. We'll have to wait and see what happens when they do.
Check out Showbiz Cheat Sheet on Facebook!