Anna Duggar Seen Smiling at Huge Duggar Family Gathering Ahead of Josh Duggar's Sentencing
Anna Duggar was spotted smiling with a number of Duggar family members while at a vow renewal. Here's what followers noticed.
Josh Duggar's sentencing is coming soon, and all eyes remain on Josh Duggar's wife, Anna Duggar. Anna Duggar reportedly stands by Josh even after his trial ruled him guilty of possessing child sexual abuse material. She remains off social media as sentencing looms, but Reddit users found photos of her at a huge Duggar family gathering for a family friend's vow renewal.
Josh Duggar's wife, Anna Duggar, spent time with the Duggar family at a vow renewal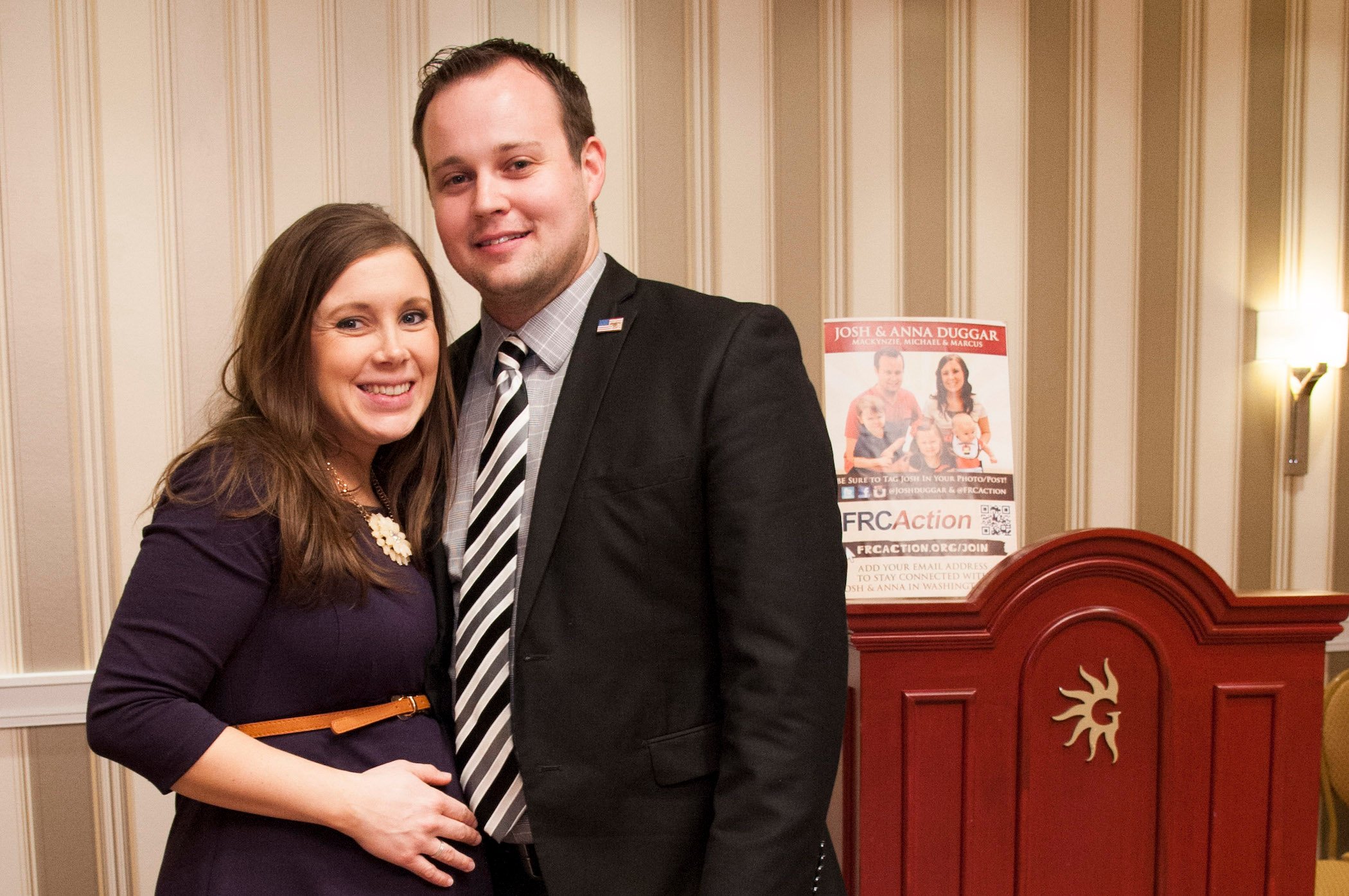 Anna Duggar was frequently seen with the Duggar family prior to Josh Duggar's trial. After the guilty verdict went public, she stayed scarce on social media. And the Duggar Family Instagram keeps her off of their account. More recently, she was spotted out with the Duggar family, though. She, as well as Joy-Anna Duggar and Austin Forsyth, Jed and Katey Duggar, and John-David and Abbie Duggar, were all spotted at Gabby and Andrew Patton's vow renewal.
The photo captured on Reddit shows Anna Duggar smiling in a lineup with a number of other Duggar women and guests. All of the women are holding white bouquets, and they're dressed in pale pink and champagne gowns.
Duggar family followers on Reddit noticed Anna in the lineup with the other women.
"So they're still including Anna I see," a Reddit user wrote.
"Anna is noticeably absent from reception photos … wonder if she didn't want to sit around eating dinner alone while everyone else hung out with spouses?" another user questioned.
Anna Duggar allegedly attended Jeremiah Duggar's wedding, but she continues to stay quiet
While Anna Duggar didn't post about heading to the vow renewal gathering, she also didn't post anything about attending Jeremiah Duggar's wedding. Jeremiah Duggar and Hannah Wissmann married in March 2022, and many Duggar family members attended the ceremony. Anna Duggar was also reportedly present with at least one of her sons. Reddit users found a photo showing her seated.
Some Reddit users noticed Anna appeared far back and away from the rest of the Duggar family, though this could be for a variety of reasons. Anna has a newborn baby and six other children to tend to. Without Josh around to help out with childrearing duties, she likely slipped in and out of the wedding to meet the needs of her children.
While Anna continues to spend time with the Duggars at these major events, it appears she has no plan to post photos of herself online.
Does Josh Duggar's wife support him ahead of sentencing?
So, where does Anna Duggar stand ahead of Josh Duggar's sentencing? An insider told Fox News that Anna plans on sticking with Josh through the tough times ahead. They also noted that Anna "loves Josh" and will stick with him "no matter what."
As for the other Duggars, it remains unclear where they stand. The insider noted the Duggar family's "faith" gets them through the toughest times, and they rely on their faith with Josh. They also stated the family won't "abandon" Josh despite the charges set against him.
Josh's sentencing begins on May 25, 2022. He faces up to $250,000 for each count and up to 20 years in prison.
How to get help: If you or someone you know has been sexually abused, text HOME to the Crisis Text Line at 741741 for free and confidential support.
Check out Showbiz Cheat Sheet on Facebook!