Anne Burrell's Pulled Pork Was a Hit With Many Food Network Fans — But Its Sauce Was Less Loved
Food Network star Anne Burrell's pulled pork was popular with reviewers. But her accompanying sauce, not so much.
Food Network star Anne Burrell's recipe for pulled pork was called "the best" by quite a few Food Network fans.
The sauce accompanying the dish, however? Not so much.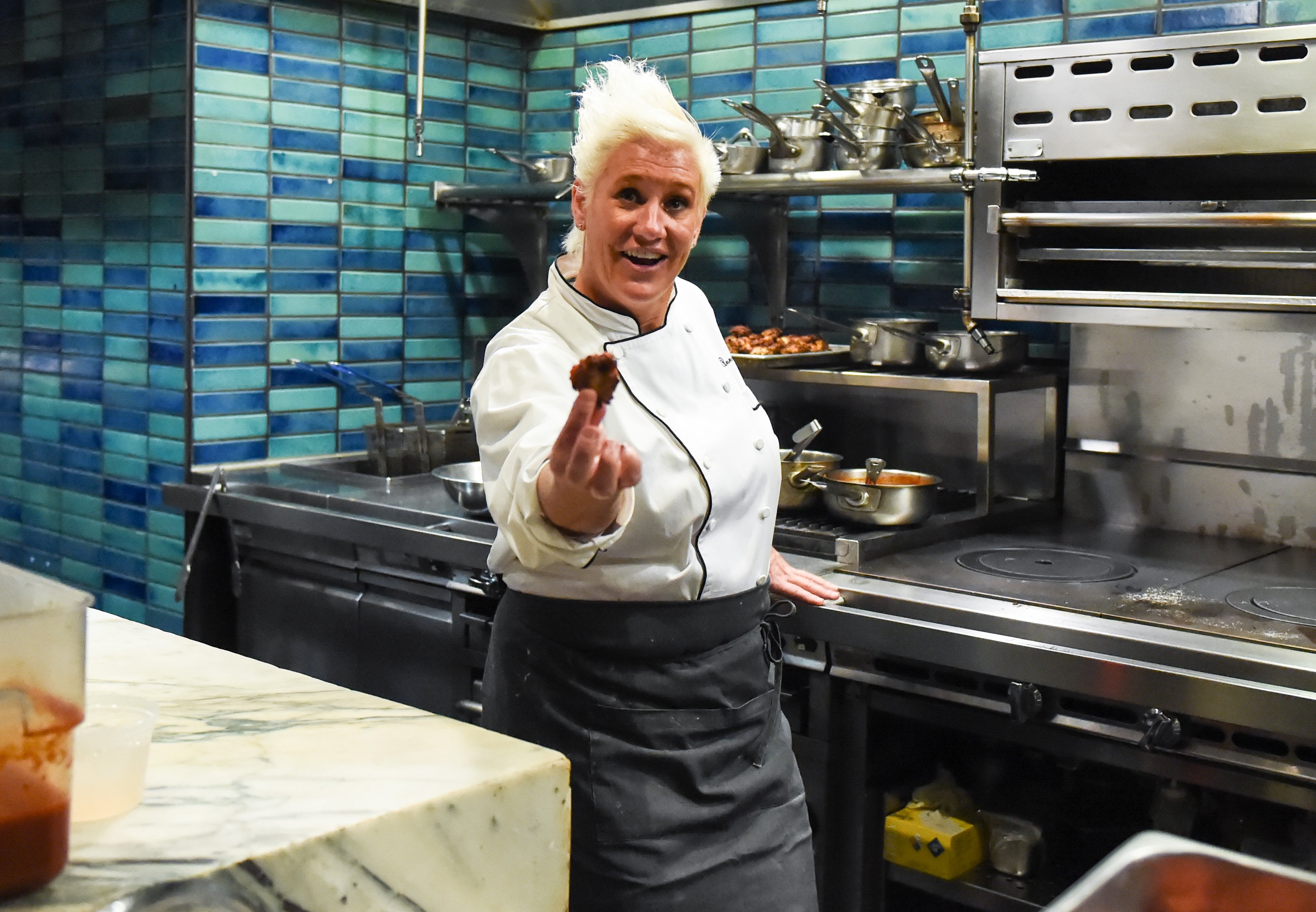 Burrell's pulled pork recipe features a flavorful rub
The Worst Cooks in America host's dish begins with the star of this recipe: a Boston butt with "X" patterns scored in the fat cap.
A spice rub makes the meat sing and includes pimenton, garlic powder, cayenne pepper, salt, brown sugar, celery salt, and dry mustard.
She points out in the Food Network video, link below, for this recipe, that home cooks don't have to follow her spice recipe. "The thing is, with dry rubs, whatever you like you can put in," she notes. "So, it's sort of, the world is open to you. If you like it a little sweeter, knock yourself out; a little spicier, go ahead and do that, too."
Burrell includes a full can of beer in this recipe, which she says should be poured into the pan the pork will go in "to kind of like make a steam bath or a sauna as we get this in the oven."
Get the video, reviews, and complete recipe on Food Network's site.
Her pork recipe's sauce didn't go over well with some reviewers
The seasoned pork butt is placed in the baking dish, covered with foil, and cooked low and slow in a 225-degree F oven for six hours. After the time is up, she removes the foil, and puts it back in the oven for three hours.
Once it's all done cooking, she rests the meat for 30 minutes, and eventually pulls the meat apart with two forks, saucing and serving it on buns with her broccoli stalk cole slaw.
While the meat rests, Burrell makes the sauce with apple cider vinegar, smashed garlic, Fresno chilies, brown sugar, tomato paste, kosher salt, and Dijon mustard.
Some reviewers on Food Network's site weren't thrilled with her heavy-on-the-vinegar sauce.
"I made Anne's sauce EXACTLY to the recipe. But with 3 cups of A/C vinegar as a base, that's all we could taste, the other flavors just didn't come out," one home cook said. Another agreed, saying, "I think the sauce is way too vinegary….After adding everything but the kitchen sink. …. I threw it out. Will not make it again."
Others tasted the sauce as they prepared it, adding brown sugar to offset what they called its "bitterness."
Reviewers overall loved Burrell's pulled pork
While some home cooks found the chef's dish took a lot longer to prepare than the recipe stated, the end result was an overwhelming thumbs up from most reviewers.
"Being a huge pulled pork fan I have tried several recipes and tweaked them for years. No need for that anymore now. This one is the bomb. Succulent and tender and delicious," one person wrote.
A common theme expressed among the dish's reviews was that Burrell's pulled pork is "the best."
Comments included "this was the best pulled pork that I have ever made," "This is the best oven pulled pork recipe I've ever tried, and I've tried quite a few," "Best pulled pork ever!!," and lastly, a reviewer reported that "One gentleman told me it was the best pulled pork he's had since he came to NY 30 years ago (and he had a deep southern accent). What a compliment!"