Anne Hathaway Felt 'Intimidated, But Cared For' While Working With Meryl Streep on 'The Devil Wears Prada'
The Devil Wears Prada is one of the most iconic movies of the mid-2000s. With an all-star cast that included Meryl Streep, Anne Hathaway, Stanley Tucci, and Emily Blunt, the movie gave viewers an inside look at the fashion industry and how cutthroat it can be.
Even though all of the film's stars provided great performances, Streep's stands out in particular. Playing Miranda Priestly, a powerful, domineering fashion magazine editor, she terrorizes her colleagues and peers with her icy demeanor and sharp-tongued one-liners.
Streep's performance in The Devil Wears Prada was so good that she intimidated many people on the set, including Anne Hathaway. 15 years after the film's release, Hathaway revealed exactly how she felt while working with the award-winning actress.
Anne Hathaway felt 'intimidated, but cared for' while working on 'The Devil Wears Prada' with Meryl Streep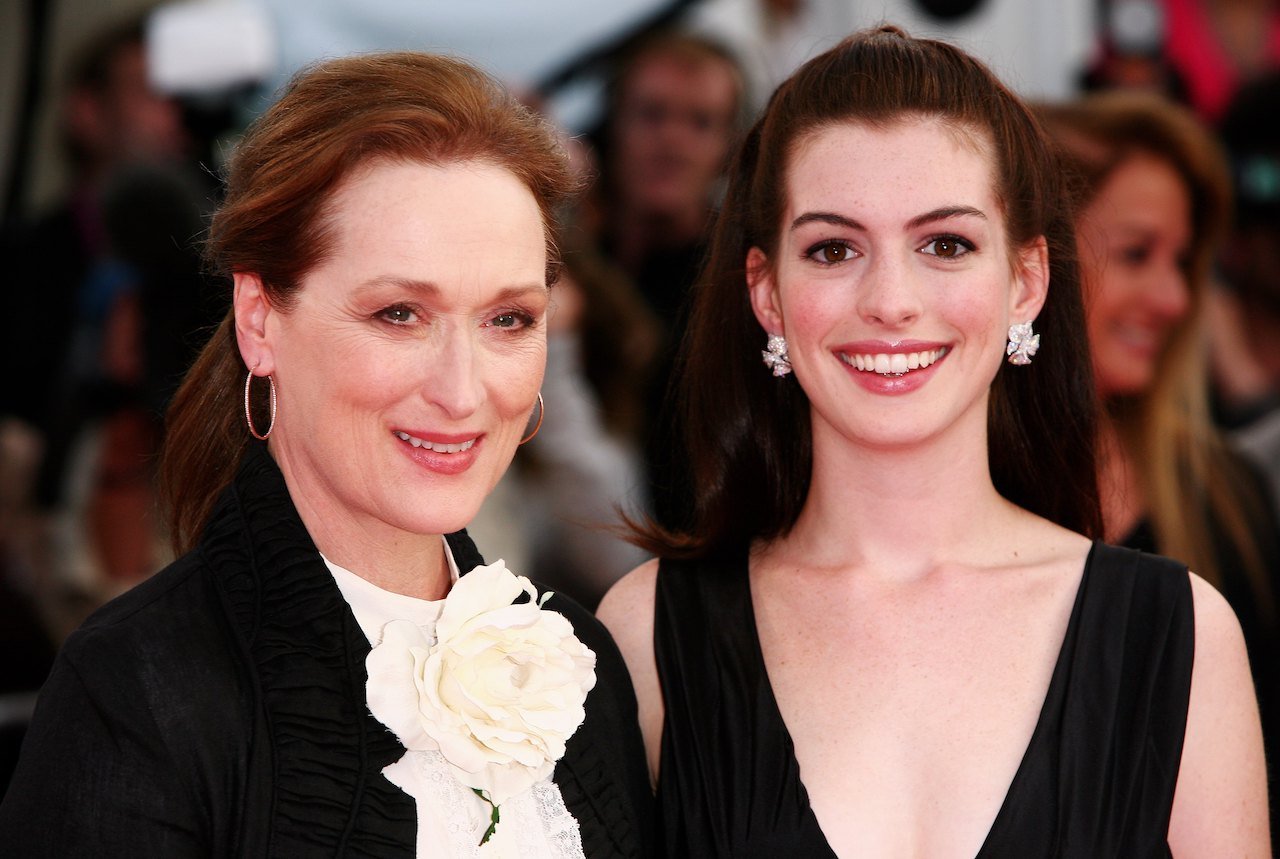 RELATED: 'The Devil Wears Prada': Why Meryl Streep's Role as Miranda Priestly Made Her 'So Depressed'
Hathaway discussed Meryl's intimidating, yet caring energy on set during a recent interview with Entertainment Weekly.
"I just have to say about the intimidation and Meryl's method on this, that I did feel intimidated, but I always felt very cared for," Hathaway said.
Getting more specific, Hathaway noted that she observed how Streep worked hard to ensure that everyone around her was giving their best possible performance at all times.
"I remember having the experience of watching you watch me. And you altered your performance ever so slightly," Hathaway said. "And you just made it a little bit different. And you brought more out of me, and you got me to kind of break through whatever barrier I had. And it meant so much to me. It was a lesson for me about how you, when you're number one on the call sheet, you protect the film. You watch out for the other actors. Because when everybody's doing great work, the film benefits from that."
Meryl Streep acted as nasty as she possibly could while filming 'The Devil Wears Prada'
When preparing for her role as Miranda, Streep did not look toward Vogue editor Anna Wintour for inspiration, as many people assumed. Instead, she looked at another powerful Hollywood superstar for ideas.
"It was just a direct steal from the way I saw Clint Eastwood run a set," Streep told Entertainment Weekly. "He's someone that guys really respect. And he never raises his voice, ever."
Streep added that she learned very early on that powerful people aren't necessarily the ones who scream violently at their peers.
"In drama school, the teacher said, 'How you play king has nothing to do with you. You're just you. It's how everybody else in the room act[s] when you enter it that makes you the king.' And that's exactly right. It was all up to them to have this reaction. And I could just speak and be slightly nastier than I normally am. I normally am on a scale of one to 10, a seven. But I could go all the way to nine or 10 with her. Because as long as I was quiet, it seemed more powerful.
Anne Hathaway was surprised by Meryl Streep's performance in 'The Devil Wears Prada'
Streep's cold, quiet demeanor on set came as a surprise to Hathaway. When the time finally came to do a table read for The Devil Wears Prada, she was caught completely off guard by Streep's performance.
"I just remember at the first read-through, I had read the script so many times. And I was expecting you to come in imperious and loud and barking orders. And you said your first line in a whisper," Hathaway said. "And I almost fell off my chair. And that was the moment that I realized that we—yes it is a great Hollywood movie, but there's something more, too."
In hindsight, Hathaway appreciates how Streep's role shows young people how there are different forms of leadership, and how sexism makes it harder for women to be tough bosses.
"It was so, and is so important for young women to see you in this role. But it's also so important for young men to see you in this role," Hathaway said. "And to understand that at this moment in history, it is more complicated than seeing a man in the same role."