Anne Hathaway Went All-In on 'The Dark Knight Rises' Audition But Thought She Was Meeting about Harley Quinn
Christopher Nolan's The Dark Knight trilogy changed the way audiences and filmmakers approach comic book movies. Nolan's grounded take on the character in Batman Begins inarguably inspired the current golden age of superhero cinema. So fans are always thrilled to get a peek behind the scenes of the trilogy's production.
Now thanks to a new interview, Oscar winner Anne Hathaway shared the story behind her audition for the trilogy's final installment, 2012's The Dark Knight Rises. The sequel to The Dark Knight was so shrouded in mystery that even Hathaway didn't know what role she was auditioning for in the film. Here is the story behind her casting.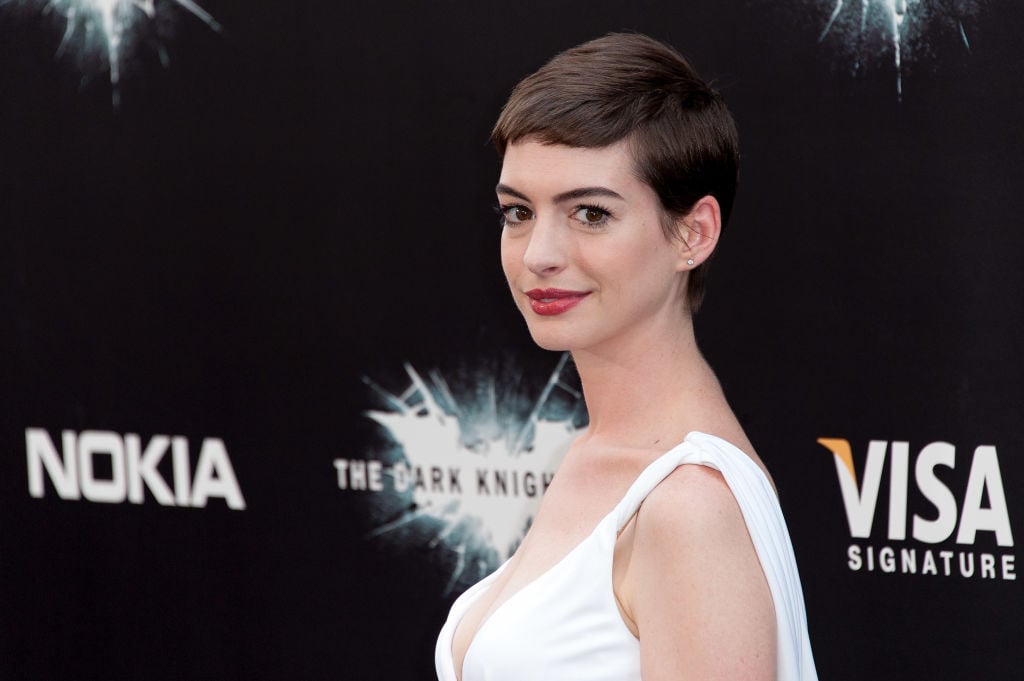 Anne Hathaway played Catwoman in 'The Dark Knight Rises'
Of course, Hathaway wound up starring opposite Christian Bale as Selina Kyle aka Catwoman. Michelle Pfeiffer had previously played the character to much acclaim in Batman Returns 20 years earlier. But Hathaway worked hard to develop her own take on the iconic DC Comics villain/anti-hero.
In addition to the physical demands of the role, Hathaway and Nolan created a version of Catwoman that feels perfectly at home in the latter's Batman trilogy. Whereas the previous film series allowed the fantastical to splash across every frame, Nolan's stripped-down approach required a more delicate interpretation of the source material.
In the end, Hathaway delivered an impressive turn as Catwoman. Rather than aping Pfeiffer's style, she turned to actress Hedy LaMarr — the original inspiration for Catwoman — to inform her version of the character. But Hathaway initially had no idea she was even up for Catwoman.
The Oscar winner thought she was auditioning for Harley Quinn
In a new interview with BBC Radio 1, Hathaway revealed the real story behind her audition to star in The Dark Knight Rises. In her initial meeting with Nolan, she had prepared to discuss an entirely different character, albeit another DC Comics fan favorite.
I came in and I had this lovely Vivienne Westwood kind of beautiful-but-mad tailoring top with stripes going everywhere. And I wore these flat Joker-y looking shoes. And I was trying to give Chris [Nolan] these crazy little smiles. About an hour into the meeting he said "Well, I'm sure I don't have to tell you this, but it's Catwoman." And I was shifting into a different gear. "Now okay, we're slinky. We're slinky. And I hate my shirt. I love my shirt, but I hate it right now. We're slinky."
The Dark Knight made such a cultural impact that its sequel was always going to be hotly anticipated. So naturally, Nolan and his team kept the details close to the chest. And in the wake of Heath Ledger's passing, the inclusion of Harley Quinn seemed like an easy way to continue the Joker's presence in some form. No wonder Hathaway imagined that was the case.
Zoë Kravitz will play Catwoman in 2021's 'The Batman'
As fans know, Harley Quinn did ultimately make it to the big screen. So far, Margot Robbie has played the character in both Suicide Squad and Birds of Prey. She's set to return again in 2021's The Suicide Squad. But audiences are also about to meet their first live-action Catwoman since Hathaway's turn.
Zoë Kravitz — who was also once up for a role in The Dark Knight Rises — will star opposite Robert Pattinson in Matt Reeves's 2021 release The Batman. As was the case with The Dark Knight Rises, we still know very little about the film itself. Kravitz has conceded Pfeiffer's performance is a major influence. But we're curious to see if Hathaway's factored in as well.