Annie Murphy Is Bribing Dan Levy for a 'Schitt's Creek' Movie
Annie Murphy is paying Dan Levy $5 a day to bride him for a 'Schitt's Creek' movie. But will it actually come to fruition? Levy weighs in.
It has only been a year since the Schitt's Creek finale, yet fans are still desperate for a film version of the series. The critically acclaimed TV show gained popularity after being added to Netflix in 2017. In no time, it became the number one show to binge-watch on the streaming service.
But apparently, six seasons isn't enough for fans or even the cast members of the series. According to Annie Murphy, she would be "over the moon" if there ever was a Schitt's Creek movie. And apparently, she is trying to bribe Dan Levy to create one!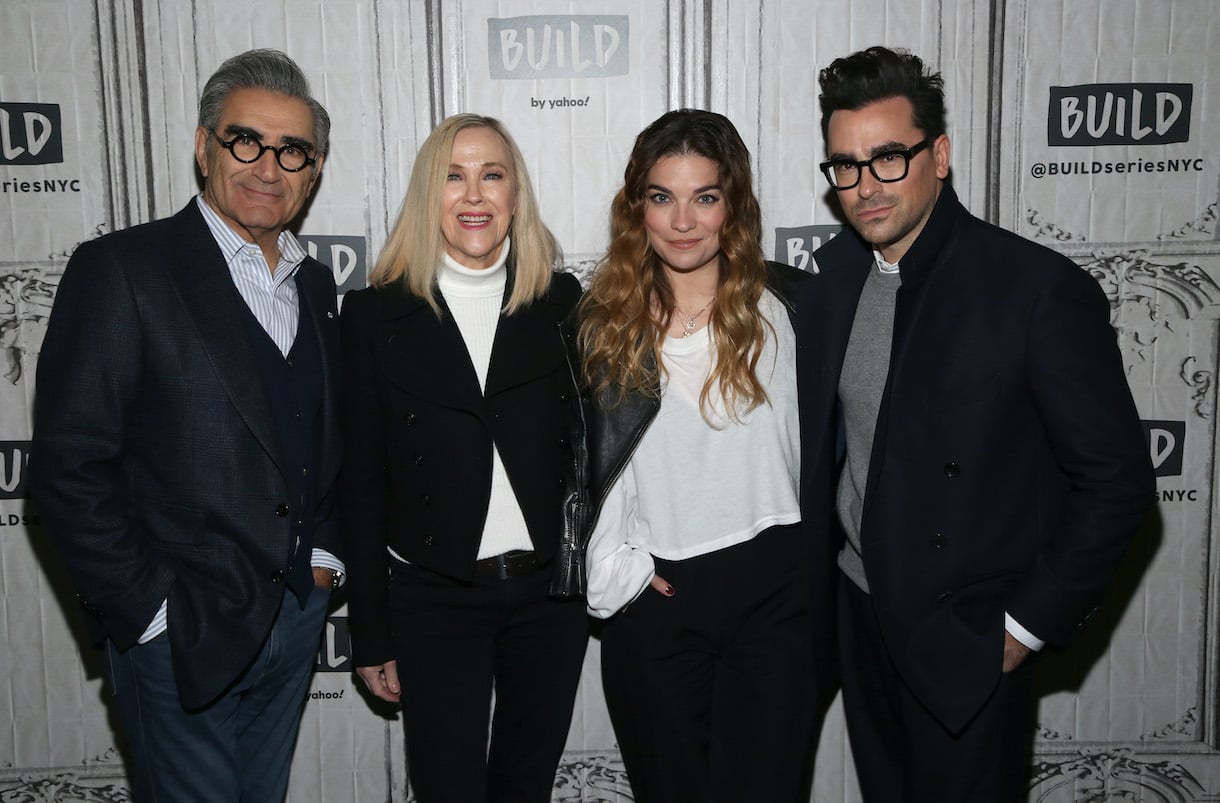 How did Annie Murphy get cast in 'Schitt's Creek'?
Murphy's casting story for getting the part of Alexis Rose is rather awe-inspiring. Interestingly enough, the talented actor was ready to give up on Hollywood right before the audition that would end up changing her life. During an interview with The SAG-AFTRA Foundation, Murphy explained how it all played out.
"I hadn't worked in two years," she recalls. "My apartment was just freshly burned down, and I had a very small number of dollars in the bank. I had just blown my very first screen test that I had ever been offered… So I decided that acting was not for me. And the day that I sort of screamed out into the universe that I was probably just going to go to secretarial school or something, the day after that, I got the audition for Schitt's Creek."
And according to Murphy, the role "changed (her) whole life."
Annie Murphy is bribing Dan Levy for a 'Schitt's Creek' movie
Murphy is missing her castmates from Schitt's Creek so much that she says she would be "over the moon" for a movie version of the beloved series. In a recent interview with US Weekly, Murphy explained how she is literally paying Levy to write a film about the Rose family.
"I mean, I've been sending Dan $5 a day in the mail as a bribe," she admits. "So far, I have not heard back about a movie officially. But, oh, my God, I would be just over the moon if that ever came to pass. I miss everyone so much every day. Just to see Moira again, I would pay a lot of money to do that."
But what does Levy have to say about a movie version of the series? According to the Canadian actor, he would never say no to the opportunity.
"I don't think there's a single person on our team, cast or crew, that wouldn't want to come back for a movie," he said, according to Good Housekeeping. "But at the same time, I think the success of the show really was tied so closely to the care that was put into it and the quality that was put into it. If I can come up with an idea that I think builds on what we've already done in a way that feels good and exciting and new and fresh and challenges our actors, then great. I go to sleep willing that idea to come to me."
Annie Murphy wants Ted and Alexis to end up together in the 'Schitt's Creek' movie
According to Murphy, she still holds on to hope for Ted and Alexis for the film version of Schitt's Creek. As fans know, the characters were forced to part ways after attempting a long-distance relationship. But fortunately, Murphy is hopeful that the two will get back together (and what better way to showcase this than in the Schitt's Creek movie?)
"I hold out hope," Annie tells Us Weekly about Ted and Alexis' happy ending. "I think that maybe it would be one of those relationships where they let each other go and thought it was final and then maybe drift into each other's worlds down the road."