Another 'Below Deck' Crew Member Is Engaged
Amy Johnson from Below Deck announced she is engaged. "It all feels like a dream✨ Easiest "YES" of all time!!! I can not wait to be your MRS!!!🥂👰🏻," she shared on Instagram along with three photos.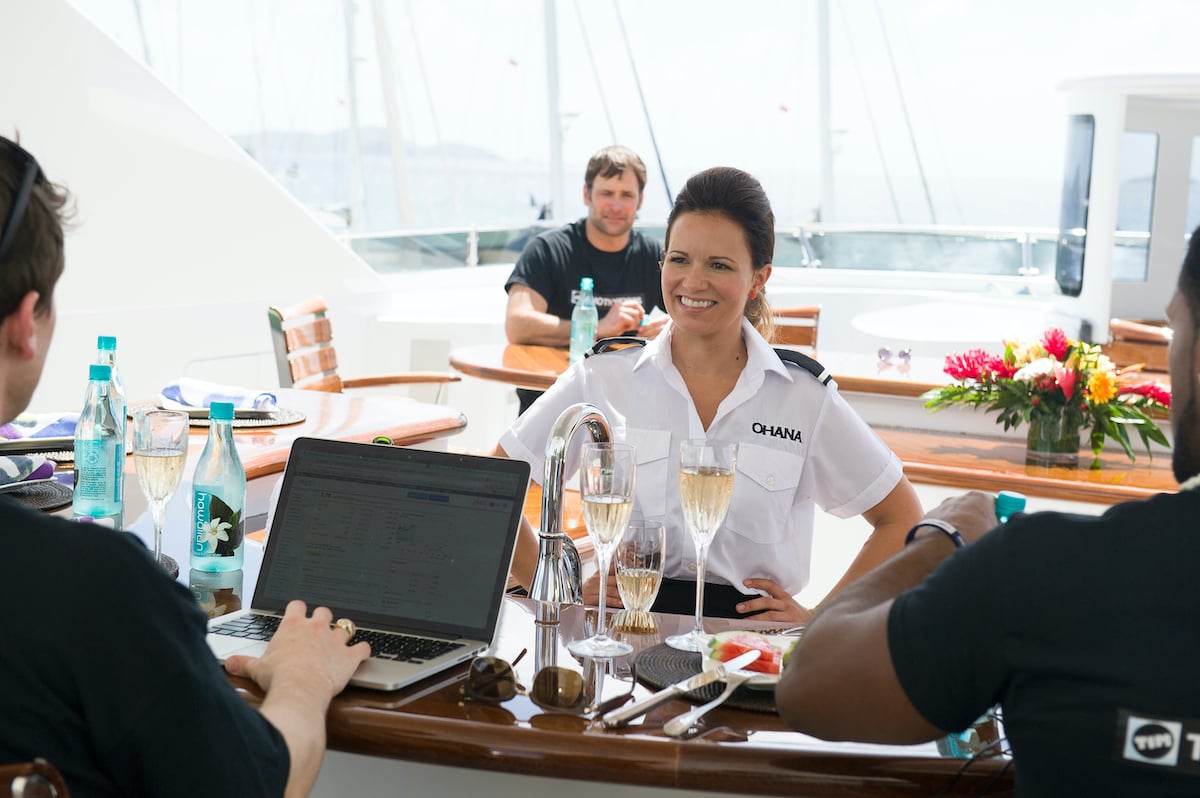 Johnson is engaged to Ellis Lenthall, who she dished about when she last spoke to Bravo. Lenthall is a sales executive for Jo-Kell, Inc in Virginia. He's worked at the company for the past seven years. Lenthall also shared the news on his Instagram along with the photos.
When Johnson appeared on the Below Deck 100th anniversary celebration in New York City, she talked about her (then) boyfriend. She and deckhand Connie Arias double dated when they were in town and Arias was also engaged.
Maybe Captain Lee should make it a double wedding?
Arias said she hoped Captain Lee Rosbach would officiate her wedding. "So I think since Captain Lee is a captain, he can marry me," Arias told Bravo. "I am engaged to a lovely guy and we live together in Melbourne [Florida]. He's got a great family business and I have my business. So it gives us a lot of freedom to be able to do things. I'm really happy, I found a really good guy."
"I don't have any set plans, I'm not traditional," she added. "I'm not into the white dress and the dance and the music. It's just not for me. It's not my thing." But she hoped Rosbach would officiate her wedding. "He's been so good to me," she says about Rosbach. "That would probably be a fun thing for me to do."
Johnson dished about her relationship too. Arias joked about how her fiance and Johnson's boyfriend were probably out having drinks while they filmed. "My man," Johnson swooned. "He's amazing, he's a man! And he's from North Carolina, I mean I have so many great words to say about him."
Amy Johnson joins the list of engaged (and married) alum
In addition to Arias, a number of other Below Deck, Below Deck Mediterranean, and Below Deck Sailing Yacht crew members are engaged. Viewers watched deckhand Parker McCown's big underwater proposal on Below Deck Sailing Yacht. Also newly engaged is Joao Franco from Below Deck Med.
Tiffany Copeland from Below Deck Med accidentally found a photo of her engagement ring which prompted her boyfriend to pop the question. Bryan Kattenburg from Below Deck Med is also now engaged too. Since season 1 wrapped, Julia d'Albert Pusey from Below Deck Med and Adrienne Gang from Below Deck got engaged and married.
And while some crew members haven't said "I do" they said "welcome" to a new baby. Deckhand Jack Stirrup recently became a father to a baby boy. Plus, chief stew Hannah Ferrier announced she is pregnant and is due in late October. She joked about how yachting prepared her for motherhood.
"People are like, 'Oh, it's the hardest thing, and you'll be so sleep deprived.' I'm like, I just cannot see it being any harder or any more sleep-deprived than a season of Below Deck Med, that's for sure," she told Bravo's The Daily Dish.