Anthony Mackie Says His Captain America Has a Superpower and Fans Have Already Seen It
Anthony Mackie's character Sam Wilson became Captain America in the finale of The Falcon and the Winter Soldier. Throughout the six-episode series, Wilson wrestled with what it meant to have a Black man as Captain America.
Ultimately, he accepted the shield and assumed his new identity, but he did it on his own terms. Mackie says his version of Captain America has a superpower, and fans have already witnessed it.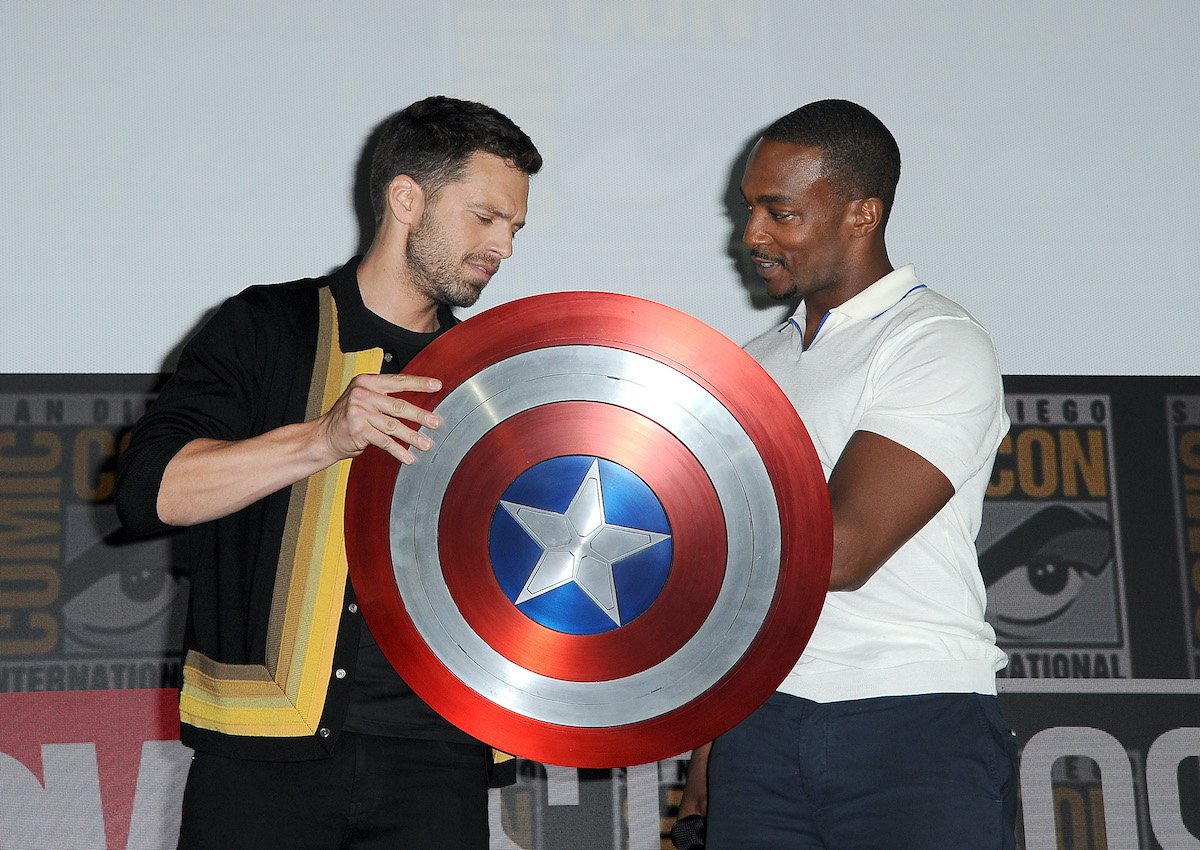 Anthony Mackie believes it's important to show soldiers 'in a respectful human light'
Mackie and General Charles Q. Brown Jr. — Chief of Staff of the Air Force — recently sat down with Variety to talk about the importance of black heroes, both real and fictional. Mackie says he has many people in his life who have served in the military. Because of this, showing soldiers "in a respectful human light" is something that's very important to him.
"Sometimes I meet people like General Brown, and I'm like, 'That guy's not a human being, he's a rock star,' and you forget they're actual humans and place them in a light where they're not allowed to be," Mackie explained. "So that's something that's always been important to me — bringing humanity to the aspect of being a soldier."
What does Sam Wilson's Captain America stand for?
Now that his character has taken over the Captain America mantle from Steve Rogers (Chris Evans), Mackie says that Sam's monologue in the finale of The Falcon and the Winter Soldier helped define what his version of the superhero is all about.
"This is the moment where he becomes Captain America, so what's his Captain America going to stand for?" Mackie explains. "Because he was a soldier, he was a caretaker of soldiers, a counselor."
The powerful speech in the finale helped convey the depth of Sam's decision to accept the shield and assume his new identity. In that moment Sam became Captain America, Mackie says it was important to show he's not "a guy who's going to bust his way through problems."
Anthony Mackie says fans have already seen his Captain America superpower
Captain America isn't known for having any superpowers, despite being a member of the Avengers. But according to Mackie, his version of the character definitely does. And fans have already seen it.
"The humanitarian side of him was something that I feel is his superpower, his ability to have empathy and sympathy for those around him is your superpower," Mackie explained.
RELATED: 'The Falcon and the Winter Soldier': Anthony Mackie Tried to Convince Marvel to Give Him a Love Story With [SPOILER] 'Several Times'
"So that monologue was about him showing that if one of us is mistreated, we're all to blame. And that's the overall theme of the new Captain America, not Black Cap, or Cap for the people, he's Captain America for all."
The Marvel star has already seen the impact of his new role
Mackie has only been Captain America for a few short weeks. But he says he's already seen the impact of him taking over the role. The actor has a friend who is a special needs teacher in Florida. He says that one day the teacher found a student doing pull-ups on the monkey bars.
When she asked him what he was doing, he told her "well, Captain America looks like me now. So, I need to get in shape, if he needs my help."
"I thought that was the coolest thing," Mackie shared. "For this kid to see a six-hour series and get enough strength within himself to think that he needs to be prepared and ready, that made all of the work that we had to do to put it together worthwhile for me."
Anthony Mackie reveals the most important aspect of playing Captain America
General Brown noted during the interview with Mackie that a lot of power and responsibility comes with being a Black man in a high-ranking position. He says that when young people see someone that looks like them in these powerful roles, they realize there is opportunity there. They see that "anybody can fill in any one of these roles."
RELATED: 'Avengers: Endgame': Chris Evans and Anthony Mackie Actually Competed to See Who Really Has 'America's A**'
Mackie agreed, saying that the most important aspect of playing the Captain America role is for kids to "see you're real."
However, he added that kids don't just need to see it in the movies. They also need to see people like General Brown in real life.
The Falcon and the Winter Soldier is available to stream on Disney+.