Anthony Mackie Looks Back on His Unforgettable 'Black Mirror' Episode, Talks Black Homophobia and Male Friendships — 'There Has To Be That Conversation in Order for People To Move Forward'
Anthony Mackie is getting a ton of attention right now for his performance in The Falcon and the Winter Soldier, but the hit TV series is far from the only production he's been a part of. The new Captain America has also starred in a slew of other shows and films, such as 8 Mile and Altered Carbon.
And while he's gotten some recognition from all of his previous roles, one, in particular stands out more than others. Mackie starred in the "Striking Vipers" episode of Netflix's Black Mirror, one in which he's a married man who secretly starts hooking up with his best friend through a virtual reality combat game.
When it first came out, the episode started a lot of conversations about homosexuality, particularly in the Black community. Looking back on the iconic episode, Mackie recently shared his thoughts on male friendships, homophobia, and the future of society.
Anthony Mackie was instantly drawn to 'Black Mirror' after reading the script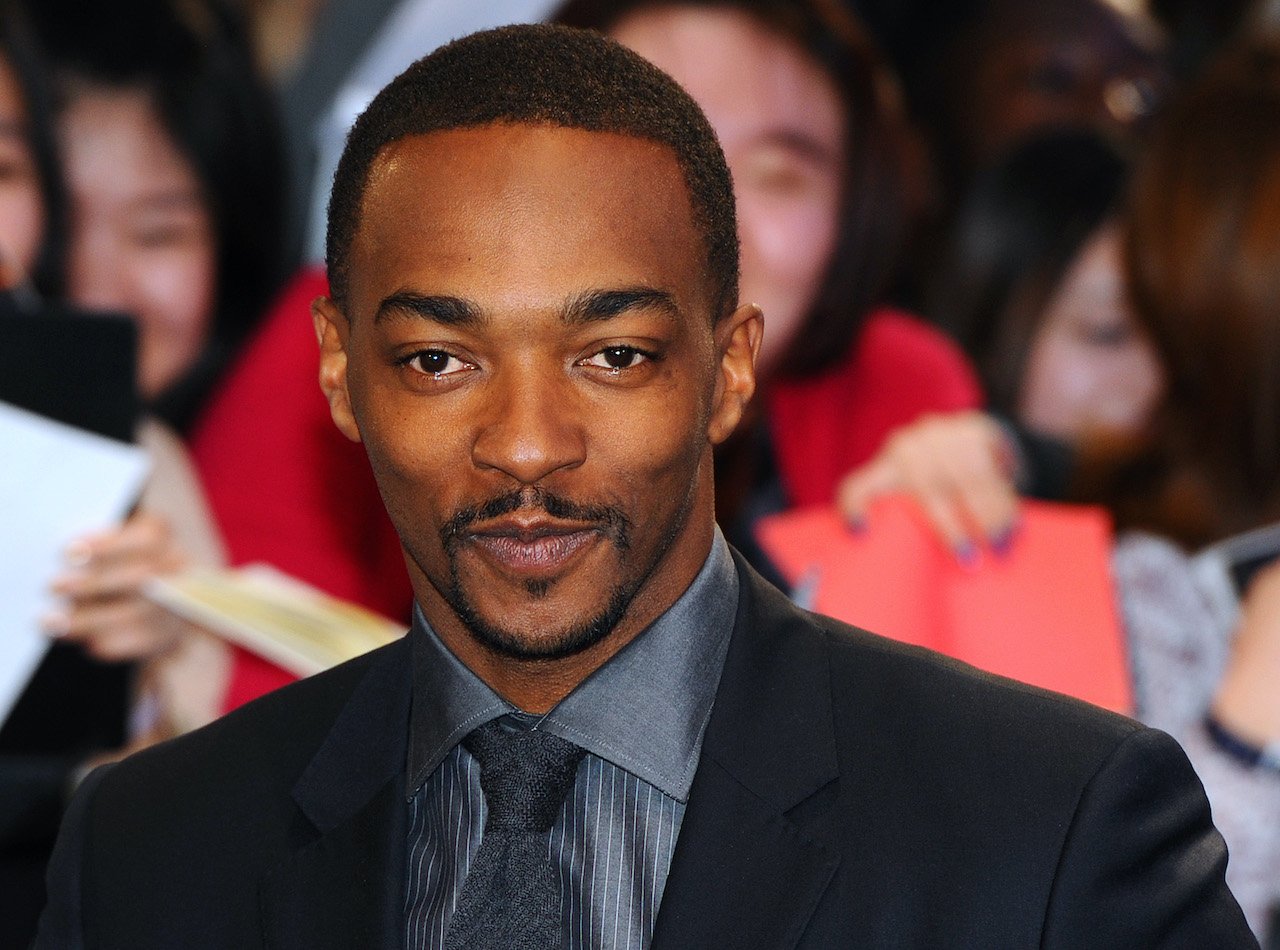 RELATED: 'The Falcon and the Winter Soldier' Star Anthony Mackie Says Black American Actors Aren't Given Same Opportunities as Black British Actors
Mackie discussed his episode of Black Mirror during a recent interview with Hot 97. According to Mackie, he was hooked from the moment he started reading the script. 
"You know what's interesting? When I read the script, I was so surprised. I love doing things that people don't normally think of, or do. I think I've built my resume and career on doing things that are a little bit outside the box," Mackie said. "But Black Mirror was so interesting. When I read it, the idea of me and my boys instantly came into mind."
In the "Striking Vipers" episode, Mackie begins playing a virtual reality combat game with one of his best friends. However, their battles take an unexpected turn when the two begin engaging in sexual activities with each other in the game world. Mackie found the dynamic between the two characters interesting because they weren't necessarily gay.
"You have this dude who's in a great relationship, beautiful wife, beautiful house, beautiful career, but that happiness is not there," Mackie said. "And what happened if you can find that relation—because they weren't gay, they weren't in a relationship together. It was just that soulful happiness that you find, that camaraderie that you find within dudes that they acted out in a cyber reality."
He related to the complexities of male friendships
Mackie particularly identified with the struggles his character had maintaining a connection with his best friend, which he says is a common problem for men.
"Think about it this way," Mackie said. "The first thing that happens, you hanging with your boys, y'all out having a good time. When the phone rings and it's your girl, you're like, 'Aw sh*t!' Or you go, 'Everybody shut up, it's my girl, don't say nothing. 'Cause she gon' make me go home.' Right? So the idea of—I won't even call it the bromance because I think that's like a[n] anti-homophobic slur that's been put on the idea of two men being friends—but there's an understanding that goes into the conversation of fun, of just a group of dudes being together, that is literally stepped on and shitted on by women on a minutely basis of every day."
They wanted to tackle homosexuality in the Black community
Later in the interview, Mackie confirmed that he and the Black Mirror producers wanted to start conversations about homosexuality, homophobia, and male friendships in the Black community.
"Originally when it was written, it was written for two white guys … And then in the course of our conversation, the director brought up the idea of homosexuality in the Black community and we talked about the stigma that goes along with it. What does that mean in our society, for a Black man to be gay?" Mackie revealed.
Mackie added that he thinks more conversations about male sexuality need to be had in order for society to progress.
"There has to be that conversation in order for people … to move forward," Mackie said.