Are Courtney Skippon and Kate Chastain From 'Below Deck' Still Close Friends?
Below Deck viewers watched a friendship build between stew Courtney Skippon and chief stew Kate Chastain last season. They two seemed to automatically understand each other and they shared a very similar aesthetic.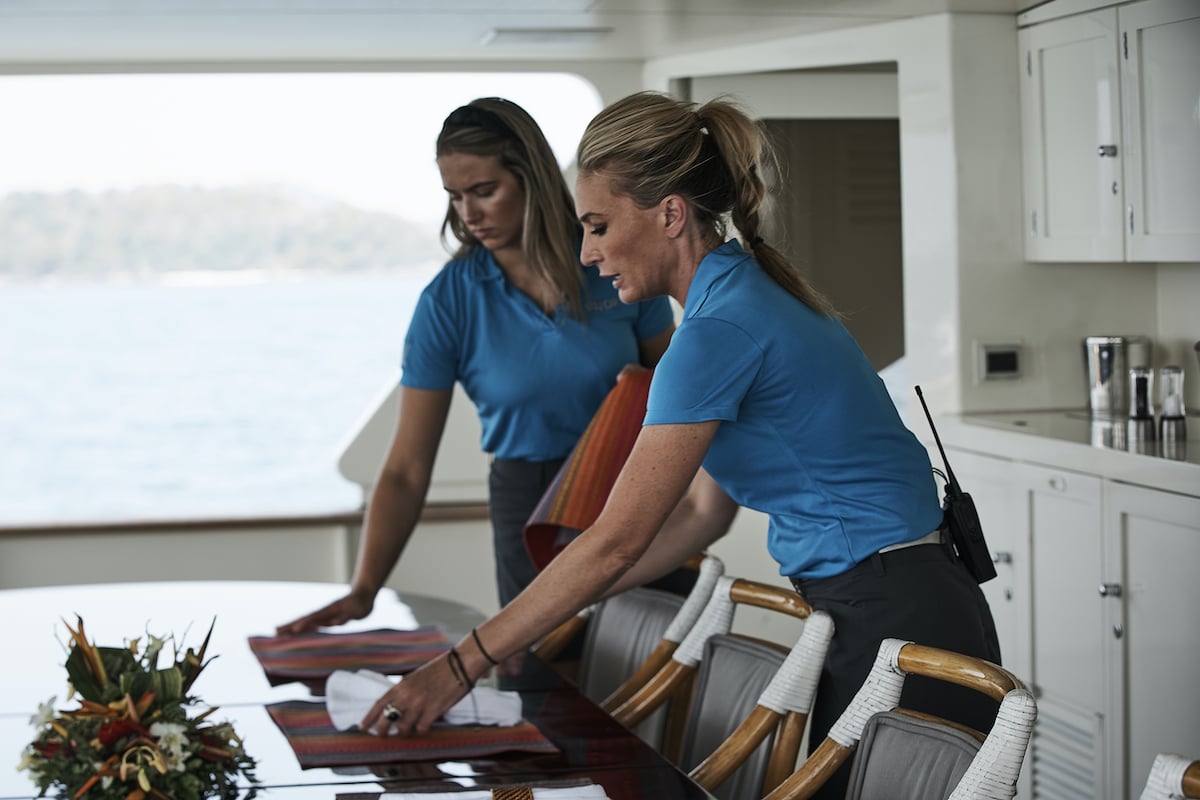 And while they appeared to bond last season, are they still in touch? Skippon recently launched a TikTok in honor of Chastain, which gave the chief stew all the feels. "The fact that @courtneyskippon broke her "never going to do a tik tok" rule just for me is a true act of friendship," Chastain tweeted along with the video.
Chastain also recently shared that she and Skippon have the same taste in table decor. "Courtney [Skippon] my stewardess from [season 7], queen icon legend," Chastain said on Bravo's The Daily Dish podcast. "We DM from time to time and it's like 'Goldilocks and the Three Bears.' There's one that's too little, one that's too much. We like it just right. I think that what's elegant is something that's beautiful but that you aren't trying so hard. There's a difference between simplicity and doing nothing."
Courtney Skippon says Kate Chastain is one of her best friends
Skippon offered her assessment of Christine "Bugsy" Drake's tablescapes from Below Deck Mediterranean. Chastain low-key shaded Drake's tablescapes, explaining they were a little too over the top. Skippon agreed.
"You have to find a balance between tasteful and tacky. That can be hard when table decor is not a top budget priority, especially on a charter yacht, and what you have to work with is often a dollar store tour du monde. Think: tulle, fish beads, plastic shells, fake flowers, polyester napkins," Skippon told The Dipp. "Kate [Chastain] is the ultimate party host and really helped me find that equilibrium." Adding, "If I'm being completely honest, were I a guest sitting at one of Bugsy's tables I would likely ask to have it removed."
She then shifted to her friendship with Chastain. "She's honestly one of my best friends. I feel so lucky to have her. And I knew going in that we would probably get along well, but she was such a great support to me," Skippon continued and said she talks to Chastain almost every day.
Chastain has forged several close friendships on the show
Chastain also bonded with deckhand Connie Arias and stew Amy Johnson. She continues to speak with both Johnson and Arias to this day. She also remains close with deckhand Rhylee Gerber.
But it was her friendship with second stew Josiah Carter that really won fans' hearts. Chastain seemed to be genuinely sad when season six ended and she had to say goodbye to Carter. She vowed to always keep in touch. However, Carter told Showbiz Cheat Sheet she stopped speaking to him after the reunion. "She doesn't speak to me anymore," he said. "I have no idea why. When we filmed the reunion, we were fine."  He sent her text messages, but they were left unopened.
"Maybe she's just busy," he said. "I thought Kate was really cool and fun. But I don't know. But no one is too busy to reply, 'I'm good how are you?'" Chastain later insisted she still had plenty of love for Carter. "For like six weeks when we worked together on a boat, yeah," she said on Watch What Happens Live with Andy Cohen. "The problem is we have different time zones and it makes it awkward."