Are Drake and Rihanna Back Together? Rumors Swirl After Drake Was Spotted in Barbados
Of all the relationships in celebrity history, Drake and Rihanna were a pair many hoped would go the distance. They were famous, successful, and seemed to possess the chemistry needed to have a long-lasting relationship. But they could never really get it right, falling into an on-off pattern that followed them for years.
After deciding to end things once and for all in 2016, both appeared to move on to other people. But after that ended, the pair began to make moves that prompted reconciliation rumors. The latest came in mid-July when Drake was seen in Rihanna's native Barbados.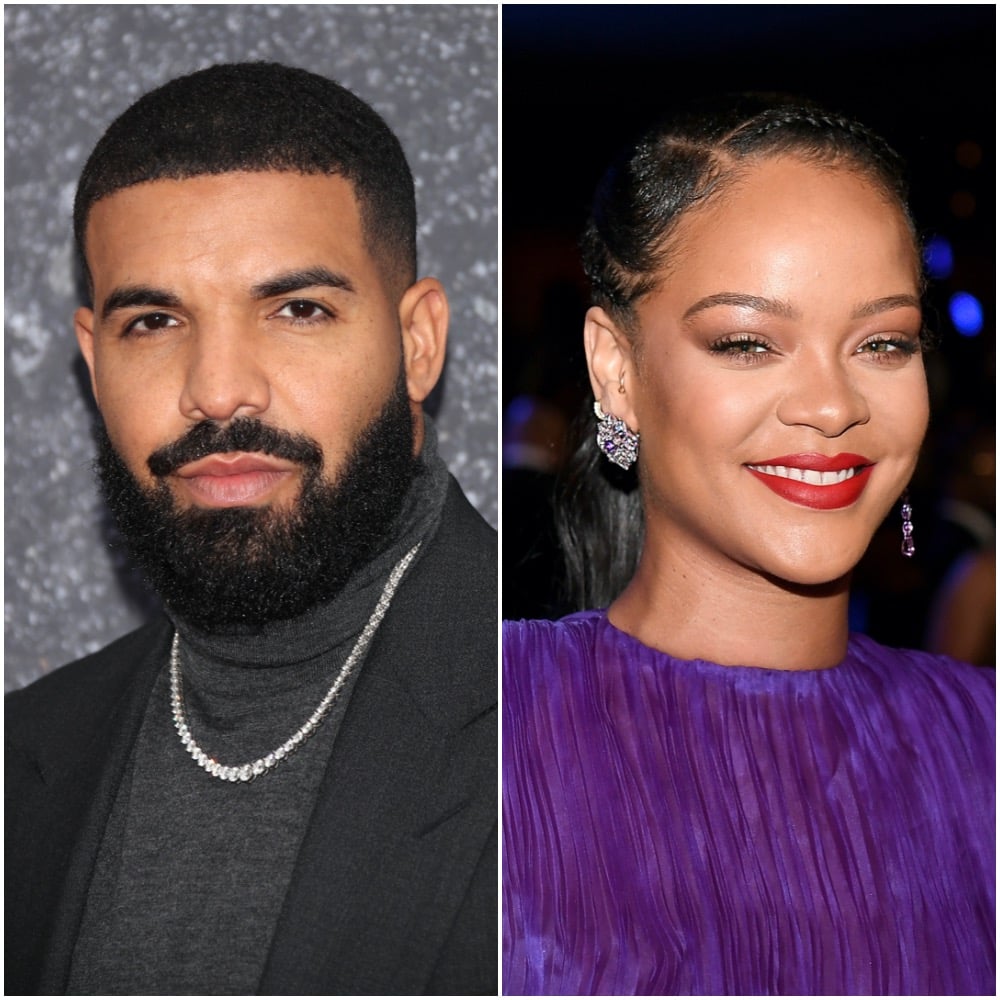 A timeline of Drake and Rihanna's relationship
Drake and Rihanna met in 2005 on the set of her music video, "Pon De Replay," according to Billboard. They reportedly went on a date in May 2009 after Rihanna's split from Chris Brown, but as romance rumors spread, Rihanna downplayed it to the media.
The pair continued to flirt in the press and in music such as Rihanna's 2010 hit "What's My Name?" and Drake's 2012 song "Take Care." But their relationship appeared to stall in 2012.
Even though they were no longer seeing each other, Drake told Rolling Stone in February 2014, "She's the ultimate fantasy. I mean, I think about it. Like, 'Man, that would be good.' We have fun together, she's cool and sh*t. But we're just friends. That's my dog for life."
A month later, they were seen on a date, but it didn't appear to go anywhere after that. Their romance would kick up again, though, in August 2016 when Drake delivered an emotional tribute to Rihanna before she accepted her MTV Video Vanguard Award. He told her he'd love her since he was 22-years-old, leaving Rihanna floored and blushing.
RELATED: Who Has Rihanna Dated?
But by 2017, they were done. Drake went on to have a brief romance with Jennifer Lopez while Rihanna moved on with Saudi billionaire Hassan Jameel.
Drake gave an update on their relationship in December 2019, telling Rap Radar that Rihanna was not a part of his life.
Drake and Rihanna reconnected earlier in 2020, according to reports
After Rihanna split from Jameel in January, she was seen talking to Drake later in the month at an A$AP Rocky concert in New York. Sources told HollywoodLife that they appeared friendly and posed for a video "looking cozy."
Two months later, Drake was seen flirting with Rihanna on Instagram and was allegedly caught following her on social media. But as romance speculation grew, the "Work" artists opted to keep quiet.
RELATED: Drake Made a Move That Has Fans Convinced He's Trying to Win Back Rihanna
Drake just kicked the dating speculation into overdrive
Drake triggered a fresh round of reconciliation rumors during the week of July 12 when he visited Barbados, where he was seen hanging with Rihanna's brothers. Neither of them has addressed the rumors, but a source told HollywoodLife on July 18 it's not what it looks like.
"Drake and his crew flew to Barbados on his new private plane because they're there for a week or so to shoot a music video," the insider explained. "Drake arrived on July 11 which was the first day Barbados opened its airport to international visitors after a long lockdown due to the pandemic."
As far as the reason he was with Rihanna's brothers, the source added: "Drake became friends with both of Rihanna's brothers (Rorrey Fenty & Rajad Fenty) through Rihanna and they're still cool with him. They're actually both really big fans of his and would love to see their sister settled down with him. They all still make jokes about him being their brother-in-law someday."
But we wouldn't bet on it just yet, as a source previously told E! News that Rihanna "wants to be single and isn't going to jump into something." She has instead been focusing on her business endeavors and ninth studio album, dubbed R9 by fans.
Read more: Why Rihanna and Travis Scott Never Went Public With Their Relationship