Are Justin Bieber and Ed Sheeran Friends?
When two of the biggest pop stars in the world get together, amazing things can happen. Such is the case with Justin Bieber and Ed Sheeran, two music stars with vastly different styles and public images.
To the surprise of many, Bieber and Sheeran have been staggeringly successful when they collaborate. Not only do they make sweet music for public consumption, but it also seems that Bieber and Sheeran get along extremely well.
Justin Bieber is famous for collaborations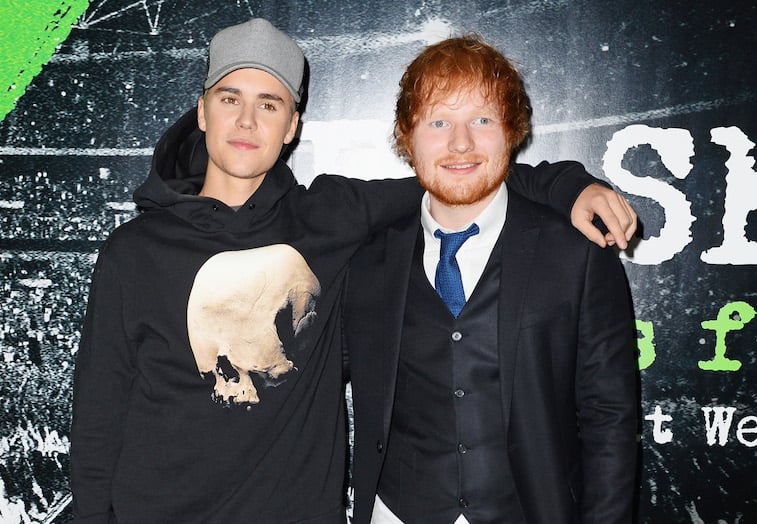 It's no secret that Justin Bieber is one of the biggest stars in the world. For over 10 years, Bieber has been showing off his talent on stages as well as radio airwaves.
From his beginnings as a tween girl icon with flipped-over bangs to marrying a member of the Baldwin family and becoming a mature man who isn't afraid to admit his faults, Bieber has gone through a lot. He's also made some huge celebrity friends along the way, many with whom he's collaborated on various projects.
A few of Bieber's biggest contributors include Nicki Minaj, Drake, Jaden Smith (Will Smith's son), Usher, Diplo, Chance the Rapper, Lil Wayne, and DJ Khaled. Justin Bieber isn't afraid to step out of his comfort zone creatively and has even worked with smaller stars such as Carly Rae Jepsen and J Balvin.
This versatility has allowed Bieber to reach audiences that might not otherwise have given his music a listen.
He's worked with Ed Sheeran in the past
One of Bieber's most successful musical collaborators is Ed Sheeran. The red-headed British singer is well-known for his soulful pop ballads, and his style and lyrics meshed perfectly with Bieber. In 2015, Bieber recorded Sheeran's song "Love Yourself" for his studio album, "Purpose."
Not only did he sing Sheeran's sassy song, but the artist himself appeared on the track, singing backup to Bieber. The song was hugely popular, and Sheeran even gave Bieber some songwriting cred, admitting to Billboard in a 2017 interview that he had provided Sheeran with some input on the song itself.
The two have crossed paths several times since then, with Sheeran writing even more songs for the Canadian pop icon. They also both made an appearance on the 2019 Earth Day tribute song by rapper Lil Dicky, titled "Earth."
What is Bieber and Sheeran's new project?
In early May 2019, Ed Sheeran and Justin Bieber made headlines when they revealed they had been working on a secret project – a brand-new single called "I Don't Care."
The song, which was released on May 9th, is about the perils of coping with anxiety, and how being in a long-term, happy relationship can bring even the most troubled people comfort.
Anxiety is something that Bieber has admitted he struggles with, and has opened up in the past about how his new wife Hailey Baldwin helps him to become a better version of himself. Needless to say, the song, written by Sheeran, struck a chord with Bieber.
Fans loved the way that both Sheeran and Bieber marketed the song as well. Both artists took to their social media accounts for several days prior to the release of the song, teasing the upcoming release and poking playful fun at each other as well.
Bieber posted a picture on his Instagram that artfully combined images of himself and Sheeran, while Ed Sheeran went live on his Instagram to announce the brand new musical effort. It seems that both artists are in touch with their sensitive side, and have enough in common that they've managed to forge a deep friendship that also translates into some truly excellent music.
These days, such successful friendships (and collaborations) are rare indeed. Here's to many more projects featuring Bieber and Sheeran in the future!