Are Rihanna and Beyonce Friends?
Beyonce and Rihana are two of the biggest pop moguls of our generation. Are the two friends or rivals?
Two of the biggest moguls in the world are Beyonce and Rihanna. They are musicians that have transcended their careers to become global icons.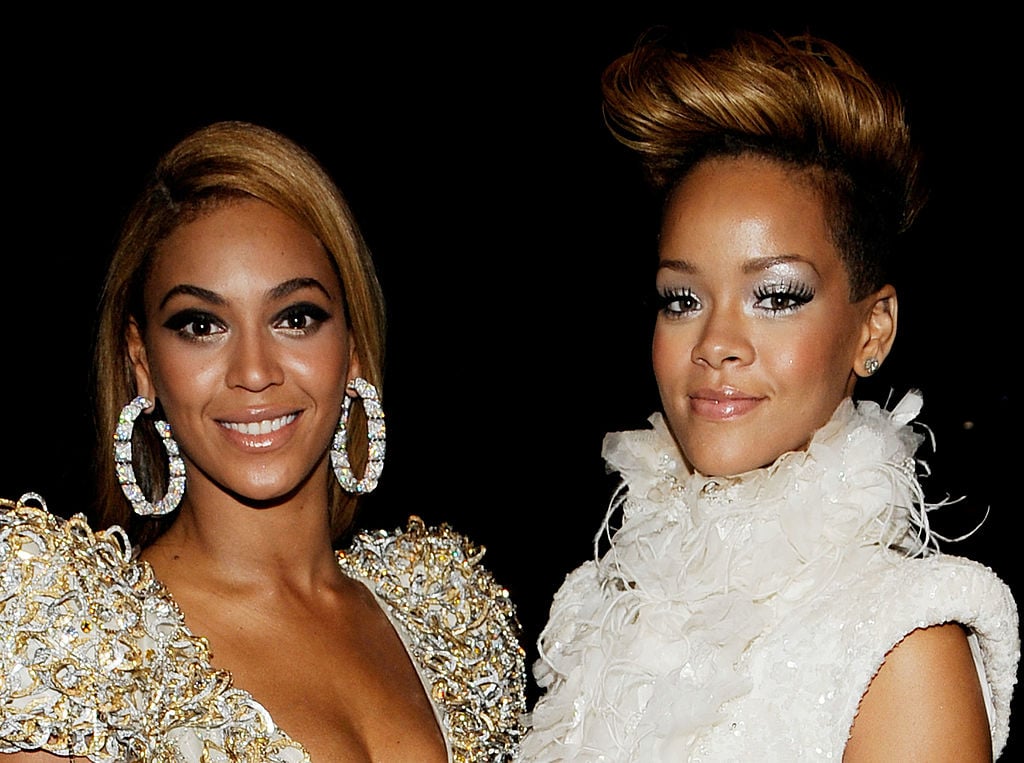 While Rihanna has gone on to develop makeup and fashion lines, Beyonce has been hard at work on Netflix documentaries and new music, as well as building a family with her husband, Jay-Z.
In spite of the differences in their careers, the media seems dead set on pitting these two women against each other. So much so that fans have been wondering about the real-life status of Queen B and Rihanna's relationship. Join us as we break down the truth behind those feud rumors and discuss whether or not the two are friends.
How did Beyonce become famous?
Beyonce first rose to fame as a member of the girl-power supergroup Destiny's Child. She revolutionized not only early 2000s fashion but also the way that women were seen in the music industry. Her body-positive lyrics and sassy onstage attitude was an inspiration to many.
After Destiny's Child disbanded in 2005, in order for the members to pursue solo projects, Beyonce set her sights on film. She has appeared in many popular movies, including Obsessed, Dreamgirls, The Pink Panther, and Goldmember. She will also be featured as the voice of Nala in the upcoming film, The Lion King.
Beyonce has consistently worked on her music as well. Her collaborations with her husband Jay-Z sell out stadiums all over the world. She achieved a whole new level of worldwide fame and admiration when she performed at the iconic Coachella festival in April 2018. Beyonce was the first African-American woman to achieve headliner status at the festival. 
What is Rihanna known for?
Rihanna is a singer, dancer, songwriter, and businesswoman. She first rose to fame in 2007 with songs such as "Umbrella" and "Shut Up and Drive." Her racy image, bad girl image made her immediately popular. Her catchy beats have earned her multiple Grammy Awards.
For the past several years, Rihanna has focused her efforts more on the business side of her empire. She kept busy developing Fenty Beauty (a hugely popular brand that has been celebrated for the wide variety of foundation shades and colors) and her brand-new high fashion line, Fenty.
Do Rihanna and Beyonce get along?
Beyonce and Rihanna are both notoriously private regarding their personal lives. Beyonce, in particular, has a very small circle of friends and doesn't ever grant interviews with the press. She has a very strict policy about sharing photos of her three children online. Only a select number of pictures have ever been released.
Rihanna also prefers to fly under the radar and rarely speaks out about her day to day life or confirms rumors about who she might be dating. She even moved to London in order to be more involved with Fenty Beauty, a bold move that suggested how business-driven the mogul has become.
While the media has often portrayed the two women as rivals, the truth of the matter seems to be that they have a healthy respect for each other, even if it seems as though they don't spend a lot of time together.
Recently, Rihanna even spoke out against their supposed "feud," when she commented on an Instagram post that suggested Rihanna resented Beyonce for scooping up so many 2017 Grammy nominations. Rihanna's comment read, in part, that she wished the topic of the feud could be dropped. She also said that the media should not be pitting black women against each other. Instead, Rihanna made the point that "we deserve to be celebrated." Clearly, from Rihanna's viewpoint, it's all love.