Are 'The Americans' Stars Keri Russell and Matthew Rhys a Couple in Real Life?
It took years, but The Americans finally took home the award for best dramatic TV series at the 2019 Golden Globes. Fans of the show were delighted to see it finally win a major accolade after six seasons of critical acclaim. (It also took home two Emmys this year, for best actor and outstanding writing for a drama.)
The big win might inspire some new viewers to dive into the show, especially since all six seasons are streaming for free on Amazon Prime. Here's what you need to know if you're new to the series.
The Americans is a gripping Cold War drama
The Americans tells the story of two KGB spies posing as an average suburban couple in 1980s-era Washington, D.C. On the surface, Philip and Elizabeth Jennings (Matthew Rhys and Keri Russell) are the owners of a travel agency. They have two kids, Paige and Henry (Holly Taylor and Keidrich Sellati), and a completely normal, unremarkable life.
In reality, the Jennings are a pair of Soviet agents tasked with advancing Soviet interests in the U.S. Along with carrying out their various missions, they befriend their neighbor, Stan Beeman (Noah Emmerich), a FBI agent who is investigating Soviet plots and who has no idea about the true identity of his neighbors.
Rhys and Russell are a couple in real life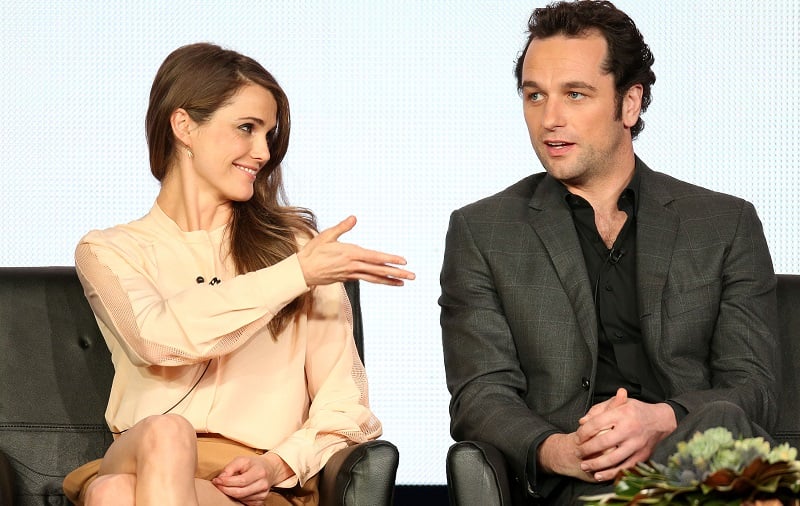 The complex relationship between Philip and Elizabeth, whose marriage was arranged by their KGB handlers, is the emotional core of The Americans. And it didn't take long for their on-screen partnership to turn into a real-world romance.
When the series started filming, Russell was married to her first husband, Shane Deary, with whom she had two children. They split in 2013. Soon after, rumors began to fly that Rhys and Russell were an item. Each denied that were in a relationship, though each had nothing but good things to say about working with the other.
In March 2014, Rhys and Russell confirmed they were a couple. In 2016, they announced they were expecting their first child together.
While the couple's relationship blossomed on set, it wasn't actually the first time they had met. On an episode of Watch What Happens Live, Rhys revealed that he had met Russell more than a decade earlier at a kickball game and felt an instant attraction to the Felicity star.
"I very drunkenly asked her for her number when she was a young, single, slip of a thing, so I sort of knew then when I was 26," Rhys recalled.
Russell initially didn't remember meeting Rhys, who had to remind her of their first encounter. But it didn't take her long to recall "that buffoon that wouldn't stop calling," as she described him. Apparently, he made a better impression the second time around.
What's next for the couple?
After The Americans ended, Rhys and Russell said they were looking forward to spending more time together with their family. Russell told US Weekly she was anticipating "just normal [stuff], like breakfast, school runs, picking them up from school, dinners [and] bedtimes." Rhys, who is a native of Wales, has also said he was teaching his son Welsh.
As to whether Rhys and Russell will be together on-screen again, fans may have to wait. But each has some exciting upcoming projects. Russell will be in Star Wars: Episode IX while Rhys will play a journalist who interviews Fred Rogers in A Beautiful Day in the Neighborhood.