Ariana Grande Controversy: Why Fans Are Uncomfortable With the Singer's Vogue Cover
Ariana Grande's lastest magazine cover has critics upset. Learn more about why the talented singer's cover is offending so many.
Ariana Grande is smokin' hot right now. Earlier this year, she had the number one, number two, and number three spot on the Billboard charts. Which is impressive by itself, but in case you needed even more evidence, this month she graced the cover of Vogue for the very first time. Unfortunately, it didn't go as well as planned. In fact, some fans were even upset. Why? The answer may surprise you.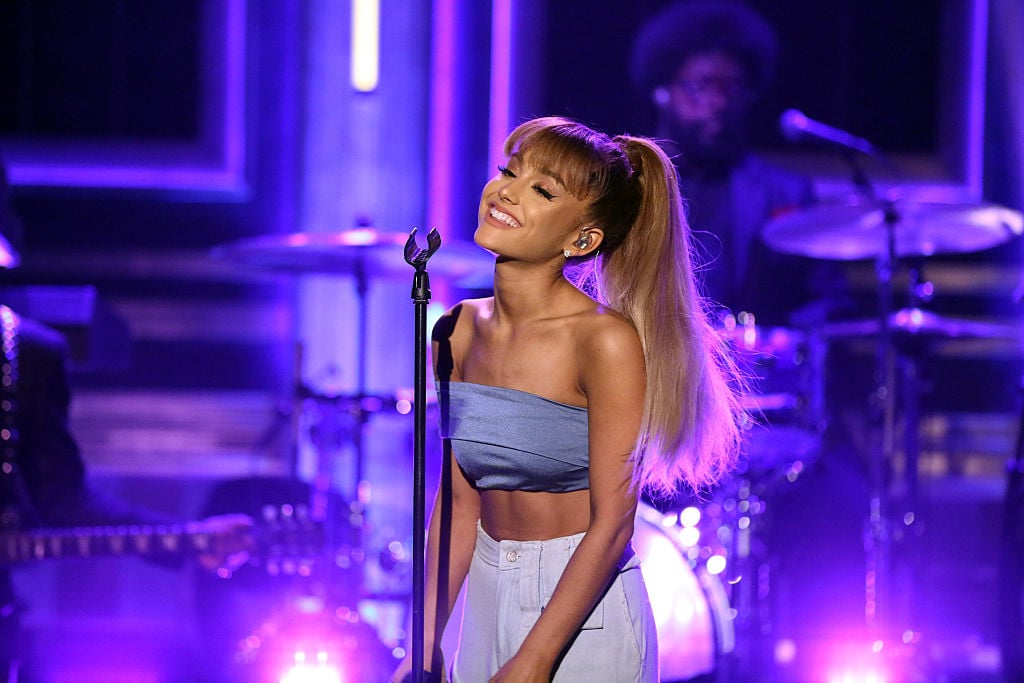 What was the reaction to Ariana Grande's Vogue cover?
The cover photo for the August issue of Vogue was just released and it features a beautiful photo of Grande on the beach, in a giant hat. She's wearing a simple black dress and paired down makeup. Her hair isn't straight like we're used to seeing it. Instead, tight curls fall around her face, which also seems darker in skin tone than normal. In fact, Grande looks so different than she normally does, that some fans are actually upset. 
After Vogue posted the image to Instagram, there was an immediate reaction. "Is this a joke?" one person commented. Fans seemed to think that her skin was way too dark, and her hair wasn't right. Some actually thought she looked black. "Why is she so dark?" one person asked. Another made an off-color joke, "Africana grande." But others were quick to defend the star. "She's just tan, people! Get over it!" someone said. 
One Instagram user had a great comeback to all the comments, "It's called being a person of color. Lots of Latinas and Latinos have wavy or curly hair, lots of us get darker with a little sun time. People upset about the "darkness" of her need to realize how outwardly racist and wrong that is." 
Why are fans so upset about Ariana Grande's Vogue cover?
While the photo does make Grande look a little different than normal, it's still obvious that it's her. She's wearing less makeup than normal, which is actually kind of sad. Fans recognize her better with tons of foundation on her skin. We should be happy to see the real Grande, not criticizing her for showing her real self. 
It's actually amazing to think that this is the first time most people have seen Grande's naturally curly hair. She straightens it for every public appearance, and she has a lot of hair. Just think about how long that would take every day. Although, she does show her curls to followers on her Instagram account occasionally. And every time she does, she gets a great reaction. So, it's a little strange that people would be upset about it now and shows that the people making those comments may not be her biggest fans after all. 
Why is there a dog in the picture with Ariana Grande?
As some fans mentioned, the dog is a little strange. He seems to have no purpose in the picture, besides the cute factor. And he looks like he was photoshopped in because there's not a speck of sand on him anywhere. But after a little research, we realized that the dog belongs to Grande. 
She actually has eight dogs, and they're all rescues. The one on the Vogue cover is named Toulouse and he's a beagle-chihuahua mix. After the shoot, Grande actually went on Twitter to thank Toulouse for joining her in the photo. She posted the Vogue cover, along with the caption, "Thank for allowing me to be in the background of Toulouse's first Vogue cover."
Now that we know the story, the dog makes perfect sense. And he's really cute, even if he is unnaturally clean for being on a beach.