Ariana Grande Said Her 'Side to Side' Music Video Was Inspired by a Spontaneous Gym Moment
Ariana Grande came up with the 'Side to Side' music video concept through one spontaneous moment at the gym that instantly excited the director.
Ariana Grande is undoubtedly one of this generation's biggest pop icons. Grande's Dangerous Woman is her third studio album, which features some huge collaborations. The song "Side to Side" features rapper Nicki Minaj and is a huge hit with the music video itself reaching over 1.9 billion views thus far. Grande once explained how she came up with the "Side to Side" video concept.
Ariana Grande once admitted the sexual meaning behind 'Side to Side'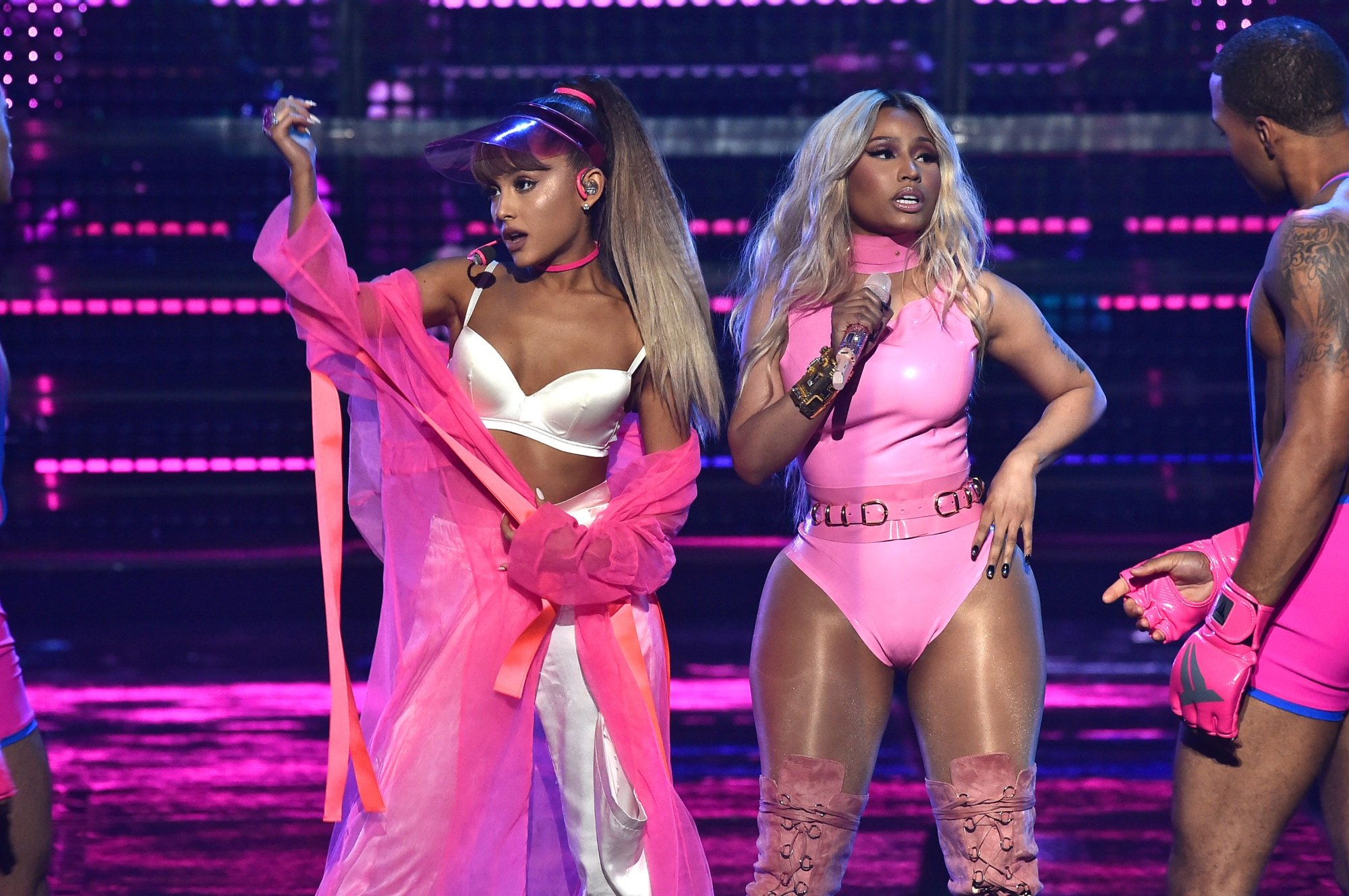 MTV spoke with Grande on the VMA white carpet about her single "Side to Side." The music video shows the pop artist riding on a SoulCycle bike with a whole crew of backup dancers on the same bikes. She makes an appearance in a sauna alongside Minaj. Some listeners wondered what the song is really about.
"That whole song is about riding leading to soreness," Grande said. "Ride d*** bicycle is the lyric, indeed." Even Lena Dunham was rather surprised when her longtime boyfriend Jack Antonoff explained the meaning behind the massively popular song.
Ariana Grande was inspired at the gym for the 'Side to Side' music video
Allure brought Grande onto their official YouTube channel to break down the most iconic videos of her career thus far. "Side to Side" was unsurprisingly included in this collection of popular videos. Grande talked about the filming experiences, costumes, makeup, and video concepts.
"We were going back and forth and back and forth about what should this concept be," Grande said. "And I remember I was on the treadmill thinking and listening to my playlist of what was becoming the Dangerous Woman album. I got to "Side to Side," and I was like, 'Why does this feel so fun to listen to on the treadmill?' I FaceTimed [director] Hannah [Lux Davis], and I said, 'We should be on SoulCycle bikes.'" She was like (gasps), I'll call you back.'"
Grande continued: "Then pulled together all these dope visual references. She was like, you and Nicki have to be in the sauna."
"I don't love the look with the leggings and the stringy bra thing, but I love the other ones," Grande admitted. "The one in the leggings feels like I was forced into it. I probably was. (Laughs)."
How many times has Ariana Grande collaborated with Nicki Minaj?
Grande and Minaj have now collaborated on a total of 6 tracks. Perhaps one of the biggest ones includes Jessie J's "Bang Bang." Minaj also featured Grande in her songs "Get On Your Knees" and "Bed." However, Grande brought Minaj on board for "Side to Side," "The Light Is Coming," and "Bad to You." The two artists have a longtime friendship that is also clear in their music careers.