Ariana Grande's 'Positions' Now Holds a Record Previously Held by Miley Cyrus
Ariana Grande landed her fifth No. 1 album debut with 'Positions,' marking her third No. 1 in less than three years. Read about the new record here.
Ariana Grande wasn't kidding when she sang "I'm so successful." The pop star just reached a major milestone, one that hasn't been reached since Miley Cyrus' Hannah Montana days, and it's solely because she doesn't let much time pass between her album releases anymore. That and the fact that she makes good music, of course.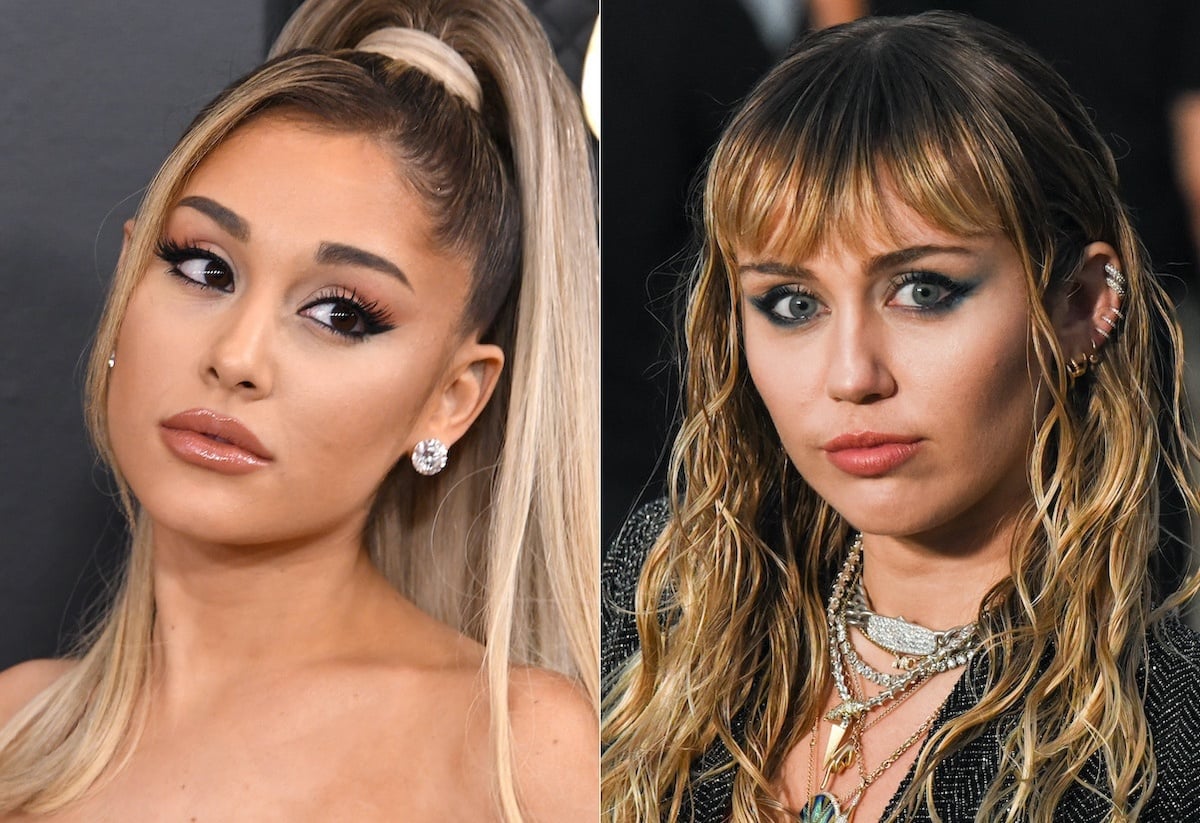 Did Ariana Grande's 'Positions' debut at No. 1?
Grande released the Grammy-winning Sweetener on Aug. 17, 2018. Then she defied the pop music norms when she dropped Thank U, Next just six months later on Feb. 8, 2019. Positions—her sixth studio album—came out on Oct. 30, 2020, and she challenged music industry norms once again by announcing the album's impending release just a couple of weeks before it dropped.
On Nov. 8, Billboard announced that Positions officially debuted at No. 1 on the Billboard 200 albums chart, marking the 27-year-old star's fifth No. 1 album. (As a fun coincidence, "Positions" also marked her fifth No. 1 single on the Billboard Hot 100 chart.)
This being her fifth time atop the coveted list isn't the record she just set. Billboard reports that Grande has now accumulated three No. 1 albums in just two years and two-and-a-half months—the fastest of any woman to accumulate that many No. 1 albums in this decade.
Three of Miley Cyrus' 'Hannah Montana' albums debuted at No. 1 in under two years
Grande is the only woman of the 2010 to 2020 decade to reach this milestone. Before her, Cyrus reached this milestone in less time with Hannah Montana 2/Meet Miley Cyrus, which came out July 14, 2007, Breakout, which came out Aug. 9, 2008, and the Hannah Montana: The Movie soundtrack, which came out May 2, 2009. That's a timespan of about one year and 10 months.
Billboard notes that if you didn't consider movie soundtracks like the Hannah Montana movie's, the last female artist to garner this many No. 1 albums this quickly was Donna Summer. The late disco icon accrued three No. 1 albums in one year and two months with the albums Live and More which came out Nov. 11, 1978, Bad Girls, which came out June 16, 1979, and On the Radio: Greatest Hits Volumes I & II, which came out Jan. 5, 1980.
The "35+35" singer reacted to her album going No. 1 on Twitter and Instagram in nearly identical captions. Given that this news broke just days after the presidential election, she acknowledged there were more pressing issues going on outside of music. But the star wanted to take a brief moment to express her gratitude.
"Hello / thank u," Grande wrote for her Instagram post. "I know these things aren't v important on the grand scheme of things but when they do happen i feel it's important to express gratitude for your love and support !!! so i am indeed rambling today. sry."
"This is my favorite album yet and your response to the music has made my heart so incredibly full," the "Off The Table" singer continued. "I can't even begin to fully express how much it means. so thank u. so very much."
Grande still has time to release a fourth album in under three years. And let's be honest, at the rate she works, that possibility probably isn't off the table.